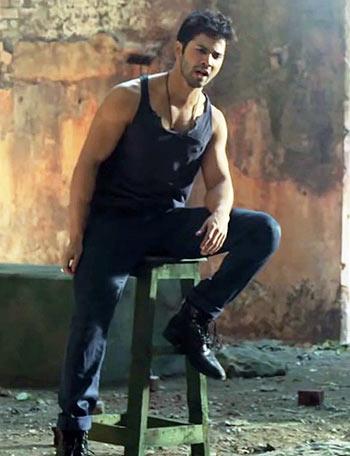 'I did many things so that Agent Vinod would make money.'
'Like when Kareena and Saif are trying to escape, they do a mujra in Pakistan. I thought if I have Kareena I should get her to do a mujra.'
Director Sriram Raghavan moves on to his next film, Badlapur.
After Agent Vinod, director Sriram Raghavan is back with a thriller, Badlapur.
Starring Varun Dhawan, Yami Gautam and Nawazuddin Siddique, the film promises to be a gritty revenge drama. It releases on Friday, February 20.
Sriram Raghavan discusses the film with Patcy N/Rediff.com
Did you ask Varun Dhawan to watch Vijay Anand's films for this thriller?
I told Varun to see lots of films, not to copy, but to understand.
I asked him to watch the kind of films he doesn't usually watch, like Dead Man Walking and 21 Grams. Also,1970s and 1980s films, as they are more serious.
He started watching Vijay Anand films on his own as his father (director David Dhawan) is a huge fan.
Are you a Vijay Anand fan too?
Yes. The movies that you watch when you are 12, 14 years old are the ones that stay with you.
My favourites are Johny Mera Naam, Teesri Manzil and Guide.
I understand the grammar and technique of his films. You have to watch those films to understand filming.
I think he is the most under-rated filmmaker in India. He was ahead of his time. He was the most successful and expensive director.
(Producer) Vinod Doshi told me that in the early 1970s, Anand charged Rs 75 lakh, which was a huge amount of money then.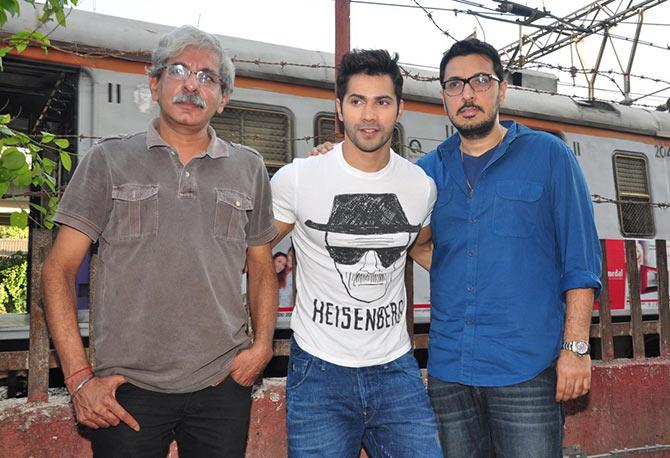 Image: Sriram Raghavan, Varun Dhawan, producer Dinesh Vijan.
What sparked the idea of Badlapur?
After Agent Vinod didn't do well, I was down for three months wondering what to do next.
I read lots of books and stuff from the Internet and came across this account by somebody who was in jail for many years and mentioned stories of other people who were in jail.
One story was about somebody who married at a very young age, but lost his wife and child.
You can move on and start your life over again. But what if you can't start your life again and you are trapped in the situation?
Badlapur is the story of a man who wants revenge, but doesn't get a chance for 15 years.
During those 15 years he lives in a small town, is alone and even tries to kill himself, but he doesn't succeed.
After 15 years, he gets the chance to take revenge.
People will root for him to take revenge, but they will also question whether they agree with what he is doing.
Badlapur does have entertainment, but it is a mature drama. It is not an action film like Taken or Ghayal.
I would like viewers to come on time, watch the beginning and then be a little attentive to the movie.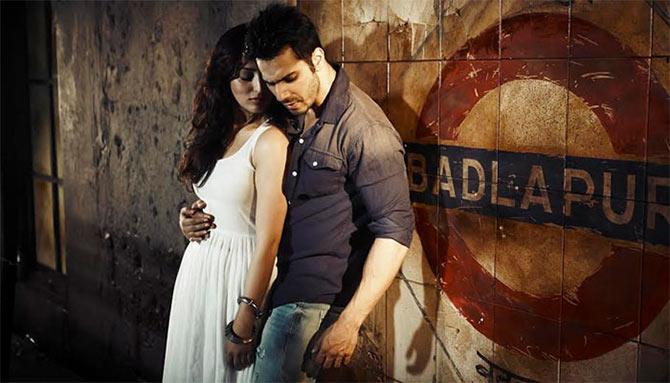 Image: Yami Gautam and Varun Dhawan in Badlapur.
Why did you cast Varun Dhawan ?
Varun was the first actor we met for this role. I had not seen Student of the Year (Varun's first film, directed by Karan Johar) as it is not my kind of cinema. I saw it after we cast Varun.
Varun was enthusiastic about the project. I liked the way he responded to the story.
Someone else would have said, 'I have just started my career. I don't want to do a serious film and I have an image to maintain.' His only question was 'Do you think I can do it?'
I told him to take a few days to think about it, though he had instantly agreed to do it. I was worried that his father may not want him to do such a film so early in his career. His father was my senior in the Institute (Film and Television Institute of India, Pune).
I asked Varun whether he had told his father. He said he had told him a little bit, but he had told his elder brother (Rohit Dhawan) everything and he encouraged him to do it.
I think Varun took a bold step by signing this film. If it works, it will give him a lot of confidence.
Varun's character is very dark and grim...
Yes, the story was like that. Other than in the flashback, he smiles only once in the movie. Otherwise, he is a totally serious character.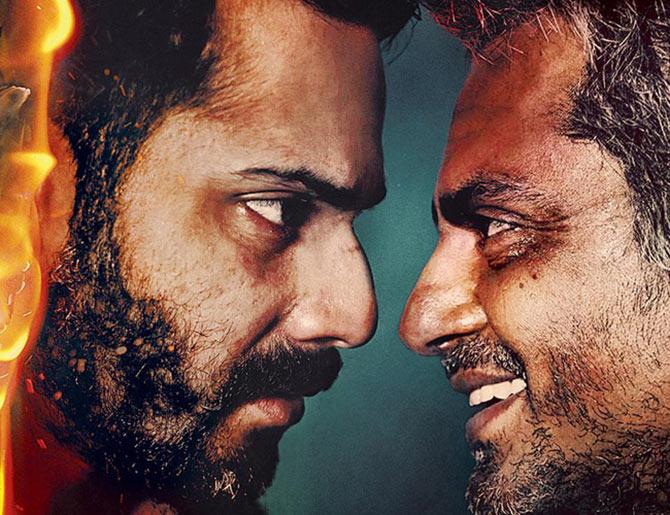 Image: Nawazuddin Siddique and Varun Dhawan in Badlapur.
Did you take any inputs from your documentary on the serial killer Raman Raghav for Badlapur?
No, the only connection was that Nawaz (Nawazuddin Siddique) had seen the Raman Raghav film -- which was never released -- and wanted to work with me.
Working with Nawaz I felt very much like I was working with Raghuvir Yadav (who played Raman Raghav).
They have the same method of working -- you give them any scene, they will study it, digest it and improvise on it. You see the same thing but in a different version which I could have never written.
Since Nawaz was improvising, Varun was forced to do better. I got a lot of interesting performances in this film.
How did Varun prepare?
When I lost my father many years ago, I remember that my own breakdown happened three to four days later. I told him to check with people how they dealt with loss, how people react to sad situations.
He talked to people who have lost someone in their life. I was happy with his homework.
You launched Neil Nitin Mukesh in Johnny Gaddar, but his career never took off. What went wrong?
He was very good in my film, but what happened after that I don't know.
Sometimes, it is just bad choice of roles. He has worked with many big and good directors, but his career didn't take off.
If he is a good actor, one right film will bring him back in the limelight.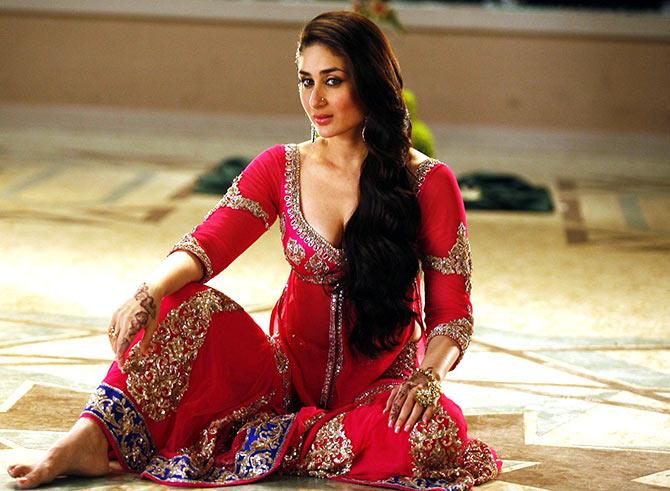 Image: Kareena Kapoor in Agent Vinod.
None of your films have worked at the box office...
Yes, you are right. But people have seen Johnny Gaddaar and Ek Hasina Thi afterwards on YouTube.
Many people saw Agent Vinod and didn't like it. But that is the only one that made some money.
I did many things so that the film would make money. Like when Kareena Kapoor and Saif Ali Khan are trying to escape, they do a mujra in Pakistan. I thought if there is Kareena, I should get her to do a mujra.
These are the little dishonesties that I did. We do it for all the right reasons, but it backfires sometimes.
I can you tell you 10 films where people have done worse things and the audience did not mind it.
You have done only four films in 11 years.
Yes, I am trying to hurry up now.
I met Kamal Haasan after Agent Vinod and he said, 'You have found the secret, please tell me.'
I asked, 'What secret?'
He said, 'You are going to live for 200 years, na? That's why you are taking so much time to make one film!'
He told me to make films faster. Now I have understood what he meant and I am making them faster.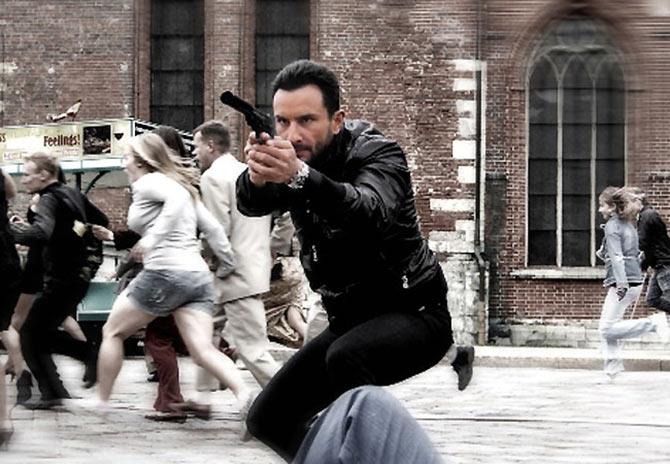 Image: Saif Ali Khan in Agent Vinod.
You wanted to make a franchise of Agent Vinod.
Had the film turned out well at the box office, I would have made a franchise. I still want to make a good spy film with Saif Ali Khan.
What next?
I am making a film based on Vikas Swarup's Accidental Apprentice. I intend to fine-tune the script now.
Would you like to remake any of Vijay Anand's films?
I wouldn't like to remake any film. If you do a remake, it feels like you are doing a job.
A film has to be your adventure.