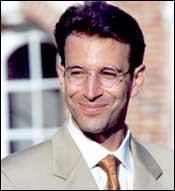 Warner Bros has obtained the rights to make a film based on the life of Daniel Pearl, the Wall Street Journal journalist who was kidnapped and murdered in Pakistan last year.
The studio paid in 'high six figures' for the rights to Mariane Pearl's memoir, A Mighty Heart: The Brave Life And Death Of My Husband Danny Pearl, trade paper Variety reported.
Daniel Pearl was WSJ's South Asia bureau chief. His wife was pregnant with their son at the time of his death.
Warner Bros bought the rights for Plan B Productions, which is headed by Brad Pitt, Jennifer Aniston and talent manager and producer Brad Grey.
Click here for
More Features