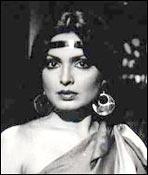 Parveen Babi may have died on Friday, but as far as the film industry was concerned, she died a long time ago after she was reportedly diagnosed as schizophrenic. In recent years, one seldom heard or saw her except for an appearance on Shekhar Suman's talk show a year ago, where she appeared as normal as could be.
Distinctly overweight, it was difficult to recognise Parveen Babi in the last one-third of her life. She died a lonely, isolated death.
And to think that in the 1970s, she embodied the new-age heroine! Introduced by Babu Ram Ishaara, alongside cricketer Salim Durrani, in Charitraheen, Babi shot to fame in the films that she did with Amitabh Bachchan -- Amar Akbar Anthony, Do Aur Do Paanch, Namak Halaal, Shaan and Khuddar.
In Yash Chopra's Deewaar, she was cast as a liberated working girl, smoking, drinking and sleeping with her lover, defying every Hindi film heroine rule. At the same time, she could carry off the sari-clad look opposite Jeetendra in J Om Prakash's Arpan.
Babi's most glorious moment was when she was featured on the cover of Time magazine in 1976 to represent the new face of Hindi cinema.
Then, suddenly, everything began to go wrong for this defiant girl. According to her close friends, Babi began to lose her mind.



Parveen Babi: A Bohemian Rhapsody

Katherine the Great

Madhur

proves himself again!



Recalls media baron Pritish Nandy, "Yes, she did begin to crack up. She couldn't take the pressures of being naked before the camera. I think Parveen was very uncomfortable with the idea of exposing her feelings. The exhibitionism required to perform in front of a camera tormented her. She quietly and quickly withdrew from the rat race, to the extent that no one could keep track of her."

But why did the industry isolate this beautiful actress so completely? "She chose to be that way," Nandy answers. "Her final affair with a particular actor finished her self-confidence. She cracked up after that."

In the late 1970s, Babi had a tumultuous, widely-publicised affair with Mahesh Bhatt. When, in 1982, Bhatt made a sensational film, Arth, based on his affair with Parveen Babi, with Smita Patil playing Babi's role, she was deeply affected.

Recalls Nandy, "Yes, I suppose the film affected her, as did the men in her life. She was wonderful company, very articulate, a terrific conversationalist, extremely well-read. In fact, she had begun to write her memoirs, which she never completed. I had published portions of her intended memoirs in The Illustrated Weekly Of India when I edited it. Now, of course, we'll never know her full story."