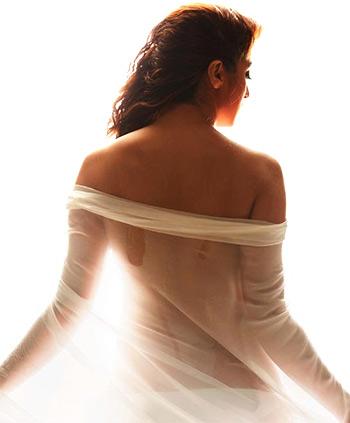 'When Julie 2 releases, I will tell you whether I am sanskari or not,' says Pahlaj Nihalani.
Rajul Hegde reports.
The first thing that Pahlaj Nihalani did after he was sacked as Censor Board chief was to launch a bold, erotic, film, Julie 2.
The trailer and pictures of the film do not reflect the 'sanskari' dictates he made so controversial as the Censor Board's boss.
A sequel to the 2004 film, Julie 2 is directed by Deepak Shivadasani and stars Raai Laxmi, Rati Agnihotri, Sahil Salathia, Aditya Srivastava, Ravi Kishen, Pankaj Tripathi and Nishikant Kamat.
In the trailer, a character says, 'Yahan pe bas body chalti hai, garam garam body.'
Nihalani, who wanted the makers of Jab Harry Met Sejal to remove 'intercourse' from the trailer, feels the Julie 2 trailer is just fine.
He claims he wanted 'intercourse' to be removed from Jab Harry Met Sejal because it was an U/A film.
"I tried to clear every movie till my last day as the CBFC chief, but now, my role has changed. I am not the CBFC head anymore, but a distributor," he says.
He maintains he has no doubts that Julie 2 will pass with an A certificate.
"It's a very clean, adult, family film," Nihalani says, lapsing into Pahlajese.
"If I were there (as CBFC boss), I would have given it no cuts at all. It doesn't have obscenity or any cuss words. I am sanskari, it's in our mitti (soil). India is a place where nothing is bigger than sanskar."
"I am asking for an 'A' certificate. We should show adult films to adults and children's films to children."
"Content is the hero and it doesn't matter whether we show skin or Shah Rukh Khan or Salman Khan. At the end of the day, it's the content that matters."
What if the CBFC asks for several cuts? Nihalani claims he will welcome the decision with open arms.
"Every film has a different story and different way to market. It is for the current chair at CBFC to decide cuts. If you can't digest an adult film, it's not my problem. I am not using my image as a publicity stunt to promote this film," Nihalani says, adding, "Julie 2 will be an eye opener to all those, who have worked and who dream to work in the film industry. They will relate to this film."
"When Julie 2 releases, I will tell you whether I am sanskari or not," he says.
Director Deepak Shivadasani says he had no fears when he went to Nihalani with the film.
"He was aware of the subject when I was writing it. I am not trying to sell skin," he says.
"This film is not just bold, as you might guess from the trailer," Raaj Laxmi says. "As my 50th film, I choose my films rightly. I wanted to do such a film in the south, but it didn't happen."
"That's why I am doing Julie 2 in Bollywood. I have gone all out as far as glamour is concerned. I have faced such situations even when I was famous, not just while struggling. But it depends on how you handle it."
Julie 2 releases on October 6.