'The problem is that everybody, including the media, gives them attention. That is what they thrive on.'
'The moment you start ignoring them, they will stop doing it.'
'It is for those two minutes of attention on national television that they are doing all this.'
Hansal Mehta takes on the Padmavati controversy, and much more.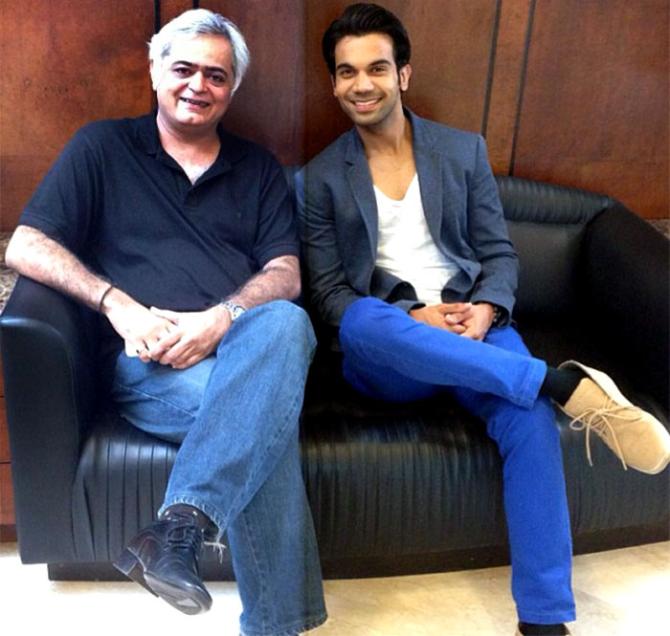 IMAGE: 'I keep telling Raj that I am going to retire making films with you,' says Hansal Mehta. Photograph: Kind courtesy Rajkummar Rao/Instagram
Director Hansal Mehta has had a creatively enriching year.
From directing Kangana Ranaut in Simran to working with Rajkummar Rao yet again in the critically acclaimed Omerta and the Web Series Bose: Dead/Alive, he's seen his share of accolades in 2017.
In a freewheeling chat with Rediff.com's Urvi Parikh, the director talks about the year gone by, his equation with Rajkummar and the ongoing Padmavati controversy.
Making a web series on Netaji Subhash Chandra Bose isn't easy. Were there any apprehensions?
Of course not.
I have become a veteran now at telling true stories and it is always a challenge.
With each challenge comes responsibility. Fortunately, Ekta Kapoor -- it is her brainchild -- and her team have spent more than a year researching and writing this script.
I was given a very tight script and just assimilating it and understanding the background of what it is trying to say was a big challenge.
Was Rajkummar Rao the first choice to play Bose?
Rajkummar was cast before I came on board. I was the second choice (laughs).
He always does justice to any role.
He loves acting more than anybody else.
He does much more to a character than is expected. For a director, it is a pleasure to see him completely immerse himself.
I have worked on two projects with Rajkummar in the past year and a half -- Omerta and Bose -- and both are completely different films. He has done a fab job.
I keep telling Raj that I am going to retire making films with you.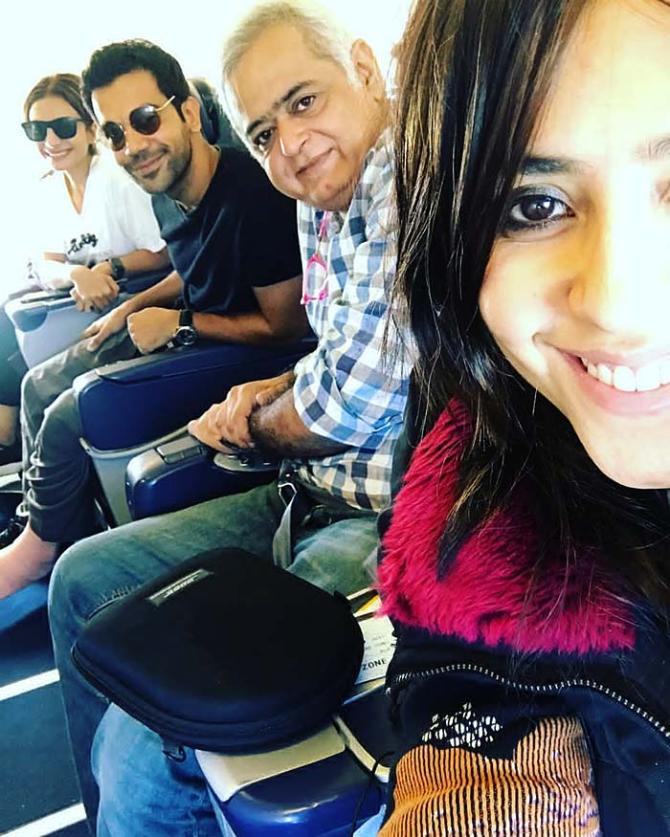 IMAGE: Patralekha, Rajkummar, Hansal and Ekta Kapoor smile for a selfie. Photograph: Kind courtesy Ekta Kapoor/Instagram

Do you fear any objection, given that Bose is a historic figure?
I don't think so.
People should watch the film and then decide rather than jumping the gun.
People who normally jump the gun are the ones seeking attention.
They are not passionate about the subject or the culture because no culture teaches you to be intolerant or to not accept different points of views.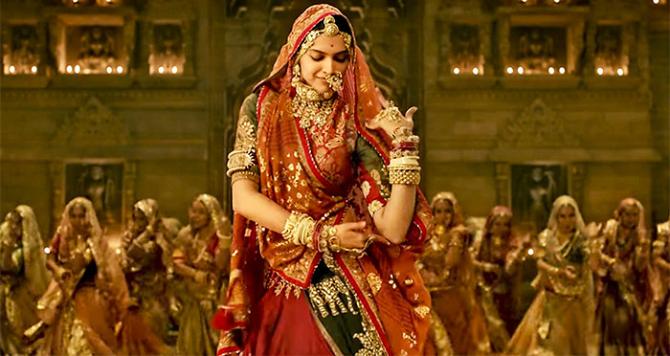 IMAGE: Deepika Padukone in the song Ghoomar from Padmavati.
Do you think that applies to Sanjay Leela Bhansali's Padmavati as well, and that the protests against the film, based on speculation, are unfair?
It has always been unfair. The problem is that everybody, including the media, gives them attention. That is what they thrive on.
The moment you start ignoring them, they will stop doing it.
It is for those two minutes of attention on national television that they are doing all this.
It is heartbreaking to see a director defend his movie for no reason.
Personally, it strengthens my resolve.
When I see this, I feel I should take on these guys. I feel 'How dare he tell me...'
Nobody is above the law of the land. The courts will decide. These guys are nobody (to decide).
Your last film Simran didn't perform that well at the box office. Were you disappointed?
There is a slight misconception that it did badly.
It did little less than expected due to a variety of factors that came into play.
Clearly, we only had one week post release. It had a steady collection in that one week. After that, there were two releases which took away all our shows (the following week Sanjay Dutt's Bhoomi, Shraddha Kapoor's Haseena Parkar and Rajkummar's Newton released).
These are the vagaries of the box office.
Creatively, I am very proud of Simran.
I am yet to analyse what went wrong. But, when I see the film, I am struck by Kangana (Ranaut)'s purity and great performance. I wish more people had seen the film and appreciated it for what it was.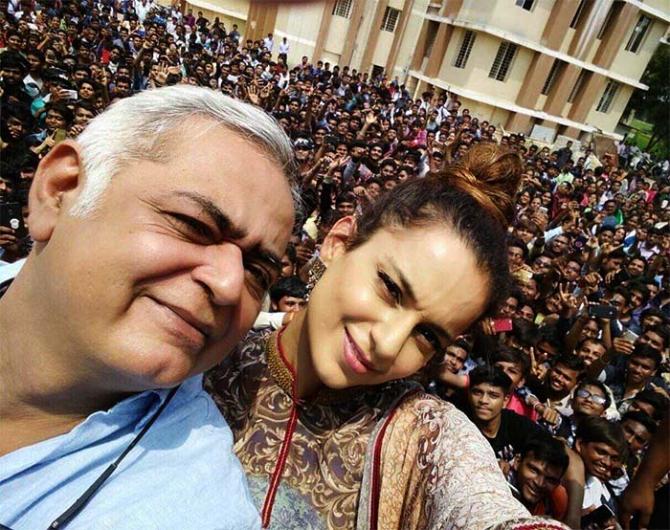 IMAGE: Hansal with his Simran. Photograph: Kind courtesy Hansal Mehta/Instagram
A lot of people felt Kangana should have spoken more about Simran than about her controversy with Hrithik Roshan.
That is something... I mean if people say that, then it is sad. It talks more about the people who say this.
How can you connect a film with someone's personal life?
Harvey Weinstein's controversy has shocked everybody. Do you think it exists in Bollywood too?
Of course, it exists everywhere and in all workplaces.
It is just not restricted to Bollywood.
In films, it becomes a public spectacle. It is sad. We have also seen it. And, somewhere, people like us feel guilty that, even when we have spotted it, we haven't reported it.
There is this code of silence we maintain.
It's like my film Omerta. People maintain an omerta about this. It is sad and disgusting.
A script that I have shared with Raj deals with this. It is hypocrisy on the part of the of people who take a moral stand and hypocrisy on the part of those who are themselves abusers.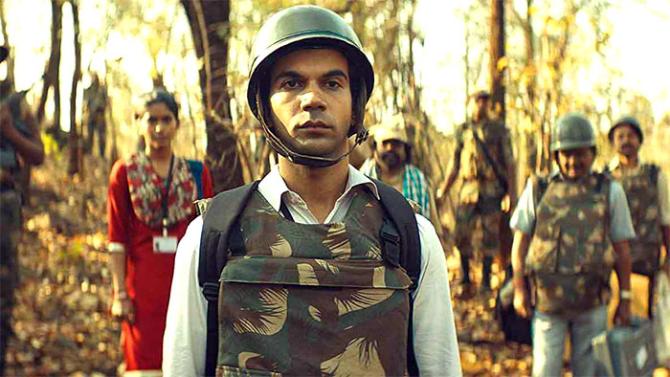 IMAGE: Rajkummar Rao in Newton
Rajkummar Rao's Newton is India's official entry to the Oscars. Your take?
It is one of the few years where the federation has chosen the right film.
It is a beautiful movie and if there is one film that deserves to be there in the final list, Newton is one of them.