... Why care for the truth when the legend so interesting, says Syed Firdaus Ashraf.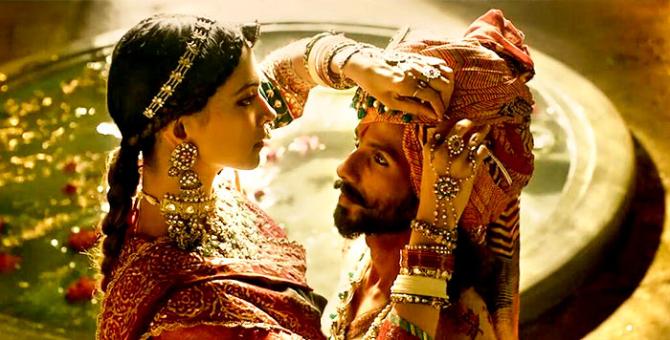 Did Rani Padmavati ever actually encounter Alauddin Khilji?
Just like the quote 'Let them eat cake (if they don't have bread)' has been wrongly attributed to French queen Marie-Antoinette, the story of Rani Padmavati and Alauddin Khilji seems to have become real.
The truth, however, is, different.
The first recorded history of Rani Padmavati is narrated by Malik Muhammad Jayasi in his famous Awadhi poem, Padmavat, in 1540.
Some historians believe that Padmavati's only mention comes from Amir Khusrau's work Khazain-ul-Futuh. But this has little credence because Khusrau (1253-1325) was in Delhi during Khilji's time (1296-1316) and again, it was written in passing and does not justify Khilji's lust for Padmavati.
Sadly, nowhere does director Sanjay Leela Bhansali mention this in the three-minute trailer of the movie.
But then, again, why care for the truth when the legend so interesting, right?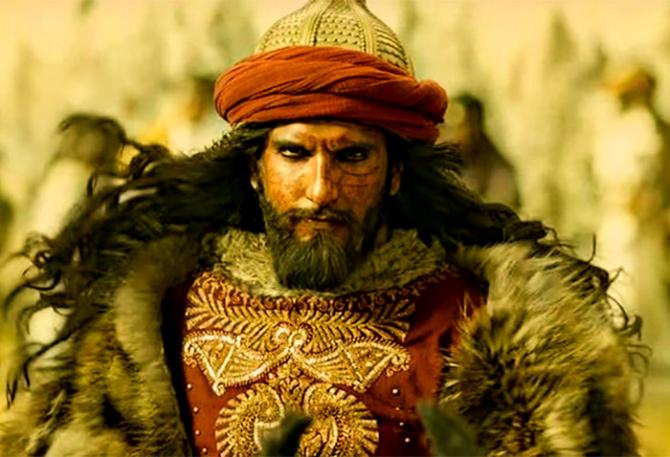 Having said that, Bhansali makes good use of the Chittorgarh Fort to create drama.
Ranveer Singh's silence is brilliant. He portrays six of the seven deadly sins (Gluttony, Lust, Greed, Pride, Wrath and Envy, with Sloth being the last) of mankind without uttering a single line of dialogue. His laugh is brilliantly evil.
Deepika Padukone's entry is beautiful. Deepika performs well, too -- from walking like a queen to watching in fear when Khilji's army reaches the fort.
Shahid Kapoor looks calm and composed. His dialogue delivery is outstanding.
We hear only two dialogues in the trailer -- 'Chinta jo talwar kin nok par rakhe voh Rajput...' and 'Rajputi Kangan mein utni hi taqat hai jitni Rajpuri talvar mein'.
The dialogue writer Prakash R Kapadia, who had penned the dialogues for Bajirao Mastani as well, delivers yet again.
The Padmavati trailer is outstanding, but caveat: this is legend.