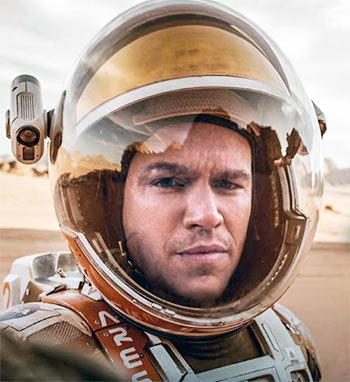 Watch the trailers and predict the winner at the end.
I feel weird commenting on the Best Actor race this year since I've watched all the nominated performances except that of the frontrunner, and the race itself seems relatively straightforward -- even predictable.
The odds suggest that a frequently-thwarted actor, one of this generation's finest, will finally get his hands on the trophy, even though his performance -- from what I hear and read -- is not the year's most nuanced. (See what I mean about feeling weird?)
The trends in the category are on point.
Four out of the five nominees are playing real-life characters, my favourite of the bunch playing an impossible icon armed with impossible zingers.
There is much mimicry and body language and accent work and elaborate whiskery and wearing of heels, and much of this work has been commendable.
Four solid performers, then, alongside Matt Damon, an otherwise fine actor out here with a middling film, nominated for no discernible reason.
Starting with him, then, in ascending order, here are this year's nominees for Best Actor:


Matt Damon, The Martian
It's dashed hard not to say nice things about Matt Damon, an affable actor who scarcely hits a false note.
He is perfectly adequate in Ridley Scott's The Martian and delivers a solid performance, but it feels laughable to even consider this modest work alongside the heavy-hitters this year.
Damon's nomination, a token nod toward a surprise box office success, feels unearned and his inclusion leaves out more deserving performers like Tom Hardy (Mad Max: Fury Road), Michael Keaton (Spotlight), Michael B Jordan (Creed), Samuel L Jackson (The Hateful Eight)... the list is endless, and far too many people worked harder than Damon this year -- even though it takes some commitment to speak so passionately of potatoes.
Damon, 45, has never won an acting Oscar -- having been nominated before for Invictus -- but shared a Best Screenplay award with Ben Affleck when the actors wrote their breakthrough film, Good Will Hunting, back in 1998.
Over the years, films like The Departed, Syriana, The Talented Mr Ripley and Saving Private Ryan have all brought him tremendous acclaim, but Oscar gold remains lacking.
This, realistically speaking, isn't the year that will change.


Eddie Redmayne, The Danish Girl
Redmayne -- the dramatically gifted 34-year-old British actor who won the Best Actor trophy for The Theory Of Everything last year, where he played Stephen Hawking -- is a thespian to watch, certainly, but also a thespian who begs to be watched.
His performances drip with craft, craft that is impressive in its meticulousness, but also craft that is exasperatingly visible.
His fragile, graceful performance in Tom Hooper's film about artist Einar Wegenar, the first man to undertake a sex-change operation, is brittle and beautiful, and yet it is a look-at-me performance that is almost completely overshadowed by Alicia Vikander who -- effortlessly, without letting her craft show -- plays his wife and wins us over.
Redmayne is a remarkable young talent and will doubtless find himself nominated again soon enough, but this is surely not his year.


Bryan Cranston, Trumbo
In a performance far, far removed from his already-iconic role as Walter White on Breaking Bad, Cranston brings his considerable powers to the big screen with an emphatic flourish, making the most of a role that needs one helluva actor.
Blacklisted Hollywood screenwriter Dalton Trumbo -- who wrote, among other films, Spartacus and Roman Holiday -- was a sensational character, and even though Jay Roach's cameo-laden film isn't a work of insight and nuance, Cranston brings the character alive and makes him relatable.
The film falls several notches shy of greatness, but Cranston shines, and it's great to see him visibly relish a part like this, a part that requires him not just to fight discrimination and bigoted politicians but to fight off his daughter while he writes passionately in his bathtub.
The way he's managed to so effectively shrug off his Heisenberg persona should keep him from being pigeonholed and lead to much better films.
He's very good in Trumbo, but it is the kind of performance where the nomination, really, is the prize.
Leonardo DiCaprio, The Revenant
Leonardo DiCaprio, this year's Oscar frontrunner, has to be nearing the end of his tether.
He was first nominated for a Supporting Actor trophy in 1993 for What's Eating Gilbert Grape, a film where he showed off his preternatural talent by eclipsing Johnny Depp while playing his developmentally disabled younger brother. The award then went to Tommy Lee Jones for The Fugitive.
In 2005, DiCaprio was nominated for Martin Scorsese's The Aviator, where he played the eccentric billionaire Howard Hughes and shone, but that year's Best Actor trophy was handed to Jamie Foxx for Ray.
In 2006, DiCaprio found himself nominated for Blood Diamond, where he was good, instead of for Best Picture-winner The Departed, where he was great.
In a tight call, Forest Whitaker triumphed for The Last King Of Scotland.
In 2013, DiCaprio was nominated for yet another Scorsese film, The Wolf Of Wall Street. This, in my mind, was the performance of DiCaprio's career, a fast-talking shark who stays afloat by treating the entire world like chum, an electrifying performance showing off comic timing and staggering self-belief. This time he was robbed, truly, by Matthew McConaughey and The Dallas Buyers Club.
This year, he's up for the prize again, for Alejandro Gonzales Inarritu's The Revenant, a film I haven't yet watched, but one where his highly committed and hard to shoot performance has been described by many a critic as 'two+ hours of grunting.'
Still, few modern actors have strived for the Oscar so consistently, and DiCaprio's paid his dues.
I would be surprised if it really is the performance of the year, though, because the man up next was miraculously good.


Michael Fassbender, Steve Jobs
It is close to impossible to replicate a man so familiar -- so freshly familiar, especially -- as Steve Jobs, and the German-Irish Fassbender looks nothing like the world-altering Apple maverick.
This is a fact the actor uses as an advantage, to propel an incendiary performance where he channels the spirit of an utterly fictional Steve Jobs.
Fassbender wraps himself up in genius, ego and arrogance, all while barking out lines so sharp they could cut ice.
Directed by Danny Boyle and written by Aaron Sorkin, Steve Jobs is a tour-de-force of Sorkin's machine-gun dialogue at its most relentless. All the verbal smashes in the film are handed to Fassbender and, with the precision of a magnificent but sadistic tennis pro, he sends the words out scorching.
He decimates friends, colleagues, family, morality -- all while his eyes stay focussed on what matters: Three product launches.
It is a stunningly self-aware performance in a film that is aware of its extreme distance from fact and biopic: This is a film less about Jobs himself than it is about the idea of Jobs, and Fassbender runs with that idea and gives us something truly special, truly spectacular.
What a showman.