When Juno, the quirky and sentimental drama centering on teenage pregnancy, emerged as one of the audience favourites at last year's Toronto International Film Festival, many people thought that the film, made for less than $10 million, would be a success.
But even the most optimistic people connected with the film -- including director Jason Reitman and distributor Fox Searchlight -- would have been surprised if anyone had predicted that it would gross $85 million (and still counting) in North America alone. If tomorrow the movie gets nominations and a handful of Oscars in the major categories, including one for the actress Ellen Page, it surely is going to have a big jump at the box office.
Roger Ebert, one of the best liked of American reviews declared in Chicago Sun-Times: 'Jason Reitman's Juno is just about the best movie of the year. It is very smart, very funny and very touching; it begins with the pacing of a screwball comedy and ends as a portrait of characters we have come to love. Strange, how during Juno's hip dialogue and cocky bravado, we begin to understand the young woman inside, and we want to hug her.'
He was also full of praise for the teen star of the film.
'Has there been a better performance this year than Ellen Page's creation of Juno?' he mused. 'I don't think so. If most actors agree that comedy is harder than drama, then harder still is comedy depending on a quick mind, utter self-confidence, and an ability to stop just short of going too far. Page's presence and timing are extraordinary.'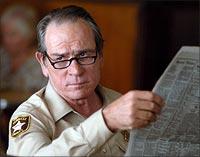 While many Oscar observers expect Atonement and No Country For Old Men to get a handful of major nominations each, there will be considerable suspense as to who will be the other nominees. Will Michael Clayton, a gripping story of corporation corruption with excellent performances by George Clooney, Tom Wilkinson and Tilda Swinton, be the dark horse at the nominations? The film has made a modest $40 million at the box office. But it has received many strong reviews.
'The best movie of the year,' declared Richard Schickel in Time. 'Michael Clayton is morally alert and impeccably acted.'
Warner Bros. is re-launching the film in over 50 cities across America this Friday. It could add many more cities if the film gets strong Oscar nominations.
While there was no dearth of well reviewed box office hits last year such as The Bourne Ultimatum, which grossed about $240 million in North America, it looks like big budget hits are not going to be favoured by the nominators this year. If American Gangster, a study of complex gangster (Denzel Washington) and a troubled cop (Russell Crowe), gets a few top nominations, it could be the highest grossing film in the Oscar run this year, having taken $130 million.
The British import Atonement, a story of betrayal and attempt at redemption, has grossed a handsome $30 million, and is poised for a big expansion on Friday. Its theatre count in North America could nearly double from 1,300.
The gripping and extremely violent No Country For Old Men is on its last leg in North America with a $48 million gross. But strong nominations could revive it.
Atonement, based on a bestseller by Ian McEwan, also stands to benefit from the nominations not only in America but also abroad. The film is an outstanding hit in the United Kingdom, taking some $35 million, but it will be rolling out across many countries in the wake of the Oscar nominations.
Tomorrow's nominations will be crucial for the dark Tim Burton film, Sweeny Todd:The Demon Barber of Fleet Street, with Johnny Depp playing the title character. In America, the film has done modest business, with about $48 million grossed. A slate of strong nominations could give it a nice bump in America, and a strong push in foreign territories where it is just opening.
It will also be interesting to see if Sean Penn's Into The Wild -- the tragic story of an idealistic young man who sought spiritual redemption -- would get a few key nominations. Though the film was well received by major critics, it did not fare well at the Golden Globes. At the box office, it has grossed a decent but unspectacular $18 million. The film, which is on some 100 screens in America, could find a new audience in the wake of major nominations.
A saga of greed and ruthless capitalism There Will Be Blood is based on Upton Sinclair's crusading novel Oil! published over eight decades.ago  The movie, which could be a breakout hit for its director Paul Thomas Anderson, has received some of the best reviews of the year. Daniel Day-Lewis, who plays the ruthless oil man, may bag an Oscar for this one. It will be his second, after My Left Foot.
'Blood is slowly building itself up as a major Oscar contender and is already seen as a shoo-in for a Best Picture nod when nominations,' writes Gitesh Pandya on Boxoffice Guru.com
Anderson has told journalists how he compulsively played and replayed John Huston's 1948 classic, The Treasure of the Sierra Madre, which was also about greed and corruption of soul, as he was writing the script.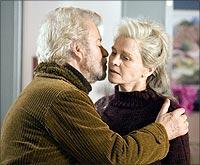 The film, in limited run, has grossed a strong $8 million. But its theatre count could reach 1000 from 389 if it gets major nominations. 
Though Away From Her, which has a riveting performance form Oscar winner Julie Christie (Darling), is now available on DVD, it could see a hefty increase in the sale.
The Diving Bell and the Butterfly, a French film directed by Julian Schnabel, is a mesmerising but slow moving real life story of a man, who, at the age of 43 in 1995, suffered a stroke. He is paralysed except for his left eye. Using that eye to blink out his memoir, he describes his trauma and struggle to keep his sanity. The film could get nominated for best director and screenplay (by the Oscar winning Pianist writer Ron Harwood). It has made just about $3.5 million in North America. With an Oscar boost, it could double its gross.
In the supporting performances category, Casey Affleck should be mentioned for the biopic The Assassination of Jesse James by the Coward Robert Ford. It took just about $4 million in North America. If Affleck wins the Oscar, the film's DVD sales could get a boost.
And then there is Cate Blanchett, whose gender-bending performance as one of six characters embodying different aspects of musician Bob Dylan's life and work in I'm Not There. Though the film, which has received mixed reviews, is nearly ending its North American run with just about $4 million, it could have a minor revival with an Oscar nomination or two.