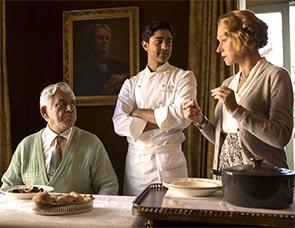 Om Puri, notes Arthur J Pais/Rediff.com, has given one of the most endearing performances of his career in producers Steven Spielberg and Oprah Winfrey and director Lasse Hallström's new film, The Hundred-Foot Journey.
The Hundred-Foot Journey, the bestseller, has taken over a million readers across the world to London, the French Alps and then Paris as Hassan recounts his journey from his father's restaurant in India to his acclaimed restaurant in Paris.
Forced to flee their Mumbai home, the family embarks on a culinary tour of Europe, eventually settling in Lumiere, a small village in the French Alps, where they open a boisterous Indian bistro opposite a quaint restaurant owned by a famous French chef, Madame Mallory.
While the new family, with Papa (Om Puri) as the patriarch in the movie The Hundred-Foot Journey, which opens in India, Canada and the US, on August 8, infuse the small community with the spices and aromas of India, Mallory (Oscar winner Helen Mirren) is livid with rage. She desperately tries to protect the tradition of her town and its cuisine.
Papa, while loud and brash much like his family's restaurant, is a hard-working and decent man. His family, which fled their home in Mumbai under tragic circumstances, is not afraid to stand up to the chilly Mallory.
The first glimpse of her brown-skinned neighbours prompts Mallory to sniff, 'Who are zees people?'
Zees people, she will soon discover, has one of the most talented young cooks in Europe: Hassan Kadam (Manish Dayal), who begins a quiet flirtation with the French restaurant's beautiful sous chef, Marguerite (Charlotte Le Bon). She introduces him to the venerable tradition of French cooking, which he is determined to master.
Meanwhile, there is fiery confrontation between Papa and Mallory, neither of whom is afraid to resort to all manner of sabotage -- buying up all the crayfish at the farmers market, or filing nonsensical complaints with the mayor (Michel Blanc), who is something of a gourmand himself.
Hassan's interest in French cooking motivates him to train with Mallory. As a proud immigrant, Papa feels betrayed at first, but takes pride as his son soon takes over. Eventually, both adults agree to put their differences aside for Hassan's sake.
'Because they are two very different people, it takes so much time to embrace each other from such a short distance,' Puri has said. 'Madame Mallory is a hundred feet away, but it took her and Papa so long to become friends.'
The conflict between the French and Indian restaurants is symbolic of the clash between two very different cultures, with Mallory's prideful persistence confronting Papa's unwavering stand. She believes her nationalistic pride in French culture and French haute cuisine is at stake, while he is afraid his family is being chased out of town once again because they don't fit in.
Each feels challenged by the other, and neither one is prepared to back down.
'Madame Mallory appears very refined and elitist,' says Puri, who is getting his biggest break in the West with this film which will be released on more than 2,000 screens on August 8 in America and Canada, 'but she's more classical in her attitude, while Papa is more rustic. But it doesn't mean that rustic has no right to live.'
In the production notes, Mirren points out, 'It's a feud that becomes a no-holds-barred war within a civilised society, but it's still a war.'
The new film -- produced by Steven Spielberg and Oprah Winfrey and directed by Lasse Hallström -- is being released just as Million Dollar Arm (which grossed a decent $35 million) and The Lunchbox (an impressive $4 million for a subtitled Hindi language film that played mostly to mainstream audiences in America) are ending their run. Hollywood insiders believe The Hundred-Foot Journey could make at least $100 million worldwide.
'We had a chance to put our creative energies together in a very compatible way to tell this story about compatibility amongst people you never imagined could be compatible,' Spielberg, who is working with Winfrey for the first time since The Color Purple, says in the production notes.
Adds Winfrey, 'It was a little gem of a novel and a piece of art that actually does and says what I've tried to say in my work and art throughout my career. It's an incredibly uplifting story, plus I loved the idea of being able to work with Steven again.'
The modest budget production, which cost about $35 million (far below the Hollywood average of $75 million), was shot in France for 52 days followed by four days with a smaller crew in India. The crew and cast was a melting pot of its own. Most were French, but there were also Americans, Britons and Indians with a Swedish director, Swedish cinematographer and camera crew.
'There were four languages spoken on the set at all times: English, French, Swedish and Hindi,' according to one producer. 'The filmmaking was as cross-cultural as the movie itself.'
Before the start of production, Dayal and Le Bon were both taught the fundamentals of cooking, giving them the opportunity to experience the differences between the two cuisines first-hand. Chefs from France and India were on the set to coach the actors, as well as provide insight to the best ways to light and shoot the food, including French consultant chefs Vincent Meslin and Lenaic Jourden and Indian consultant chefs Floyd Cardoz and Anil Sharma.
'The most important thing I learned was that cooking is really about gestures and body language,' Le Bon has said. 'It helps to have an attitude, too.'
Both Papa and Mallory have more in common than either cares to admit, each as proud, determined and pig-headed as the other, and when it came to casting the film, the filmmakers knew it was crucial to find the right actors to take on such complex roles. 'Mallory is not an easy role to play,' Hallström has said, 'as she undergoes quite a transformation in the film, but I'm drawn to stories that depict characters in a truthful way, and wanted to show this as believably as possible.'
Helen Mirren was one actor it was easy to envision in the role, the Swedish director added. Known for her Academy Award-winning performance as Queen Elizabeth II in The Queen and her Emmy Award-winning role as Jane Tennison on Prime Suspect, she is also known for her comedic work on stage and in films.
Om Puri, who has acted in over a dozen films made by distinguished directors in America and Britain, has given one of the most endearing and spirited performances of his career in more than three decades.
A veteran of more than 250 films, Puri has a great character face and the acting skills to compellingly portray sensitive one minute and funny the next, amazed Hallström. 'I have always admired Om Puri,' he has said. 'His presence is tangible, and the stability and authority of that presence is amazing and perfect for Papa.'
In the Kadam family, Hassan is the humble and sensitive one who has been given his calling in life which he inherited from his mother. With credits including 90210 and Law & Order, Indian-American actor Manish Dayal gets his first big break in the movies.
'He has a beautiful, calm, steady presence,' Spielberg felt. 'He doesn't look like, but very much is, Om's son. There is something on camera and off that really bonded these two actors.'
Image: Om Puri, Manish Dayal and Helen Mirren in The Hundred-Foot Journey.