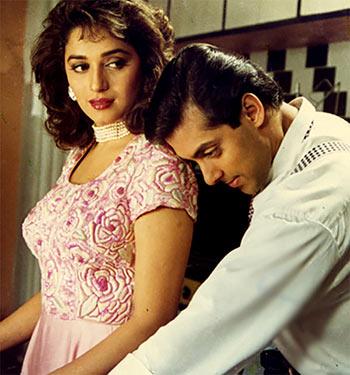 From odd to heartwarming, the best of Twitter conversations in 2014.

From Supreme Court allowing women to work as make-up artists in Bollywood to Mallika Sherawat talking about women's rights at Oxford University, 2014 on Twitter was a mixed bag of conversations that ranged from odd and heartwarming to plain curious.

Here's a look at the top ten Twitter moments of 2014.

20 years of Hum Aapke Hain Koun!
It was the year of many a filmi milestones.

While Yash Raj Films' Dilwale Dulhania Le Jayenge (DDLJ) completed 1000 weeks earlier this month, 1994 blockbuster film Hum Aapke Hain Koun completed 20 years on August 5.
Madhuri Dixit, who played the female lead in HAHK, wrote: 'Wah wah Soorajji, picture kya banayee! Rajshri aur parivaar ko badhai hobadhai. Unforgettable memories.'


Supreme Court lifts ban on female make-up artists
In a landmark decision earlier this year, the Supreme Court allowed women to work as make-up artists in the Indian film industry.

Earlier, Cine Costume Make-up Artists and Hair Dressers Association (CCMAA) mandate dictated that women could only be hair dressers and not make-up artists.
Film producer Ashvini Yardi welcomed the news and wrote: "Kudos to Charu Khurana for challenging and getting the ban lifted on female makeup artists in Bollywood."

Shah Rukh Khan: My mom would have been so proud
The year was also replete with accolades and awards for Happy New Year star Shah Rukh Khan.
When the 48-year-old actor was conferred with top French civilian award -- Knight of the Legion of Honour -- in July, he remembered his mother and wrote: 'Thank u France & His Excellency President Hollande & Mr. Laurent (fabulous) Fabius for the honour. Thx my India. Mommy would have been so proud. & the Indian Film Industry, Thanx for taking a nobody & making his dreams come true.'
Shah Rukh was also presented with the Global Diversity Award 2014 by Speaker of Britain's House of Commons, the Rt Hon John Bercow at a special ceremony held in the House of Commons.
When Aamir Khan met The Terminator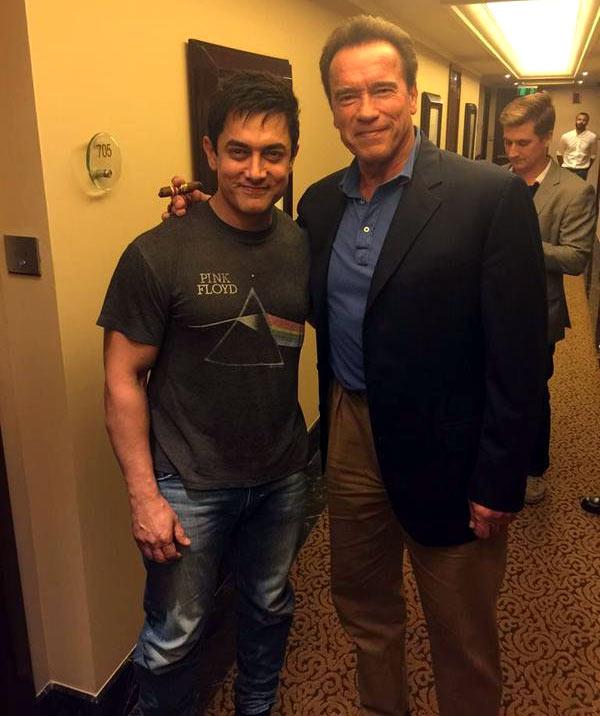 Aamir Khan may not have acted in a Hollywood film (yet) but he is an international star in his own right.

When Hollywood star Arnold Schwarzenegger was in India, he got to know that Khan wanted to meet him and paid him a visit.

Aamir shared a picture of them together and tweeted: 'I told the HT staff I wish I could meet him. So they told him. And he just walked in to my room!!! He's really cool. Very warm and friendly. It was a bizzare feeling! I looked up when the door opened and I see THE TERMINATOR walking into my room!'

Arnold also praised Aamir and wrote: 'It was fantastic to meet you! You're a real star, w/ success at the box office and all the awards.'
Shabana Azmi: Nawaz Sharif is a fan of Laga Mangeshkar, Mohammed Rafi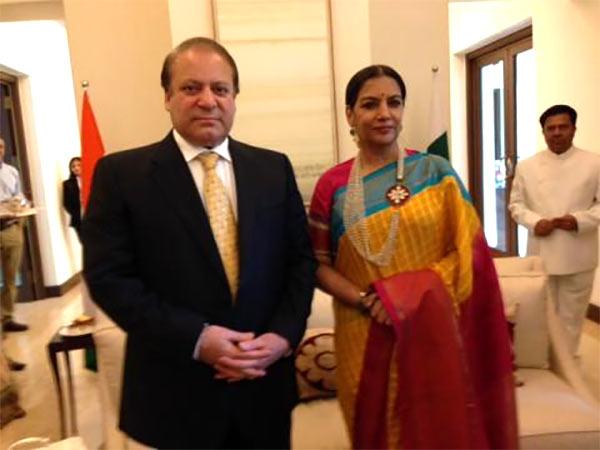 Politics may divide people but art unites.

When actress Shabana Azmi met Pakistani Prime Minister Nawaz Sharif at a private tea party during his visit to India in May, she took to Twitter to reveal that he is a big fan of Indian legends like singers Lata Mangeshkar and Mohammed Rafi and her poet father Kaifi Azmi.
She shared a picture of them together and wrote: 'Met Nawaz Sharif yesterday. Delighted dat he is fan of Kaifi Sb Lataji Mohd Rafi.I said we nd Indo Pak coproductions. Nawaz Sharif said he gives his full support 4 films as coproductions between India Pakistan. He brings msg of Peace n encourages exchanges.'


Gulzar receives Dada Saheb Phalke award

He may not have been honoured with Bharat Ratna yet, but Gulzar is certainly one of the most celebrated writers in India.

The veteran lyricist-filmmaker was conferred with the prestigious Dada Saheb Phalke award earlier this year.

National Award-winning filmmaker Madhur Bhandarkar wrote: 'As one of his biggest fans, am simply overjoyed to know that Gulzar Saab has been conferred the Dadasaheb Phalke award! Take a bow, Sir!!'

When Bipasha Basu lashed out at Humshakals team

It isn't often that an actress leaves film promotions mid-way.

But Bipasha Basu couldn't help herself after she dubbed for Sajid Khan's sex-comedy Humshakals.

She turned to Twitter to explain her side of the story and wrote: 'This is to put an end to all the discussions around my absence for Humshakals promotions. I take full responsibility of getting into a film only on the basis of trust. But after dubbing for my character in the film, as I had professionally committed to do so I'm extremely disturbed by the end result of the same. In these circumstances I didn't know how to promote a film with all honesty and that's why I thought it was better to stay away. I am confident that the film will be true to it's genre and will be a full entertainer because of the people involved. I wish fox star studios who I have had my biggest hit with Raaz 3 and vashu ji who is a fantastic producer all the best. Wish all my co stars Saif, Riteish, Tamannah, Esha and the technicians best of luck. Sometimes, certain journeys cannot be completed and this is one of them - no one to be blamed, combination of things that made me disrupt my journey.'

Following the fiasco, Bipasha and Sajid have decided to never work with each other again.


Nandita Das at Yale University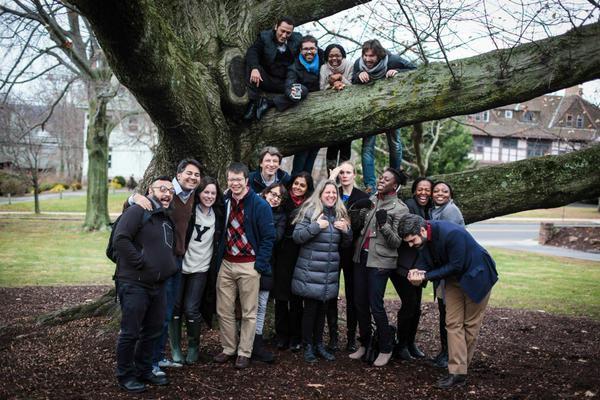 Critically-acclaimed actress Nandita Das was named one of the global leaders for 2014 Yale World Fellowship.

After completing the four-month programme, she shared a picture of herself with classmates and wrote: 'All good things come to an end. Last day at @Yale. These 4 months were special. I will miss you, 2014.'

Yale World Fellows is an international fellowship program at Yale University for mid-career emerging leaders who have distinguished themselves in their profession, discipline, or geographic region.

Farhan Akhtar becomes UN Goodwill Ambassador

It was a proud moment for many Indians when Bollywood star Farhan Akhtar was appointed as the South Asia Goodwill Ambassador of the UN Women.

Expressing gratitude, Farhan wrote: 'It is with your support that I've had the energy to stay on this path.'
Farhan also heads Men Against Rape and Discrimination (MARD) campaign, which advocates gender equality and women's empowerment.
Mallika Sherawat at Oxford University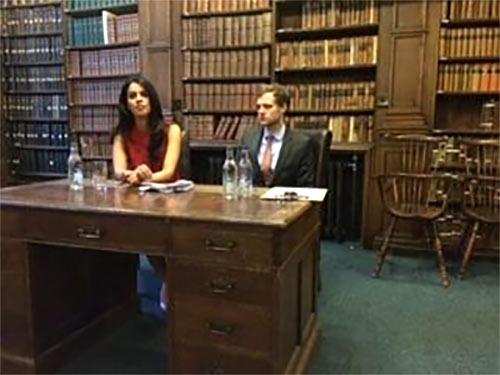 Yes, it did happen!

After the video of Mallika Sherawat's slamming a journalist went viral on the social-networking sites, she was spotted at Oxford University where she took part in a discussion on gender issues in May.

Expressing her excitement, she shared a picture of her and tweeted: 'At the historic Oxford university, what a journey, Haryana to Oxford.'

Sherawat is now awaiting the release of her much-delayed film Dirty Politics.

Pavitra Rishta goes off air!

Popular television show Pavitra Rishta, which was launched in 2009, went off-air on October 25.
After it took the leap of 20 years couple of times, the makers of the show decided to end it on a happy note.

Actress Ankita Lokhande, who played the lead role of Archana, was visibly touched by its ending.
She wrote: 'Hello guyz I don't know wht to say ... Just read the messages wht u guyz hv written 4 us ...I love u and will always do. The best thing abt u guyz is u know me better then anybody else .I m really touched with so much of love already crying n missing PVR.'

The show revolved around the love story and marriage of its lead couple -- Manav and Archana -- and their families in Mumbai.

It also featured actors like Sushant Singh Rajput, Hiten Tejwani, Rithvik Dhanjani, Asha Negi, Shakti Arora, Kekti Dave, Mrinalini Tyagi, Manish Naggdev, Shruti Kanwar, among many others.