A web series titled All About Sec 377 is all set to release on the internet.
Director Amit Khanna, who made the not-so-memorable rom-com Badmashiyan last year, is the man behind this LGBT-based web series.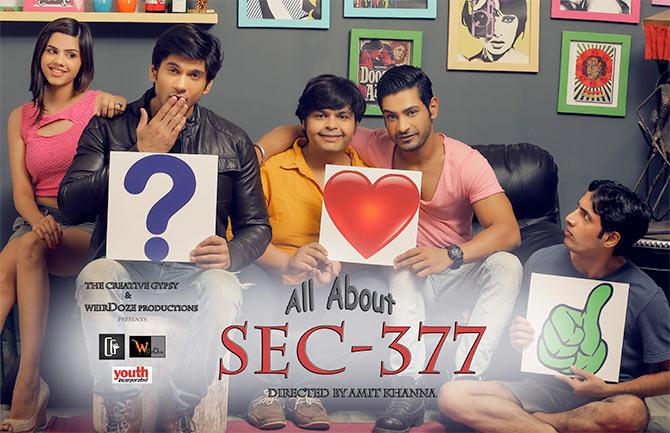 The web series takes a light-hearted look at a gay couple's life as seen through the eyes of a straight homophobic man.
"We have been living in a country where we are told that we have freedom of choice, but sadly this is not a freedom that is exercised," says Khanna.
"I really feel if you belong to the LGTB community, you are denied even the freedom to love. It's sad that a person who makes love to the same gender is announced as a criminal as per our law and probably given a bigger punishment compared to a rapist."
The trailers shows the overweight gay man, played by Khanna himself, saying defensively, "I am gay. What is your problem with that?"
"The very fact that gay and lesbians are treated as the butt of jokes amongst educated people in society is sad. There have been very few works of fiction which depict the emotional and real side of gay men and lesbian women. People tend to forget that they are as normal as anyone. It's only a matter of choice,"adds Khanna.
"The series depicts a gay relationship to be as normal as it can be and how a homophobic man witnesses it and hence the journey where his prejudices and wrong perceptions change."
"Through the series, which would connect with the LGTB community, I feel even straight people would connect with the same and a lot of them would stop judging people and respect every individual's choice."