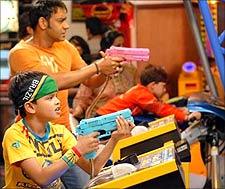 The Delhi High Court has refused to stay the December 24 release of Toonpur Ka Superrhero but has asked its director and producers to include a disclaimer saying that an animated character in the movie is not a depiction of music composer Bappi Lahiri.
 
The court passed the order on a petition filed by the veteran music composer-cum-singer seeking a stay order on the film's screening and also deletion of the character 'Guppy' saying it has resemblance to him and wrongly gives the impression that the composer is a part of the movie.
 
Justice S Ravindra Bhat, however, asked director Kireet Khurana, distributor Eros International

Entertainment and producers Big Screen Entertainment and Climb Media of the Ajay Devgn and Kajol starrer to include disclaimer saying that the animated character of the film 'Guppy' is not a depiction of Bappi Lahiri.
 
The court also asked the producers to maintain all accounts of the revenue of the film, made with Rs 35 crore, and directed them to submit before it on a quarterly basis.
 
The court also restrained the producer from merchandising and distributing T-shirts, clocks containing the similarity of character 'Guppy' for the film's promotion.
 
The filmmakers informed the court that Rs eight crore has been spent on publicity.
 
The court was hearing an injunction suit filed by the 'disco king' alleging the producers and director did not obtain permission from him before projecting his identity in the film.