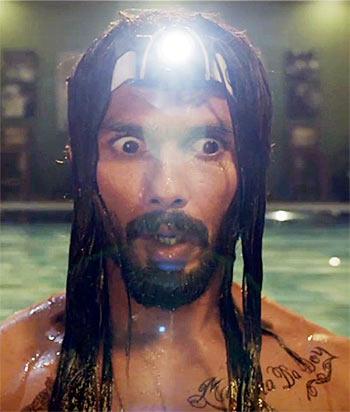 'Initially, there was no Punjab in my film. I just wanted to do a film on drug abuse because it was a problem that bothered me.'
'Alia had to go through a lot in playing the character. We had to be careful about how far we could go in showing her trauma.'
Director Abhishek Chaubey, who is flying high with the massive critical and probable commercial success of Udta Punjab, discusses the film, its characters and much more with Subhash K Jha.
Now that Udta Punjab is finally out, what are your feelings?
Relief, joy, calm and a sense of achievement.
Do you feel triumphant about your victory with the censor board?
Triumph is too big a word. I wanted the film to release on June 17. That was very important for all of us. If we had not met our release date, I'd have felt defeated.
The high court bypassed the censor board to release your film. Now, sex comedies with phallic jokes can go straight to the courts if the censors object.
The censor board has a terrible responsibility and a completely thankless job. There are always going to be filmmakers who indulge in cheap titillation and try to sell cheesy ideas to make money.
I agree that when a film like Udta Punjab is given the freedom to have its say, other filmmakers may demand the same. There is the Carry On series which has cheap jokes about women's anatomy and so on. How do we stop these?
The profanities in your film do not offend...
That's because those lines were not put in there to titillate. That's how the characters speak.
Your last film was Dedh Ishqiya. How did you suddenly jump to a film about the drug menace in Punjab?
I started writing Udta Punjab in September 2013, a few months before Dedh Ishqiya released.
I was really keen to make a film on drug abuse. But, initially, I didn't know how to go about doing it.
How did Punjab come into the picture?
Initially, there was no Punjab in my film. I just wanted to do a film on drug abuse because it was a problem that bothered me. I have seen from very close quarters what drugs can do.
Have you ever tried drugs?
No, nothing major. Maybe marijuana. But I've seen friends in college fall victim (to drug abuse). The drug menace is all around us. But no one was talking about it in our cinema. Apart from whispers at high-society parties, no one really bothered.
That bothered me. I read up on the subject. The information I gathered was very incipient. It was after this that we moved our plot idea to Punjab because the problem of drug abuse is acute in Punjab. After that, everything fell into place.
How much time did you spend in Punjab researching on the subject of drug abuse?
I was there for some months. My co-writer Sudip Sharma went much earlier. He met lots of people. Later, I joined him and we met health experts, drug victims and others related to the issue.
The data provided by your film -- that 70 percent of the youth in Punjab are drug addicts -- has become contentious.
All the data is easily available to anyone who wants to check it on the Internet. We also looked at various other sources for our data such as comprehensive pieces in Tehelka.
When the trailer came out, our statistics were questioned. But we were very clear about what we were doing. There is a problem in Punjab. We said, "Let's make a film about it with stars so that people will listen to us." This is the reality. This is what is happening in Punjab. And this is our small contribution towards creating awareness about the situation.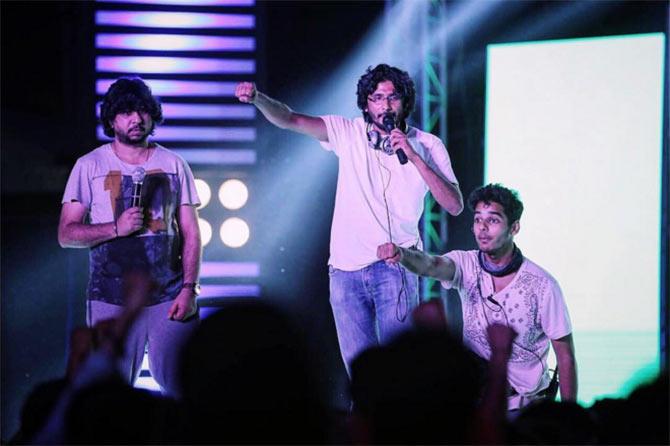 IMAGE: Abhishek Chaubey (centre) on the sets of Udta Punjab
The casting in Udta Punjab is impeccable. How did you decide to interweave the characters into the theme of drug abuse?
If you look at the problem, those affected by it are the healthcare specialists. I've one played by Kareena Kapoor Khan.
Then there are the families of the drug addicts. Diljit Dosanjh plays a cop whose brother is an addict.
Then we have the drug addicts themselves, played by Shahid Kapoor and Alia Bhatt.
We wanted to show both the victims and the people affected by those who are drug addicts.
How did you get Shahid Kapoor to convey so much madness as Tommy Singh?
When I narrated the idea to Shahid, he was immediately excited. Of course the quality of madness was challenging for him. We had to walk a thin line between Tommy Singh being wild and obnoxious. But I've to tell you, I was surprised by how eagerly he grabbed the character.
He loved the character's journey from self-indulgence to self-actualisation. Tommy realises he is in some way responsible for youngsters doing drugs. His addiction has made him terribly broken and empty inside.
How traumatised was Alia Bhatt playing the character of a Bihar migrant in Punjab who is captured and enslaved?
Extremely traumatised. When we finished the shooting, she ran into her van and let out a whoop of joy and relief (laughs). She became herself again.
Alia had to go through a lot while playing the character. We had to be careful about how far we could go in showing her trauma.
But still, what we see comes across as an extremely brutal depiction of a society that has lost its compassion...
Our first draft of the script was much more brutal. In the subsequent drafts, we toned down the brutality to make it more palatable to a mass audience though, with Alia's character, we couldn't water down the brutality without lessening the impact.
Yes, we were aware that we wanted to make a mainstream film, hence the love story between Shahid and Alia. Yet, even that love story is not without a sub-text. You see, drug addicts feel unloved and isolated. They tend to drift towards one another.
Diljit Dosanjh as the Sikh cop is the quiet achiever in the cast.
Casting Diljit was a brainwave. We needed a Sikh actor who would allow us to move away from the stereotypical depiction of Sardarjis in films. Diljit had the range to carry it off.
Apparently, all the principal actors took a pay cut.
Yes, that's true. We knew this was not a big-budget blockbuster movie. We wanted and needed stars. At the same time, we needed to spend as little as possible. We had to shoot within stipulated number of days.
All the actors were willing and they surrendered without hesitation. They made the film possible.
What's next?
I don't know. But we live in very interesting times, in a very creatively active country where diverse films are happening all at once.
In a country as politically alive as India, not making a film that is politically motivated is the biggest political act.
There are so many genres to explore. Knowing the person that I am, I can't make a film that's blind to the reality around (us).