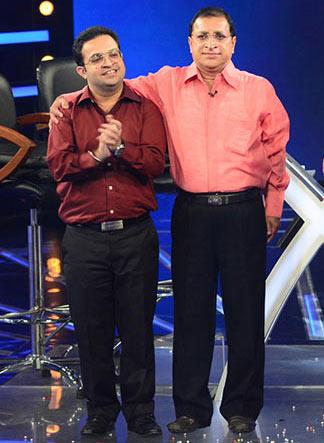 "Ever since the news of our win got out, I've received six-seven marriage proposals!" Achin Narula exclaims. "I wasn't thinking about marriage but after KBC, it will definitely be easier to find a match."
Here's what happens when two 20-something Delhi boys become crorepatis overnight.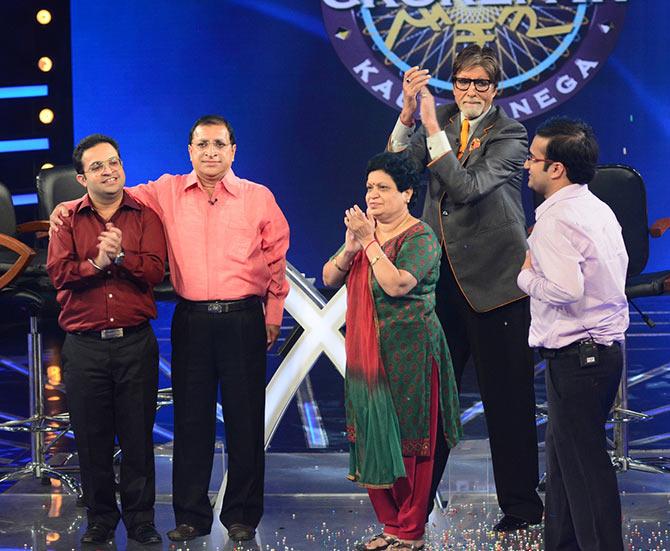 "Arey yaar, they edited out my Dil Chahta Hai dialogue there," Achin Narula, 28, purses his lips in mild disappointment.

The joint winners of the whopping Rs 7 crore prize on Kaun Banega Maha Crorepati -- Achin and his younger brother Sarthak Narula, 23, -- are glued to the television, reliving their glory as their momentous KBC episode unfolds on the TV screen in their room.

Sitting on their respective beds in Hometel, a comfortable budget hotel in Malad, a western Mumbai suburb, the two brothers -- who are working their way through tricky questions on the popular game show -- are a study in contrasting personalities.

Achin restlessly paces the room every time he gets a congratulatory phone call and rocks back and forth at crucial points in the episode. His brother, on the other hand, sits calmly with his legs covered with the comforter.

Presumably because they have done quite a few interviews till now, they have learnt to periodically tune out an outsider presence for brief, private victories with each other.

When we politely decline their offer of tea/snacks -- I suspect it'd be a mindless interruption for them -- Achin quips, "Don't worry, it's all on Sony (the channel).
They are obviously in a very good mood.
While the show progresses, it becomes clear that more than witnessing their moment of KBC glory, the duo is interested in how they have conducted themselves on TV.

They are acutely conscious of how many of their wisecracks and quips were edited out.

"He (Achin) thinks everything he's said and done should be shown on TV," Sarthak remarks.

"They must have sold these slots for exorbitant prices and longer duration ads," concludes Achin, who works in the marketing department in a real estate firm based out of New Delhi.

"They have edited so much, I'm getting calls from my friends saying, "Tu toh kuch bol hi nahi raha (You aren't saying anything at all)," says Sarthak, sounding concerned.

The brothers bought new spectacles for their appearance on the show.

"I used one pair for many years but when we had to come here, I decided to get another pair just in case the old one broke. The new pair you see on him (Achin) are photochromatic," Sarthak offers, even as Achin squirms -- he is more conscious of how he's presenting himself than his soft-spoken younger brother.

The Narula brothers' preparation for the show was (obviously) top notch -- Achin had been trying to get on the show for the last 10 years and had made it to the fastest finger first four times before.

The KBC team would say,'Tu phir se aa gaya? When will you quit?'

"I told them I'll keep trying until they let me through the next level," Achin says.
So did they have a certain number in their mind that they intended to win?

"We were looking at winning at least Rs 25 lakh. Since there were the two of us, it seemed like an achievable goal," Sarthak chimes in.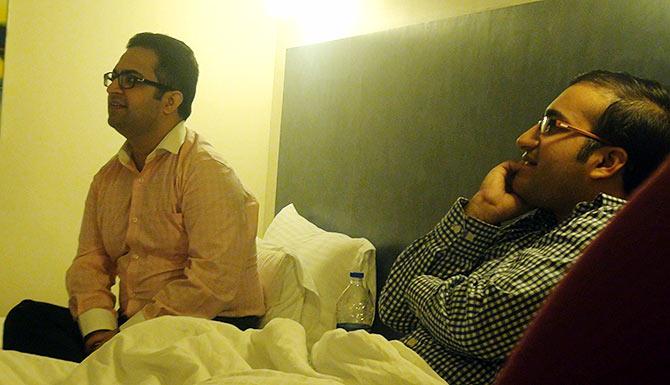 When asked about his very unusual sounding name, Achin says, "It means a man without worries -- my parents wanted to name me Sachin but, at the same time, didn't want to break the family naming convention in which all names must begin with an A."

But then, why was Sarthak named differently?
"My mom wanted me to be different," pat comes the reply from Sarthak.
The big win hasn't sunk in yet for the Narula brothers even though it's been three weeks since they shot for the episode and won. Their friends and family are still 'shell-shocked' as well.

"They can't believe that such a thing has happened. How many people can reach even the 1 crore question, after all?" asks Achin.

Friends and friends of relatives they hadn't even heard of, or have met briefly, have been calling in to congratulate them.
"The guy I was talking to over the phone is a cousin of a friend who I met once, when I was in the 12th standard. It's a bit of a hassle to attend each and every call since the phone is on roaming at present," Achin confides.

But money is surely no matter now?
"Middle class values always remain intact. More importantly, the money hasn't come in yet," the brothers burst into peels of laughter.
"We have already spent a lot of money -- CCTV cameras have been installed in the house, we have thrown three parties -- for friends, work friends and relatives. Paisa aane se pehle hi chala jaa raha hai (money has been spent even before we've got it)," they note.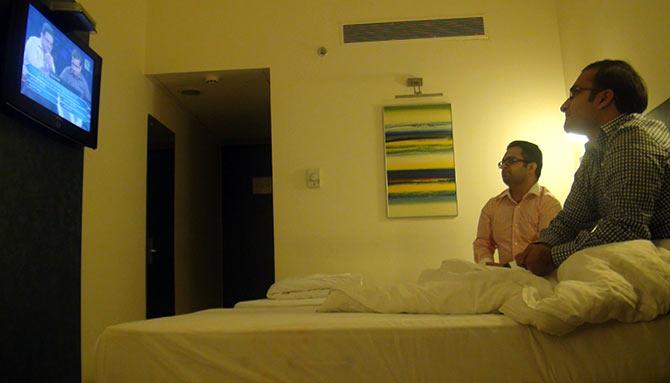 Achin took an indefinite break from work when the first call from KBC came in.
"It was an opportunity of a lifetime and I needed to prepare for it," Achin says.

"I can show you emails of the number of books I've ordered for quizzes over the years. We've also watched a lot of quiz shows. There's one on the Disney Channel that airs at 3 am," Sarthak, who has done his graduation in Commerce, informs.
"Then we read Derek O'Brian's Bournvita Quiz contest books, another one by Siddharth Basu, one called Mastermind; we have also been regular subscribers of Competition Success Review (a staple for Government entrance exam aspirants)," he adds.
"Since I was trying for KBC for 10 years, we made notes of what areas of GK were asked from the most and worked at them accordingly," Achin says.

The Rs 7 crore prize money brings with it a set of new career plans for him.

"I will look at viable business opportunities now. We have the capital now, loans will also be more easily available to us," he notes.

A string of marriage offers for Achin have also come in.
"Ever since the news of our win got out, I've received six-seven proposals," Achin informs. "I wasn't thinking about marriage but after the win, it will definitely be easier to find a match."

Achin and Sarthak's father is a marketing officer with National Insurance.
"We also had a mattresses business in our mother's name but we had to shut it down after some regulation changes. It just wasn't viable for us anymore. We incurred heavy losses and had to sell our house. We now live in our grandfather's house," says Sarthak.

Their mother was detected with ovarian cancer in July 2013. The chemotherapy sessions are over, and she's on the road to recovery.
"She will recover but she will need regular tests for the rest of her life. Chemo has been tough -- we've all suffered emotionally too, besides her own physical pain," Sarthak adds.
But they don't want to dwell on that.
"We wanted to talk about it on the show only because there are now vaccines for certain types of cancers. Many people don't know it so we just wanted to get that information out there through television," they explain.

But here's the big question: Are they really as smart as they seem on KBC? Watch the video, as Rediff.com puts them to the test, and see how they fare!