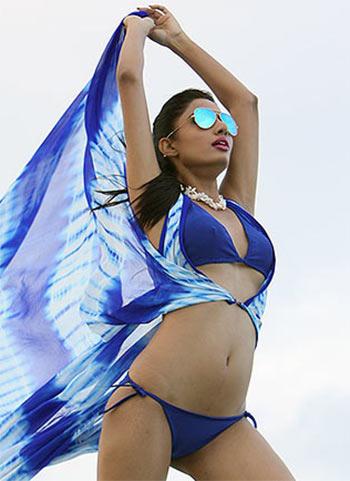 'I wasn't sure if I could carry off a bikini well. So I did a photo shoot and showed it Madhur Bhandarkar. He said it looked great. That gave me the confidence to carry it off.'
Meet Calendar girl Avani Modi.
Gujarati girl Avani Modi will make her debut in Madhur Bhandarkar's Calendar Girls talks and she's quite excited it.
The young actress tells Rediff.com contributor Rajul Hegde how she started her showbiz career.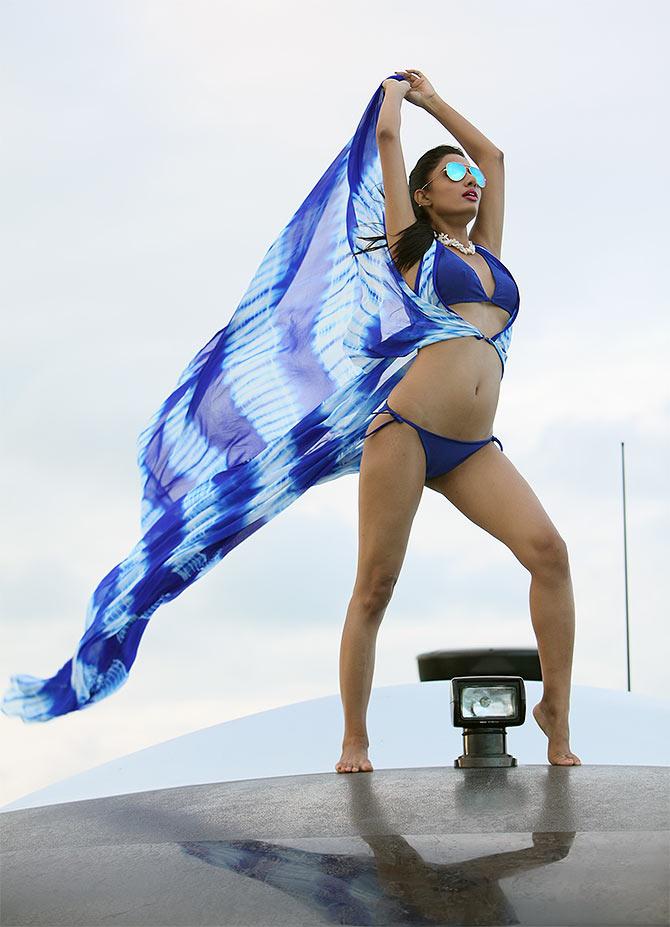 Tell us about yourself.
No one in my family is a part of the film industry but I have been always filmi!
After watching Kuch Kuch Hota Hai, I wished that my father had a long lost girlfriend and I would hunt for her and unite them, like Anjali did in the film!
I would rehearse the dialogues with my friends in school.
How did you getting into acting?
I joined Gujarati theatre in college, and got a lot of awards.
After my graduation, I decide that I wanted to be an actress.
My parents were extremely supportive.
I did not have any contacts in Mumbai but Gujarati theatre helped me get modeling assignments.
The agency I had signed up with asked me to take up south films. So I signed a couple of Tamil films to learn acting. My second Tamil film Strawberry released in September and it has got good reviews.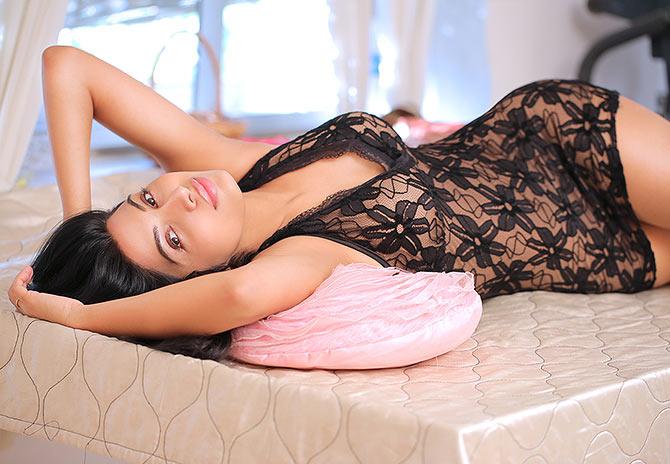 How did your Bollywood debut Calendar Girls happen?
I met Madhurji's manager through a common friend and he said they are casting five fresh faces for Calendar Girls.
I got a call from Madhurji's office to meet him on April Fool's Day. I thought someone was trying to fool me. I made sure it wasn't a prank call, and then went ahead and met him.
After looking at my pictures, Madhurji said he wasn't looking for just a pretty face but a good performer as well.
Since I had done theatre and south films, I knew I would crack the audition. But I did not expect anything beyond that. After a couple of auditions, Madhurji and his team of writers short-listed me.
What was your reaction when you were signed on?
After 15 days, I got a call from his office to meet Madhurji.
While we were chatting, Madhurji asked me what I was doing in those days.
I told him I was working on a south film.
He said, 'Theek hai, yeh bhi kar le' (okay, do this as well).
I asked: 'Kya karlay?' (do what?)
He said, 'Calendar Girls kar lay' (do Calendar Girls).
I was so excited, I jumped out of my seat.
After three days, I signed the agreement and immediately called my dad to share the news. It was such an emotional moment for us; we starting crying over the phone.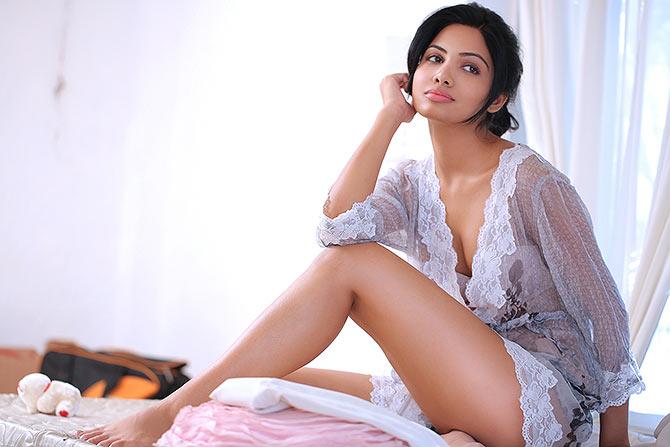 What is Calendar Girls all about?
The story is about five girls who come to Mumbai from different cities to make a career. They get featured in an annual calendar.
The film then showcases the ups and downs they experience while achieving their dream and how their destiny takes a twist.
I play an ambitious Pakistani model from Lahore. My role shows the difficulties a Pakistani model faces because there's a rivalry between the country she hails from and the country she has come to.
I'm quite similar to the character but our family backgrounds are different. Her family is conservative while my parents have always been very supportive.
How comfortable were you wearing a bikini?
I had never done a bikini shoot since I was not a model.
Though I didn't have any inhibitions about wearing a bikini, I wasn't sure if I could carry it off well. So I did a photo shoot and showed it Madhurji. He said it looked great. That gave me the confidence to carry it off.
We shot the bikini scene six-seven months into the shoot. By then, we girls had formed a great bond. So I did not have any problem shooting it.
So you girls bonded well on the sets?
Yes.
I won't say we became best friends but we had a good equation. We are in regular touch with each other on our whatsapp group.
The one year we spent together was amazing. In the film, these five girls start their journey on the same platform and at the same time. That's true for us in real life as well.
Let's see where destiny takes us.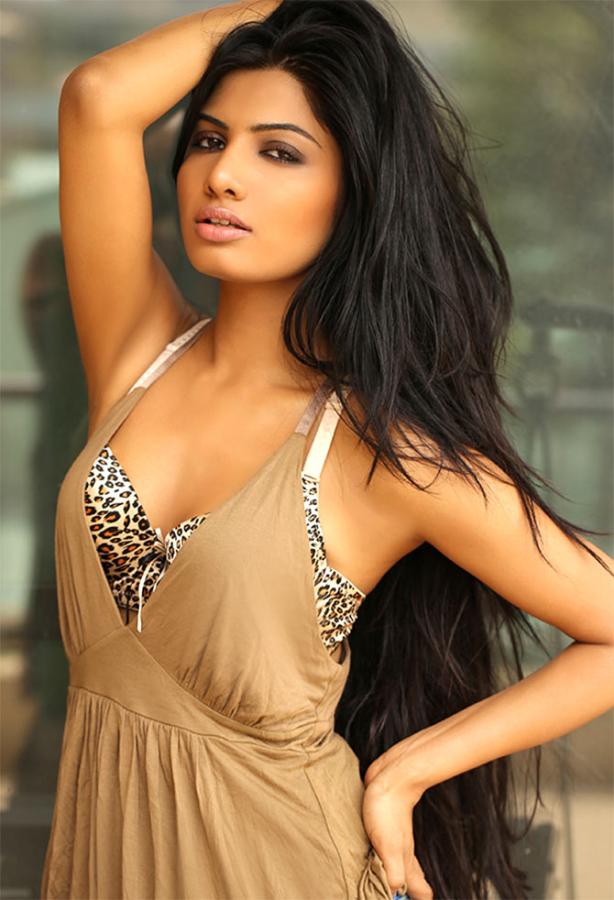 How is it working with Madhur Bhandarkar?
He is very down-to-earth. He is so simple that even if we were in a five star hotel, he would go out and eat vada pav. He is a typical Mumbayite. He has worked with top actresses and won four National awards but he does not carry that baggage around. He knows exactly how to get the work done with newcomers.
We were allowed to give inputs and improvise. He would say Konkona Sen Sharma and Tabu are both powerful actresses but they are so different.
He would talk about how Priyanka Chopra and Kangana Ranaut would do their scenes and their techniques.
What feedback did you get for the film promos?
The teaser leaves some thought in your mind. Many people have asked me what happens to Nazneen (her character). But you have to watch the film to know that.
The curiosity has built up, so that's a positive feedback.
Though I look different in the film, people recognise when I go out. They ask for selfies and I love the spotlight.
Who is your favourite actor in Bollywood?
I really like Varun Dhawan. He has a good screen presence, is a good dancer and actor -- a complete package.
I also like Ranbir Kapoor.
Amitabh Bachchan is my all-time favoruite actor. I wish I can work with him some day.