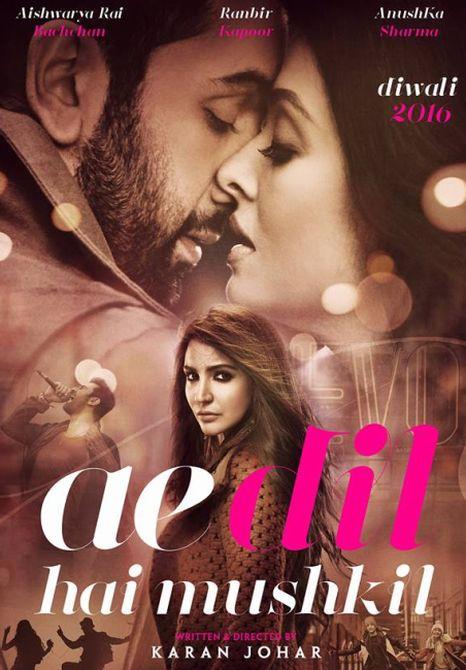 'I told Ranbir that on some level, in some way, you are playing me.'
'I have an obsessive need to be relevant.'
'In my head, I feel that I'm the brand ambassador of heartbreak.'
Karan Johar sets the record straight. On Ae Dil Hai Mushkil, and what has changed over time.
The first promo for Karan Johar's upcoming Diwali release, Ae Dil Hai Mushkil, hit the internet today.
Starring Ranbir Kapoor, Anushka Sharma and Aishwarya Rai Bachchan, even this brief glimpse of Johar's film is enough to get the fans thrilled and curious.
Minutes after watching the teaser, Rediff.com's Raja Sen spoke to Karan Johar, image, below, to get some sense of what to expect -- and what not to expect -- from Ae Dil Hai Mushkil this October.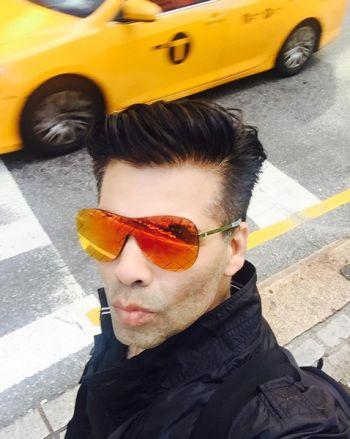 The new teaser somewhat disarmed me with its intensity. We aren't used to having teasers -- especially glossy, glitzy teasers -- that start with the leading man insistently holding the camera's gaze.
Actually, the entire first half of that song is sung in one shot.
I could have left more of it in [the teaser] and was tempted to, because of how good a performer Ranbir is, but I had to cut to the women at some point.
In the film itself it's a very long shot, almost two minutes of the song are on a tight close-up of his face. And he's an actor who has the ability to hold.
The teaser looks romantic and intense and not, thankfully, too comedic. Is this going to be another Karan Johar weepie?
No, no. I don't think I can make another of those all-out, manipulative weepathons. I love crying in the movies. I grew up believing that when I cried in the movie, it meant I liked the movie. I remember, as a child, weeping right through Arth, I don't even know if I understood it at that age.
But it wasn't just Arth and Saaransh.
I remember crying through Raghavendra Rao's South remakes, as well as being moved by Pyaasa.
I was an anomaly, a Malabar Hills child who was growing up in that snooty neighbourhood but discovering all those older films on television, then on video and then on laserdisc. I kept watching films.
To answer your question, yes, the film is intense but the hand on the intensity is not self-indulgent. It is a film about unrequited love. So, for me, it is also a very internal film.
Twice in life, my love hasn't been reciprocated and I know what it can feel like. So that emotion runs through the film, it's not a cop out. We stick to the feeling of 'ek tarfa pyaar' as suggested by the dialogue at the end of the teaser.
Still, there are no chest-beating moments, the tonality and the syntax are very much that of cinema right now. It isn't overly manipulative, and nothing is so intense that it takes you to a dark area. We commit to an emotion but... a little is a lot.
When you call this an internal film, how much have you drawn from your own experiences?
Oh, I told Ranbir that on some level, in some way, you are playing me. Normally I make films through observations that I filter through a dramatic, a cinematic palette. Not this time. I've been in love twice in my life and it's been unreciprocated both times, and in my head I feel that I'm the brand ambassador of heartbreak.
But that is a very identifiable zone for all of us. We've all had our heart broken. And I believe that love, that lost love, powers you in a certain way. I've taken that strength somewhere, and it has completed me in some way.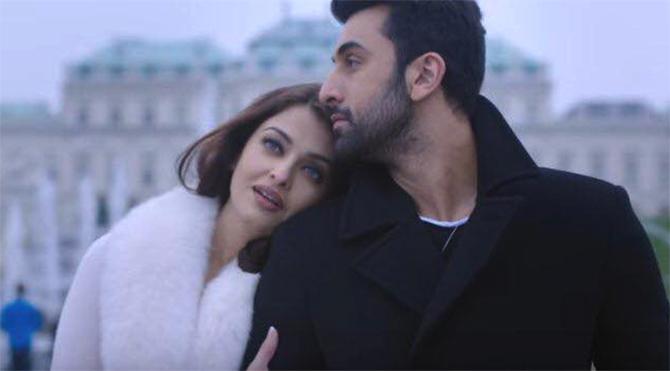 I understand. Now, ever since the three posters came out yesterday, there's been a lot of discussion as people have tried to read too much into them. So here's the big rumour: Is it a double role, will we see two Ranbirs in the film?
(Laughs) It's not a double role at all. To the people who have seen his two looks in the film, I just have to say: 'People shave, dude.' There's so much speculation.
The other rumour I've heard is that it's a Doosra Aadmi remake. It's not, it's not a film about infidelity at all.
The 'morality' is not questionable, so to say. Just because a film has four characters, they wonder if it'll be like Kabhi Alvida Naa Kehna. Not at all.
That's good to hear. At this early stage, how much can you tell us about the female characters in the film? They seem interesting from this glimpse.
They're complicated, without saying too much. And they are immensely progressive characters. I know that Aishwarya has never, ever played a part like this. She plays a poet who isn't a very good poet, and so she is aware that she isn't as respected in her community of poets. This is partly because she is too beautiful to be taken seriously and because she isn't a great poet. She comes from a situation of heartbreak herself.
Anushka comes from a dysfunctional family. Everyone has a broken hearted situation in some way. I have to say, though, that they are both incredibly strong and complex women characters, while being completely different in terms of character goals.
And Ranbir... I don't know where that floodgate of emotion in Ranbir comes from. There's a pent-up dam and there are little holes through which the emotion leaks out. One day it will burst.
The title Ae Dil Hai Mushkil, because of the song it comes from, is linked so strongly with the city of Bombay. Did you think of setting it here before you moved it to London?
Not at all, actually. 'A troubled heart' was my working title when I started the film. We then changed it to Ae Dil and it didn't quite work but Ae Dil Hai Mushkil captures the feeling beautifully.
I agree Bombay is a strong part of the original song, but hopefully the new title song will go some way in changing that perception and letting people look at this film differently.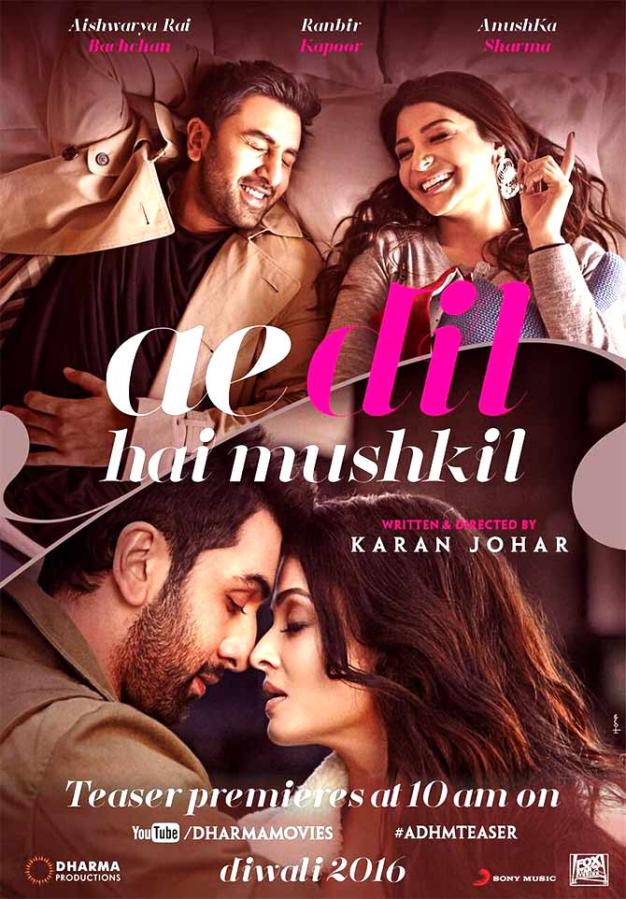 Visually, what was your brief for this film? It looks a little less lush.
Aesthetically, I told [cinematographer] Anil Mehta not to listen to a lot of the things I sometimes say. Don't move the trolley when you don't need to, stuff like that. Don't put up sets. It might sound very 'been there done that' for some directors, but I have never not put up sets.
For this film, I wanted to be contemporary, shooting on location in grungy, sordid parts of London, and so it was important that I move the camera organically.
I'm quite old-school in some of my technique, and I think it's important to make films that are with the times in terms of aesthetic and visual style.
Amrita, who did our sets, Anil and I came together beautifully. When I doubted myself, they'd sit me down and tell me to go back to my instincts. And I have.
One of the problems I find with a lot of romantic Hindi cinema is that they feel the pressure to also be funny, to add a forced comic element.
I agree, to the extent that rom-com has become a bad word now. This is not that. For me, the two characters [Ranbir and Anushka] were crazy anyway. They're both Bollywood lovers, grew up celebrating the cheesiness and the madness. Again, in that sense, like me. A lot of the dialogue was therefore funny because of the referencing.
There's no need to push the humour. No rom, no com, just conversations.
With Aishwarya, the dialogue syntax changed -- she plays an Urdu poet -- and her style of speaking was different. There's no haha scene.
Is it hard, finding that balance? To want to go for the jugular but not manipulate? To want to amuse but not to tickle too much? How have your storytelling instincts changed?
I think with age, and I'm 44 now, there comes abandon. You become more aware of yourself. And I'm extremely aware of what's wrong with me and not with what's right. I have an obsessive need to be relevant. I never want to stop being relevant to the audience space that is the reason I exist. I read every criticism, hear everything, get the young people to tell me what sucks.
When I wrote this film, I narrated it to tons of the younger ADs. After all, I grew up in the '70s and '80s, and made films in the '90s. I see my friends' kids, the millenials, and they speak a different language.
One thing I have noticed, though, is that heartbreak and angst seem to growing phenomena. Young children lock themselves up in their room with a broken heart. Everyone is listening to sad songs all the time. Some of the happiness in the world seems to have diminished.