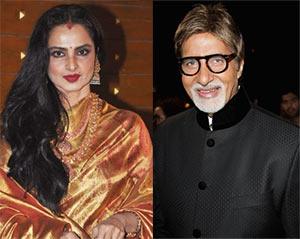 Rekha seems to be on a comeback spree.
Besides Super Nani, she has also signed up for R Balki's Shamitabh, starring Amitabh Bachchan in a vital role.
But the film does not 'reunite' the blockbuster pair of Suhaag, Muqaddar Ka Sikandar and Silsila.
"Rekhaji has done a cameo in my film," Balki clarifies. "It's a very special cameo and her fans would be thrilled. But that's it. There is no big provocative history attached to her presence in my film."
Rumours of the Big B and Rekha coming together in Shamitabh was started when Dhanush, who plays the romantic lead in the film, tweeted a picture of him and Rekha together. This reportedly did not go down well with the makers of the film.
"It was completely out of turn. We didn't want the news of Rekhaji's presence to be leaked," says a source from the unit. "Dhanush shouldn't have tweeted that picture."
Dhanush, it seems, was taking a cue from the Big B who has regularly been tweeting about the progress with Shamitabh.
Rekha's photograph: Abhijit Mhamunkar ' Amitabh Bachchan's photograph: Gareth Cattermole/Getty Images.