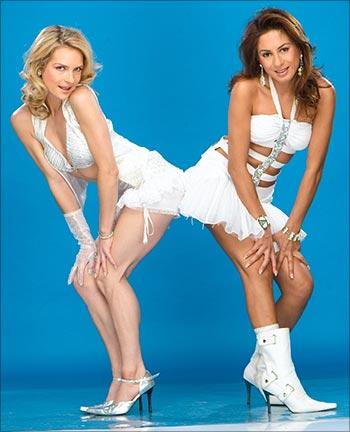 "Our Brit-Indian accent is our unique selling point," says Nic, the one on the right.
 "We are not trying to sound Indian in our album. At the end of the day what matters is the melody and the lyrics that you all will enjoy," concludes Nicole, the one on the left.
Two regular girls brought together by to a passion for music, they converted their coffee-table talk about cutting a music album into reality with two years of hard work and dedication.
"Having rhythmic names was a sign and hence we named our album Nic 'n' Nicole. While I have an Indian connection (Nic's parents are from Punjab), Nicole just felt drawn towards India. I have been travelling to India from a young age. I like the cuisine here and I used to love running around the fields as a child around our village. Since childhood I have always loved Hindi music. Back home in UK, bhangra is very popular. So apart from the sounds of drums I knew nothing about the sounds of Indian instruments. I wanted to learn more and create a mix of British Asian music," says Nic.
The British Nicole was so fascinated by India that she had planned to come here either for work or travel. "We researched the industry and then came to India two years ago. Here we got a basic understanding of the culture and the Hindi language. We also got an overload of colour, culture and music. We took a while to figure out someone to collaborate with and create a unique sound. We then met Indian music composer Jatin Sharma to help us put our album together. We have combined our music with Indian music while recording for our album," says Nicole.
The English-Hindi Kya kehte ho is special to both girls, being the first song they wrote. "We wrote it in Nic's house in London. I love it because it symbolises our struggle about the realisation of our dream to make an album. We are asking our audience Kya hehte ho about our music. Our songs are a mix of Hindi and English. There is some Punjabi and Assamese language used in two tracks," says Nicole.
They claim to be here to provide 'good fun entertainment with a very reggae sound,' targeting all age groups. "We are your whole entertainment package; we sing, dance and perform," both girls chirp in unison.
Text: Priyanka Jain