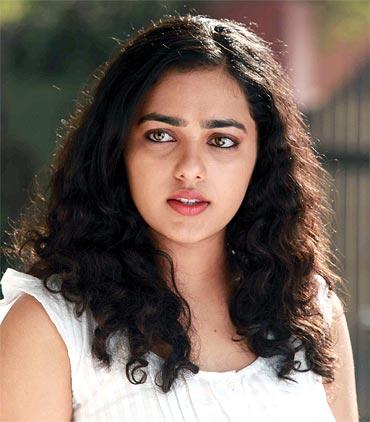 The happenings in the Malayalam film industry have been more intriguing in recent years than those in the most thrilling movies made here.

The latest buzz in the industry is that actress Nithya Menen has been banned from Malayalam films.

Naturally, the controversy has been widely discussed in the media and this has been the big news after veteran actor Thilakan faced a ban some time back.

Even as the issue hots up, many industry insiders feel that the controversy has been a media creation and actually there is no such ban imposed on the actor.

A notice issued by the Kerala Film Producers' Association to its members says that a complaint has been received citing the unprofessional attitude of the actor and members should consult the association before signing her. The notice does not mention any ban on the actress.

The innocuous event that apparently triggered the notice and the rumours of the ban happened during the shooting of director T K Rajeev Kumar's Tatsamayam Oru Penkutty, in which Nithya plays the heroine.

Producers Anto Joseph, Suresh Kumar and Sabu Cherian had reportedly gone to the sets to meet Nithya during the lunch break to discuss a project. She refused to meet the producers and sent a message saying that the matter may be told to her manager.

Nithya had run into trouble soon after she started acting in Telugu films. Her comments against certain senior heroes had created a controversy.

According to some reports, Nithya has now clarified that she had no clue about the producers and she didn't have enough time to discuss a script during the short break.

Other news doing the rounds is that Nithya will play the female lead in the remake of Chattakkari. Mind you, it will be produced by none other than Suresh Kumar, one of the producers who have made the complaint against her!
As they say, the plot thickens.