'Cinema in our country is changing rapidly. Newton is proof of that change.'
Subhash K Jha speaks to Newton Director Amit Masurkar and actor Rajkummar Rao.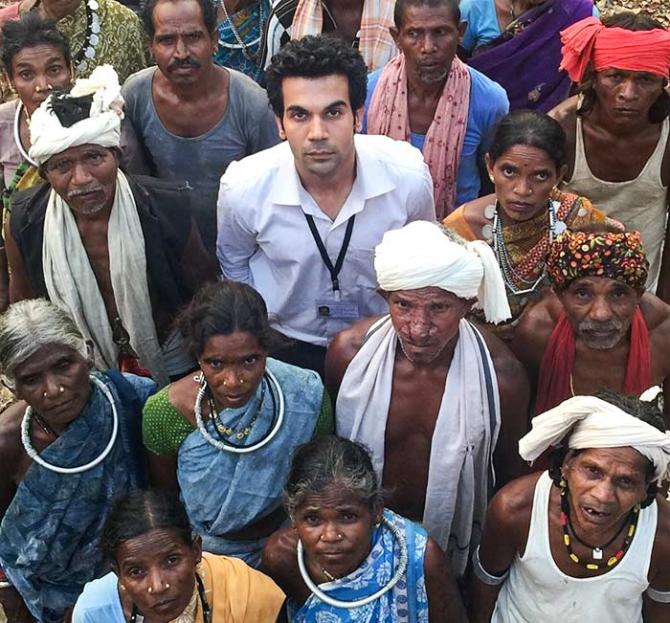 Amit Masurkar's highly acclaimed Newton has just been selected as India's official entry for the Oscars.
And Amit couldn't be happier.
"It's like a windfall," he says.
"We first got all those amazing reviews days before the release. Then on the day of the release we get to hear the film is going as our entry into the Oscars. What more could I ask for?"
Rajkummar Rao, who plays the title role in Newton, is over the moon.
"It's all so sudden," says Rajkummar. "Newton is not an easy film to categorise. We all worked on conviction and little else."
The threadbare budget to make Newton would now have to make way for a hefty marketing strategy that will give this quirky film about a determined idealistic polling clerk's fight to hold an election in the jungles of Chhattisgarh, a fair chance to take home the Oscar.
Says Rajkummar, "It's too early for us to understand how we will position Newton for the Oscars."
"The fact that it has been selected for the Oscars has barely registered. Now we will need to sit down and work out a marketing strategy."
"Of course, I will do everything possible to ensure we stand a good chance of bringing home the Oscar," he adds.
"But Newton is not just about me. All of us -- Amit, my co-actors Pankaj Tripathi, Anjali Patil and Raghubir Yadav -- worked towards making Newton a statement on the electoral process and the widening lacuna between city life and rural existence."
Rajkummar hopes that the Oscar-worthiness of Newton will help it get a wide audience in India.
"I am aware that the film doesn't have the ingredients for an instant success. But we are hoping that the terrific reviews, word of mouth and the Oscar nod will get the audience interested."
"Cinema in our country is changing rapidly. Newton is proof of that change. It is important that we take its message of electoral obligations to the Oscars."
What made Amit direct a film on the electoral process?
"After my first film Sulemani Keeda I wanted to do something within the political space. I didn't want to make a film about corrupt netas, scams and graft. We've seen enough of that."
"As I thought of what to do next, visions of pollings booths, voting machines and presiding officers kept coming to my mind. That's how Newton was born. I wanted to go into a place where we still don't ever go," the director adds.
"The electoral process is still not practiced properly in many areas. Unless we sort that out, we cannot hope to plod ahead with the democratic infrastructure."
So how will Amit take Newton to the Oscars? Our films never make it beyond the entry gate.
"For now, the fact that Newton has been selected as India's official entry is in itself a big deal for me. I am still trying to process that information. It's still to sink in."
"Whether we make it to the shortlist or win or not are thoughts that are far away from my head right now."
Amit is confident his producers will do whatever it takes to give Newton a fair chance at the Oscars.
"My producers Manish Mundra and Aanand L Rai are people with a vast knowledge of cinema and how to take it where it needs to go. They will do the needful."
In the meanwhile Amit hopes to see Newton get some solid eyeballs.
"At the moment the film's boxoffice results are the most important. We are hoping the film gets an audience."
As for not getting swayed by the raves and the Oscar nod, Amit says, "I have the most matter-of-fact and practical parents and girlfriend. They are making sure I stay grounded."
IMAGE: Rajkummar Rao with his co-actors in Newton.