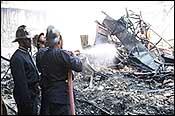 A fire broke out on the sets of Sanjay Leela Bhansali's Black at Mumbai's Film City, Goregaon. No one was injured, as the shooting was not in progress.
Fire brigade sources say the fire broke out at 0845 hrs.
The roof of the film set, wardrobes and props were gutted in the blaze. Four fire engines and four jumbo tankers were rushed to the spot to douse the blaze. The cause of the fire was yet to be ascertained.
Actors Amitabh Bachchan and Rani Mukerji were scheduled to shoot for the film later in the day.
It may be recalled some curtains caught fire during the shooting of Bhansali's earlier film, Devdas.
Karisma sports a new look
Karisma Kapoor will have a new look in her upcoming film, S Ramanathan's Zamaanat.
Instead of her usual peaches and cream complexion, the actress will be dark-complexioned, according to indiafm.com.
Zamaanat, also starring Amitabh Bachchan, has been in the making for eight years. S Ramanathan had earlier directed Bachchan in Mahaan (1983).
Four to tango
Sanjay Dutt, Suniel Shetty, Ajay Devgan and Nitin Manmohan joined hands recently to launch their own production company, Foursome Productions.
Unfortunately, their debut production Vande Mataram has been shelved, reports b4utv.com. The film was based on the Indo-Bangladesh war in 1971.
The four have now launched another film, Tango Charlie, directed by Mani Shankar, starring Ajay Devgan, Bobby Deol and Tanisha.
Shankar's previous film, Rudraksh, based on the supernatural, crashed at the box-office.
With inputs from PTI
Photo of fire on the sets: Arun Patil
Click here for More Features