How does one decide what to see at a film festival? At the recently concluded Toronto International Film Festival, it was possible for journalists to see films from 8.30am till 10pm. Even then many of us would see just two or three films a day, though occasionally one managed to see seven films at a stretch. The idea was not to make oneself so numb that one wasn't able to appreciate the films after a day's movie binge.
I choose films depending on their reputation: if they had won accolades at other important festivals like Cannes, Venice, Berlin, or Locarno.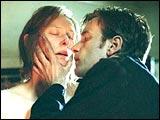 I try to see films by very young and very old directors. I am just curious about the young, and I am curious to see if someone like 84 year-old Sri Lankan director James Peries can still make a haunting and lyrical film. I also want to see if Claude Chabrol, the French master who has been making films for more than four decades, can still arrest my imagination.
Then there are films that might not have been shown anywhere else, but have generated a lot of buzz.
Here are some of the films I would like to see at the 41st edition of the New York Film Festival:
Mansion by the Lake: Inspired by Anton Chekhov's The Cherry Orchard, Lester James Peries's film follows a family of formerly wealthy, expatriate Sri Lankan landowners, now impoverished, as they return from England to the grand country estate they left behind.
Peries, who has been making films in Sri Lanka since Rekawa in 1956, is inspired by such filmmakers of diverse temperaments as Satyajit Ray and John Ford. His newest film, according to the NYFF selection committee, is a deeply moving study of a caste and a country torn apart by social change, 'told with a sublime serenity and restraint'. Peries's style remains one of unruffled classical realism, the selectors say.
Pornography: Polish author Witold Gombrowicz was one of the more remarkable writers of the 20th century. The NYFF selection committee believes 'this provocative adaptation of his third novel', which he described as 'a descent to the dark limits of the conscience and the body', should win him new admirers.
Set in Nazi-occupied Poland and directed by Jan Jakub Kolski, Pornography focuses on Frederic, a theatre and film director, and Witold, a writer who serves as a wry commentator. The two middle-aged men go to the country estate of Hippolyte, a friend of Witold marginally involved in the Resistance.
There they encounter German soldiers and partisans, young lovers and even younger murderers, and patriots. The film seeks to capture the contradictions in wartime Polish society.
Crimson Gold: This latest provocative film by Iranian director Jafar Panahi -- last seen at the New York Film Festival with 2000's The Circle -- opens with a smash-and-crash jewel robbery. It sets the film on its course to unfold the theme of economic stagnation and a price people like Hussein (Hossain Emadeddin), the man pushed into robbery, pay.
Based on a script by renowned director Abbas Kiarostami, the film tells the story of pizza deliveryman Hussein who is also a veteran of the Iran-Iraq war, victim of chemical warfare, and, in Panahi's words, a casualty of his country's short-term memory.
Panahi, who worked as an assistant to Kiarostami, one of the major directors on the international film scene, has made half-a-dozen films, including White Balloon, that have won him international acclaim, including the Camera d'Or at Cannes.
Though the Iranian government is critical of Panahi's movies, the filmmaker not only manages to endure and survive but make one arresting film after another.
'This is the second of Panahi's features (after White Balloon) that Kiarostami has had a hand in writing,' notes film critic Dimitri Eipides, 'and it superbly employs the lyricism for which these film-makers are renowned.'
Young Adam: Ewan McGregor (Moulin Rouge) goes back to his roots in a small-budget film shot in and around Glasgow. He is Joe, a charming, amoral sensualist who also happens to be a bookish drifter. He has chosen to work on a barge travelling between Glasgow and Edinburgh. Before long he is caught up in a passionate affair with the wife (Tilda Swinton) of the bargeman (Peter Mullan). Slowly, other dark secrets come out: there was another woman before her, the hauntingly seductive Cathie (Emily Mortimer). Did Joe have anything to do with her death by drowning?
Director David Mackenzie's film was hailed at the Toronto International Film Festival for its insightful performances and striking visuals while its morally subversive premise was hotly debated.
'Intensity of mood and atmosphere carry the film into the realm of cinematic art,' critic Kay Armatage wrote in the TIFF handbook. 'The visual elements are intensely satisfying, especially since they are supported and augmented by David Byrne's original score. And the performances are superb.'
The Flower of Evil: Claude Chabrol's fiftieth feature examines, like all his films have done, the fragile human nature.
The distinguished facade of a wealthy French provincial family starts to crack when the wife (Nathalie Baye) ventures into local politics and a discontented son (Benoît Magimel) returns from America after a long stay.
Soon nasty whispers of incest, adultery, murder and collaboration with the Nazis emerge into the open.
'Chabrol charts the increasingly venomous proceedings with merciless precision, an eye alert to the rituals of French political life,' notes the NYFF handbook, 'and a strong vein of perverse humour that blossoms in an outrageous (and unexpectedly hilarious) finale in which predictable notions of good and evil are turned neatly on their head.'
Good Morning, Night: A brilliant, heartfelt and controversial film dealing with murderous radicalism. Writer-director Marco Bellocchio restages one of the most notorious episodes in Italian political history that many people in that country do not want to discuss: the 1978 kidnapping of President Aldo Moro (Roberto Herlitzka) by a cell of the Red Brigade terrorist group.
The haunting images of the only female member of the terrorist band, Anna (Maya Sansa), whose revolutionary conscience is pricked by human considerations, are unforgettable. She finds herself increasingly alienated from her militant comrades, and begins thinking of a way to turn their prisoner free.
Bellocchio stages thoughtful and troubling meetings between the radicals and Moro who tries to convey his Catholic philosophy to them. But it is Anna, the young idealist, who forges a silent bond with the doomed man.
Directed without sensationalism and narrated with underplayed performances, the dazzlingly conveyed film was one of the most gripping films seen at the TIFF. It was one of the very few films to receive spontaneous applause in Toronto.
Distant: An awesome achievement, the lyrical and touching film by Turkish filmmaker Nuri Bilge Ceylan, whose Clouds of May premiered in the 2001 New Directors/New Films festival in New York, looks closely at loneliness and bonds difficult to forge.
Often told with subtle humour, it is the story of a big-city photographer with a rigid but empty life and his rural cousin who has come to Istanbul looking for work -- hoping for a ship that will take him away from his troubled country. The older man is also troubled. While he sees the young man bubbling with enthusiasm, he wonders at his loss of creativity.
The film, narrated with little dialogue, creates the atmosphere of loneliness in a masterly fashion. The younger man's longing for a woman is vividly captured in a handful of scenes, especially in a brief bus sequence, in which he desperately but discreetly seeks some human contact.
Shooting with a tiny, five-man crew, and functioning as the film's director, writer, cinematographer and co-editor, Ceylan has made a moving film that flows gracefully.
The two lead actors, Muzaffer Ozdemir and Emin Toprak, shared the best actor prize at the 2003 Cannes Film Festival; the film itself won the Grand Jury Prize. The actors' success is amazing considering that they have acted only in a handful of films. The younger actor Toprak, a friend of Ceylan, died in a car accident shortly after the film was completed.
Since Otar Left: How elaborate a fraud would we perpetrate to protect the ones we adore? This is the question Julie Bertuccelli asks in her debut film set in Georgia, a former Soviet republic.
Since Otar Left, which got her the Critics Week Award recently at Cannes, is all about lying for love. The film was one of the best-received movies at the recent Toronto International Film Festival.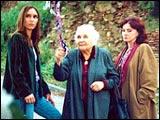 Ninety-year-old Eka (a moving Esther Gorintin) lives on the occasional letters and phone calls from her son in Paris. Otar, who long ago left Georgia for Paris, she believes, is thriving. Eka is cared for by her daughter, Marina, who resents her mother's obsession with Otar and the fact that she has to carry the burden of looking after her. Even then she works for Eka very hard; meanwhile, Marina's daughter Ada is suffocated by the domestic arrangement. When Marina and Ada hear from Otar's friend that he died in a car accident, they face a dilemma: Do they tell Eka the truth?
'In this tender, wire-walking family drama,' according to the NYFF selection committee's programme, 'Bertuccelli gives us a deftly drawn, instantly recognisable dynamic of a frustrated female clan, while never losing sight of the fact that everything that happens is born of affection.' Bertuccelli, who began as a documentary filmmaker several years ago, is hailed today not only for her searching eyes but also for her humanity and warmth.
Click here for More Features