The bronze autumn leaves on Peter Pan's tights and tunic are sure to attract attention when Neverland -- the Hollywood film based on the life of J M Barrie, the creator of Peter Pan -- hits the screen in a couple of months.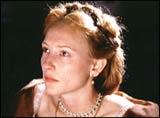 Nobody who sees them on screen will realise the leaves are actually elaborate embroidered patches made in Jameela Malhotra and Seema Sharief's Bangalore workshop. The mother-daughter designer duo specialise in making Indian embroidery patches and panels for costumes worn in Hollywood extravaganzas.
"It pays very well and the work is challenging," says Jameela, leaning back into a sofa at her workshop in Indiranagar. "It is so different from the usual wedding costumes and trousseaus that form the bulk of our work," adds her daughter Seema, who is dressed in slim grey trousers and a yellow embroidered silk kurta.
It all began with Shekhar Kapur's Oscar-nominated Elizabeth, starring Cate Blanchett and Joseph Fiennes. Jameela's husband happens to be the director's cousin. "He [Shekhar] had been telling us for a while that we must explore new avenues, like movies," says Jameela. "We kept replying that we were only too willing, should the right opportunity present itself. He gave us one."
Shekhar put them onto Alexandra Byrne, who was designing the costumes for Elizabeth. As a result, Jameela and Seema made some of the ornate panels and provided the fabric for Queen Elizabeth's ball gowns. The one they remember best is her coronation gown, which had stone studded diamond motifs. Alexandra Byrne received an Oscar nomination for Best Costume Design for the film. 
Elizabeth, a lush portrait of history, intrigue and romance, tells the story of Queen Elizabeth I, from her days as an innocent young woman to her coronation and transformation into England's formidable 'Virgin Queen.'
"Many of Queen Elizabeth's grand gowns were from Persia, so the fabric had a Mogul influence," says Jameela. "We also made elaborate embroidered peacock feathers for some of her costumes."
Blanchett liked her costumes in the film so much that she requested Shekar Kapur to get her a couple of Indian outfits from the same designers. Jameela and Seema made her two outfits, which she wore when she came to India to promote the film.
For their next Hollywood film, Shakespeare in Love, they had to dress up Queen Elizabeth again; this time, the queen was played by British actress Dame Judi Dench. Since the monarch was older here, her costumes were more ornate. The designers had to make three costumes for three scenes.
The duo's new assignment Neverland is, according to producers Miramax Films, a tale of magic and fantasy, inspired by the life of children's author Barrie. Set in London in 1904, the film follows his creative journey in bringing Peter Pan to life, from his first inspiration for the play that premiered at Duke of York's Theatre to its transformation into the book, Peter Pan and Wendy. Unlike Elizabeth and Shakespeare in Love, Neverland is not a period film. But Alexandra, who worked on the other two films, is designer for this one as well, so she opted for her favourite Indian designers again.
The designer duo provide embroidered fabric to Alexandra. The latter commissions either fabric by the metre, or as panels or motifs. Jameela and Seema then design patterns for the fabric and show her samples. They get the selected ones embroidered in their workshop and courier them to Alexandra.
For Neverland, they supplied a lot of elaborately embroidered net fabric. There was mostly silk net fabric, embroidered in white and silver. There was also black net with dull gold starbursts. The autumn leaf motifs were cut out and stitched onto tights and tunics for Peter Pan and the Lost Boys. To get that perfect bronze look, the duo used amber coloured stones. They also created borders with bunches of silver grapes, studded with pearls.
Neverland stars Johnny Depp as Barrie with Kate Winslet playing his love interest Sylvia Davies. The rest of the cast includes Dustin Hoffman, Julie Christie and Radha Mitchell. Adapted from Allan Knee's play by David Magee, Neverland is directed by Marc Forster (Monster's Ball). 
Jameela and Seema like to use a mix of embroidery, like ari work, zari, sequins and thread work. The embroidery is done according to what is most suitable for that particular fabric and motif, whether it is zardosi, cut work or petit point.
"We supplied the fabric almost a year ago to the unit," says Seema. Alexandra, they reveal, is their self-appointed promoter. She even recommended them to filmmaker Oliver Stone. Unfortunately, the film was shelved.
Recently, Jameela and Seema designed costumes for the opera Tosca in Amsterdam. "We never even met the singers or the producers," says Jameela. "They heard of us by word of mouth."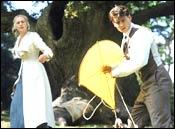 Even though Jameela's husband used to be a leading Hindi film distributor in Bangalore, the duo haven't created costumes for Indian films. "We would love to make clothes for Hindi films. But we cannot, as shooting schedules are formed at the last minute in Bollywood. Costume designers need to be present on the sets for fittings, last-minute alterations or quick costumes changes. It is all so chaotic. We would love to work on a well-planned film like Devdas."
As for Kannada films, nobody has approached them so far. But they do have celebrity clients like Raveena Tandon.
So far Jameela and Seema have made costumes for just one Indian film. In Feroz Khan's Yalgaar, Manisha Koirala and Nagma wore their creations. "That was fun," admits Seema. "Hollywood films are extremely particular about the quality of the work. No stitch should be out of place. Every fabric you make for them must be like a museum piece. With Indian films, you can be a lot more relaxed and less stressed out about being perfect."