She was the one who uttered the ironic 'difference between a Tamil and Telugu is same as between a Punjabi and Bihari," in the film Chak De! India.
In real life too, Sandia Furtado, who played Nethra, the girl from Andhra Pradesh is as fiesty as her character in the film. Fans got a taste of the fearless girl during a chat on August 30. For those who missed the chat, here's the transcript.
Also Read: Chak De stars come to rediff
---
Sandia says, Hi guys, this is Sandia Furtado..Nethra Reddy from Andhra ...hehehe...I guess you all would identify with that from now. :o)
---
manisha asked, It was nice to have a movie on a game , which used to be india's shaan. Hope it revives the waning interest in the game
Sandia answers,  Yes, I hope so too. Manisha...nice name you got there. I wouldn't say that Chak De has done justice but we have on our part done our bit to bring to light the obstacles that the players themselves go through, which has been kept in the dark for eons.
---
shahzadkhan2001@rediffmail.com asked, where r uuuuu
Sandia answers, I'm here, Shaza. I'm so sorry, I was a bit delayed.
---
minhaj asked, if this kind of sexy girl in hockey national team then every body start watching hochey
Sandia answers, hehehe...well all the girls are sexy, mister but in their own right. I guess that what attracts you guys to the game, right? Thank you very much, anyways ;)
---
SANDILYAA asked, Hi sandia, I think you spoke with lot of conviction- Nethra reddy- Andhra se. Do you play hockey in real life also??
Sandia answers, Yes, I do but I'm back on the bench for sometime because I have injured myself. So am just resting for the time being. Thank you, I'm glad I did justice to my character :o)
---
KabirK asked, Hey Nethra, i liked u in the sequence when u tell "Difference between a tamil and telugu is same as between a Punjabi and Bihari" :)) Btw wats ur real name? and r u frm AP?
Sandia answers, hehehe...Yeah, I didn't know that that particular dialogue of mine would be famous because I play a very subtle girl. My name is Sandia Furtado hehehe...no my hometown is Goa but I reside in Mumbai.
---
nareshmongia@rediffmail.com asked, hi all and specially u, u all girls did the great job and u know "chak de india" becomes the landmark name of all the games playing in india. even after winning Nehru cup in football some newspapers publish the headlines "chak dita india". do u think this movie will fetch most of the awards.
Sandia answers, I hope so, mister. Everybody worked very hard, and put their heart and soul into this film especially Jaideep Sahani, the script-writer who has written the script so beautifully, don't you think?
---
sridhar asked, I am planning to start a team in NDHRA PREADES
Sandia answers, Now have you purposely spelt that wrong or are you just trying to play a prank?
---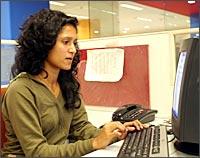 Ashutosh asked, Hi Netra, this is Ashutosh from pune. first of all thanx allot for giving us such a wonderful movie,
Sandia answers, Well, it's not me single-handedly, it's all the women and well Sir Shah Rukh Khan, especially Shimit Amin (director) who knew how he wanted the film to turn out. Imaginative dreamer and an intellectual dude.
---
sridhar asked, Netra, we inspired a lot after viewing that movie on screen..I am also a Hocky player for ANDHRA..
Sandia answers, Wow, am I happy to meet you. Well which position do you play? I'm very happy to meet one from my own state. But we don't want to list any states now do we? We are all one!
---
manisha asked, seems, just like good days for hockey, Netra hasn't arrived yet
Sandia answers, Come on now, don't be so sadistic. Now Manisha, I think I already answered one of your questions. I had a bit of a delay...theek hai.
---
satishkalik asked, Hi Nethra, so are you a south indian, if not then how did you manage to carry that attitude
Sandia answers, Well, I'm from Goa, Satish so umm, I guess its in between right west and south. I had to before Nethra because I, Sandia Furtado share the same personality as that of Nethra Reddy -- our body language and attitude. But I think I'm a bit different now..hehehe. The movie has taught me a lot.
---
neTHrASgOGGLE asked, Rediff suck!
Sandia answers, Dude, please don't say that. They are very accomodating people. Try and have some patience.
---
pappu asked, wat after chak de??
Sandia answers, After Chak De I'm back in college. I'm currently studying in St Xavier's College and damn glad to be back although I miss being on the sets with my dollies. Am in my last year in college.
---
ranjith asked, u all looked like the members of our indian woman team.. it was a great inspiration for our hockey fedration as u all come forward to help them out because i think hockey was on the verge of death in India. I think u all will prove a great role models to our Mens hockey team as they needs the character that u all showed in the films to be shown on field yaar..
Sandia answers, Well, you know what? Lets be fair, it isn't the men to blame. It's the media and partly the hockey association. But we all play very different and interesting characters as you have noticed. Well, the hockey team is not the cast of a film now are they? ;) Sorry, just pulling your leg. I feel that as hockey players, men and women alike shouldn't play for themselves but for their country because the good players always tend to play a selfish game because it is their country they are representing. They are the brand ambassadors when they go to play a tournament outside.
---
sridhar asked, netra, r u busy ?
Sandia answers, Tell me, Sridhar, I'm here to answer your questions.
---
raj007 asked, Hi nethra, u looks very bold n beautiful. r u rally a hocky player....
Sandia answers, Well, you succeed in making me blush, mister. Thank you very much. Well, I am very bold and don't get scared of just anyone and everyone. I know who I am and I think the only person I really fear is GOD.
---
Jeegar asked, Hi All Chake De Team Mates!!!! Wanna ask some more questions? Are you there???
Sandia answers, Yes, I am here. You can ask me. I'm sorry my teammates are not with me.
---
akash asked, we need u in cricket to save us from defeat
Sandia answers, Cricket already has enough brand ambassadors who up till now have done quite a good job in bringing our nation it's laurels. It's high time hockey does that too and it is only up to the media to cover all the action because a lot of it seems to go unnoticed.
---
arahul asked, Hello Team how are you all?
Sandia answers, Team India is doing good, thank you very much.
---
Aslam asked, Hi, How did u feel working with SRK
Sandia answers,  At first all of us were pretty much in awe of him because we got to see him in the flesh. All of us weren't major SRK fans but when you're with him you can't seem to get enough of him. He's really a human magnet.
---
raviks asked, Tamil aur Telugu mein kitna farkh hain ? :-)
Sandia answers, hehehe...would you like to complete it for me? I would be glad if you did.
---
hyd_pummy007@rediff.com asked, Sandia how did u feel working with SRK
Sandia answers, Well, that's a new one now ;) I felt blessed to be given an opportunity like this. SRK was just terrific with all of us. He King Khan after all, right? So, who wouldn't be lucky to work with him? :o)
---
sambit asked, hi Sandia,played nice hockey and u were looking grt in tht saree.And i liked that scene when u sent chitrashi to meet sagarika
Sandia answers, Hi Sambit, really now why did you? Thank you, I am a hockey player. Well, that was my first time in a sari. Turned out pretty nice.
---
rajeev asked, m frm London...watchd u r movie...it really left impact on ppl livin hr.... patriotic n loads of gut games....u grlz rocked n u r movie doin very well hr in england as i can see frm parise pourin all side frmm...!!
Sandia answers, Wow, England! Now who would've thought about it? Hi Rajeev, yeah a lot of SRK fans are there, right? Well his fan following is massive ain't it? Well I'm so glad the film is doing so well there. Yes, it is an inspirational movie for all you guys, right? But you are Indians by birth and you'll will always be no matter where you all are. The movie has brought out a lot of elements that I have just noticed :o)
---
naveen nahar asked, hi, though the movie was brilliant. I saw the movie with half the crowd on the first friday. What needs to be blamed, the marketing effort (incidently yashraj is the best for marketing) or the theme of the movie?
Sandia answers, Well, we have been doing our share of promoting the film. This movie was a surprise package and we worked hard for it all of us especially Jaideep, our script-writer. We just wanted our film to do the talking for once and I think the performances of each and every character did come out in a very real sense. I've heard that people saying that it felt like they were watching a real hockey match!
---
brinda asked, Hi Nethra Loved ur perfomance. You surely held your own in soem scenes and loved the movie in its entiriety .
Sandia answers, Thank you so much. Well, I did my best to portray the character of Nethra Reddy. I'm glad that her character has received so much appreciation:o)
---
khan asked, do u think more movies could be made like Chak De...where educated Indians living outside the country could relate to it?
Sandia answers, Yes, surely why not? And I think a lot of these movies are in the making for sure!
---
anmol asked, aD YOU FELT ANY NERVOUSNESS TO PLAY AGAINST SHAHRUKH?
Sandia answers, Hehehe...Yes, of course! Felt very nervous and we didn't want to do anything untoward. We were very well behaved in front of SRK Sir. But how long can I that up, right?.SRK Sir was easy to be with and we never really felt uncomfortable around him.
---
shyni asked, my question is still unanswered..... Dis u sign the movie to prove women power or to challenge men power?
Sandia answers, The main reason for this film was to promote women's hockey because it has been overshadowed by other sports. Also the film was to uplift women, and it hs done in it's own way.
---
tejas bhanji asked, Hi Sandia, I not often see Hockey but not miss any international game in champions trophy men earlier i use to see womens hockey, Seeta was best to me. I want to ask u have u ever watch international hockey games before Chak de & who is ur best in womens hockey for india
Sandia answers, hehehe...Well, that's a tough question because all the players are absolutely fabulous in their own way. They all specialise in a variety of things but have a soft corner for Helene Mary. I think she is extremely talented and yes, I have watched a lot of international matches.
---
yashwant asked, how was your first day of shoot
Sandia answers, It was indescribable. I was feeling so many things at the exact same time. But at the end of the day it was such a thrill to be actually acting in a film. The feeling hasn't settled in yet.
---
Tammesh asked, hey gurlz !!! just to congs you all for the flavour ofthe season !!! at least your movie had entertained us and @ the end of the day had brought a Moral issue to be solved in our sports society ... HATS OFF TO YOU ... so any plans for Chak de part 2 :)
Sandia answers, Hi Tammesh, yeah I hope so to ;)  I'm so happy our film did justice to the masses. Thank you so much. :o)
---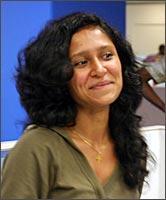 raghav asked, You chek de team never never check my questions... planing to get out from here
Sandia answers, Okay Raghav, Nethra here. Ask me.
---
jat asked, Hi Sandia, you realy look goood when you said " Nethra , Andhra se...good work, hope to c u again soon
Sandia answers, Hi Jat, thanks so much. Well, had a sore throat that day when I said it. But it turned out good now, didn't it?
---
Sangharsh asked, Hello Nethra, Just saw Movie today , Its greate, Do u Know Hocky ?? Because u were playing Nice Hocly There :)
Sandia answers, Hi Sangharsh, yes I do know how to play hockey.
---
Handsome asked,  I saw u guys in melbourne and thought this wud be again a run and mill story u absolutely got me when i saw the movie it was absolutely stunning
Sandia answers, Wow, glad we shocked you alright ;)
---
kaleravi31 asked, chekde is best movie and indian tems girl is work wanderfull and
Sandia answers, Thank you, Ravi. I'm so glad you liked the film.
---
bimi asked, Hi Tell me how you judge our national game with itscurrent status in our country ?
Sandia answers, I would give it 10/10 for hard work but 2/10 because that is what the media broadcast do to the public.
---
Nagendra asked, really it will boost up many gals
Sandia answers, Yes, I hope so.
---
bhom asked, hey sandia i watch ur hockey match i think ur too gooood just like ur name
Sandia answers, Well yes, my game is equally good ;)
---
rahulchodavrapu asked, hii sandia how was it acting with the one and only srk....
Sandia answers, It ws a dream come true. Stereotypical answer but well it was for me :o)
---
chakdefanboy asked, Hi Sandia, Your confidence shone through in the very first scene. For which team are you playing hockey and are you still playing?
Sandia answers, Well thank you very much "chakdefanboy" hehehe...I'm temporarily injured so I'll be warming the bench for sometime now ;)
---
rahulchodavrapu asked, hii sandia how was it acting with the one and only srk....
Sandia answers, It was a terrific experience!
---
garv asked, Hi Netra, first of all thanx allot for giving us such a wonderful movie, we have been inspired alot from dis movie.
Sandia answers, Well I'm glad the film has done justice to the many expectations:o)
---
Amit S asked, hi nethra how was ur 1st day of shoot with srk were u nervous what was the most memorable incident during the shoot u ll remember ur entire life? my 3 yr old daughter Aarushi really loved the movie which v saw just yeaterday...
Sandia answers, Hi Amit and give a big kiss to that little angel of yours for me. Well thank you very much. I'm so glad you liked the film. There were so many memorable instances that it's a bit difficult to spot just one. Well, one was when SRK Sir took us out for the first time for the screening of Don. We had a blast after that...party et al.
---
vicky81 asked, Hi Sandia,u looked cool in the movie...Can I propose you for a candle light dinner(ofcourse without a hockey stick)
Sandia answers, Vicky, now if only that was possible. My hockey stick doesn't leave my side ;) Very flattering, mister!
---
anupamag asked, HI Nethra!! I liked the way u answered the difference between Telugu and Tamil.....really a nice dialog..... would u be doing sports movies in future too??
Sandia answers, Hopefully. I'm a sportswoman so yeah, I would love to.
---
JYOTHI BASU asked, HI NETHRA I LOVE U
Sandia answers, Really? Well thanks. That's all you're getting from me ;)
---
anand asked, I AM NOT A HOCKEY PLAYER BUT U CAN STILL REPLY I AM TIRED OF DOING CTRL+C and CTRL+V HOW MANY TIMES HAVE I ASKED MY QUESTION 1) Why only u had to faint during practice? 2) Who was ur best friend during the shooting? 3) How wuz Melbourne? 4) How did u get into films?? R u a model?? 5) Whtz ur home town?? 6) What next after Chak De 7) What do u do? I mean what is/was ur profession before u came to Bollywood?? Hoping to get a reply
Sandia answers, Well, try the sport then. How old are you? Lazy boy! Well mister, I didn't get to eat my lunch that day as they purposely hid the food from me. I'll get them for it. How can you ask me who's my best friend? All of them are my sisters. They are such beautiful women in their own right. Melbourne was awesome. Had the best time there. Nope, I'm not a model..It all happened by chance. Nothing was planned out audition wise. I'm a student so I'll be back with my books and college...Phew! so many questions. Have I done all your questions justice? 
---
Sandia says, Hi guys, am extremely happy to chat with all of you. I hope I did justice because I typed as fast as my little fingers could ;) Thanks again and go and watch the film once more. Again all thanks to Jaideep, Shimit as well as all the actors and the people behind the scenes. CHAK DE! INDIA :O)