In the year 2000, the Mumbai police arrested Nazim Rizvi, the producer of the Hindi film Chori Chori Chupke Chupke, and Bharat Shah, the film's financier.
The police charged Rizvi and Shah with keeping links with underworld don Chhota Shakeel and producing films at his behest. The sensational case made the Bollywood-underworld nexus -- about which there have always been rumours but no confirmation -- the stuff of headlines.
Shah was sentenced to jail for a year and Rizvi got six years. After more than three years in jail, Rizvi is out on bail and fighting his case in court. Right now, Rizvi is producing two small-budget films, Under Trial and Hum Lallan Bol Rahen Hai (featuring Rajpal Yadav).
Chief Correspondent Syed Firdaus Ashraf caught up with Rizvi:
How does it feel to be back in the limelight?
I am feeling good. I am happy to be here, meeting everyone.
Was it difficult to raise money for your new films after you got out of jail?
No, not at all. I never lost my goodwill in the market. I am making small-budget films, so I got financiers. The budget of my films is anyway just a bit more than Rs 1 crore (Rs 10 million). 
The film fraternity did not support you in the bad times, did it?
In bad times, no one supports anyone. I don't feel bad about it. This is what life is all about. This will happen to you even if you face bad times, my friend.
What was jail like?
I have written short stories of my experiences in jail and I plan to make films on those subjects in the near future.
Are you in touch with Salman Khan (who starred in Chori Chori...) now?
Yes I did meet him in one of the studios after I was released.
Any plans to make a film with him?
Why not? I will definitely make a film if the story is good. I can take any actor like Shah Rukh Khan, Hrithik Roshan or for that matter Aamir Khan if the story of a film is good.
Why are you making small films now?
You see both the films Under Trial and Hum Lallan Bol Rahen Hai are good stories. I feel they will click with the audiences and therefore I am making these films.
Will you make a big film like Chori Chori Chupke once again?
I will definitely make (a big-budget film) but the right kind of story has to come to me. The pattern of filmmaking has changed in the last five years and you need interesting subjects like Krrish or something like that to click at the box office. So I will wait to make a big film till I get a good story.
You don't look like a man who has spent more than three years in jail.
I never give up in life so easily. That is my nature.
What gives you strength?
My honesty and hardwork. I have always done the right thing in life and never harmed anyone; so I am sure nothing will go wrong with me.
Your opinion on the police?
Let us not dig into past. They have to do their job, and I did mine.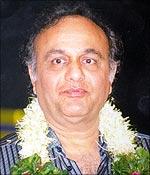 Did you get a chance to meet Bharat Shah (left) after your release?
No I have not met him yet.
A senior retired Mumbai police officer, T K Chaudhary, is acting in your film. How you convince him to be a part of your project?
Dilip Shukla, the director of Hum Lallan Bol Rahe Hai, convinced him to do the film. He is doing my second film Under Trial too. Anyway, Chaudhary has nothing to do with my court case.
Will you get distributors for your film?
200 per cent.
What makes you so sure?
My product is ready and there has to be a buyer. I am selling a good product.
You don't sound vindictive?
I am a cool person. I am not a bhai (underwold don) or badmash. I am struggling for the last 25 years in the industry. I have seen some very good times and some bad times. That is life. You go up and go down and go up again.
How is your family now?
They are fine.
Is it true that everyone left them in lurch after your arrest?
I don't think this is true. There were people to look after them. I must say even the Mumbai police treated them well.
Are the police still after you?
No. Why will they be after me? I have not done anything wrong. I am doing my job and they are doing their job.