Recently, Mumbai's well-known Carter Road, home to many Bollywood denizens was rechristened to Naushad Ali Road in honour of its most popular resident. Considering his immense contribution in the world of Hindi film music, this comes as no surprise.


But do we really know the musical legend as well? Here's a closer look at the man, who gave us gems like Pyaar kiya to darna kya, Mohe panghat pe and Koi saagar dil ko behlata nahin.
The beginning
Even as a boy of impressionable age, Naushad Ali was fascinated by the sound of music.

Born on December 25, 1919 to a conservative Muslim household, the Lucknow native would often find himself enthused towards Royal Theatre's live orchestra for silent films or an odd tune from a randomly passing flautist. Soon, under the keen direction of his mentors -- Ustad Baban Khan and Ustad Yusuf Khan -- Naushad learned the A,B,C of classical music.

Unfortunately, Naushad's father wasn't too happy about his son's activities, which involved producing the score for small-time theatre groups or repairing harmoniums. But Naushad wasn't particularly inclined towards a run-of-the-mill profession or conventional dreams.

In 1937, following growing opposition from his dad, the determined teenager left home and came to Mumbai -- the quintessential city of dreams.

The struggle

Mumbai, as expected, was no cake walk. Naushad spent many nights sleeping on the footpaths of suburban Dadar, even as he looked for work and approached every studio in sight. Every time he became hopeful of a project, ill luck would prevail and the film would get shelved. Around this time, he joined Ustad Jhande Khan's orchestra in the capacity of a pianist.

Next, he became assistant to music directors Mushtaq Hussain (Baghban) and Khemchand Prakash (responsible for the haunting score of Ashok Kumar-Madhubala mystery, Mahal). His always-the-assistant-never-the-director stint finally ended when he was appointed to independently compose his first soundtrack for Prem Nagar in 1940.

His subsequent work in Sharda met with relatively better reception. The melodrama also brought 13-year-old Suraiya's enchanting voice in foray.

The success

In 1944, Ratan changed Naushad's fortunes forever. The timeless vivacity of Zohrabai Ambalawali's rendition in Ankhiya milake jiya bharmake chale nahi jaana continues to remind us what makes it a classic.

The 1940s and 1950s were studded with Naushad's sonorous gems like Suhani raat dhal chuki (Dulari), Tu kahe agar (Andaz), Nirala mohabbat ka (Dillagi), Yeh zindagi ke mele (Mela), Awaz de kahan hai (Anmol Ghadi), Jab dil hi toot gaya (Shahjahan), Maan mera ehsaan (Aan), Chod babul ka ghar (Babul), Chale aaj tum jahan se (Uran Khatola) and Duniye mein aaye hain toh (Mother India).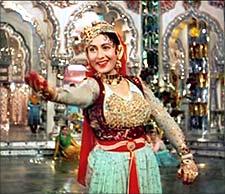 But it was his exceptional ability to recreate the era of Tansen in the brilliant score (
Mohe bhool gaye saawariya, O duniya ke rakhwale, Tu ganga ki mauj
) of
Baiju Bawra
or bring back the mellifluous culture of Emperor Akbar's court with immortal creations like
Pyaar kiya to darna kya, Mohabbat ki jhooti kahani
and
Mohe panghat pe
, which distinguished him from great to greatness.
The dignity and elegance of his compositions was for all to hear in the 1960s as well.
Kohinoor's
alaap-friendly
Madhuban mein Radhika, Ganga Jumna
's playfully folksy beats in
Nain lad jaiyen
, the romance-hued titular
ghazal
,
Mere mehboob
and the heartbroken cries of a modern-day Heathcliff in
Koi saagar dil ko behlata nahin
in
Dil Diya Dard Liya
are sparking examples of the same.
The hip and happening 1970s weren't so grateful towards the genius of Naushad. Every now and then, he came out his retirement to parent soundtracks which were a misfit in the 'masala' scheme of things. The result was lacklustre music for below average films like the Shah Rukh Khan-Manisha Koirala starrer,
Guddu (Thandi mein paseena jale
). His last film was Akbar Khan's grandly scaled-poorly received costume drama,
Taj Mahal: An Eternal Love Story
.
The maestro

Naushad's mastery over Hindustani classical music elevated film music to an altogether different level. His creations, rich in raaga and technique, had a profound impact on the soul while playing symphony on the senses.
The genius worked with the likes of K L Saigal, Noorjehan, Shamshad Begum, D V Pulaskar, Talat Mehmood while playing a key role in contributing to the success of phenomenon like Lata Mangeshkar, Mohammed Rafi and Suraiyaa. If Raj Kapoor had Shankar-Jaikishan and Dev Anand was blessed by S D Burman, Naushad was responsible for giving Dilip Kumar some of the most memorable songs of his career in films like
Andaaz, Amar, Mela, Babul, Deedar, Ram Aur Shyam, Ganga Jumna
and of course,
Mughal-E-Azam
.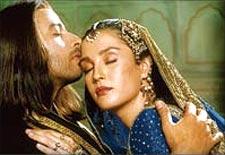 In a career spanning more than six decades, the maestro chose to work on only a select few projects, concentrating his passions on one film at a time. The discipline and detail in his arrangement, innovation in his technique (combining flute with clarinet and mandolin with sitar, introduction of sound mixing) and wisdom towards his art and its various forms (folk, classical, western) shaped the workings of the music industry for years to come.

The legend

Despite giving the music for some of Hindi cinema's biggest classics like Mughal-E-Azam, Mother India, Andaz, Baiju Bawra and to a lesser extent Pakeezah (he pitched in to deliver the theme music after the death of its original composer Ghulam Mohammad), Naushad hardly won any awards.

He (when nominated for Mughal-E-Azam) famously lost the Filmfare trophy to Shankar-Jaikishen for Dil Apna Preet Parayee but was showered by the more prestigious Padma Bhushan and Dadasaheb Phalke Awards in later years.

A name revered deeply by all music buffs for his ability to 'blend quality with popularity', as his late contemporary and a master composer himself, Sachin Dev Burman puts it.

Even though the film industry suffered a colossal loss with Naushad's demise on May 5, 2005, the magic and memory of his musical marvels will neither die nor fade.