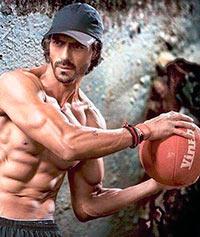 Rock On II sees the dishy Arjun Rampal back on the big screen, where he reunites with the members of Magik -- Farhan Akhtar and Purab Kohli. Joining the cast, and the band, are Shraddha Kapoor and Shashank Arora.
Rock On!! is a very special film for Rampal; it won him his first National Award.
But Rock On II had him wondering; he was initially hesitant when he learnt that Shraddha has been roped in for the film.
He tells Rediff.com contributing correspondent Rajul Hegde what happened next: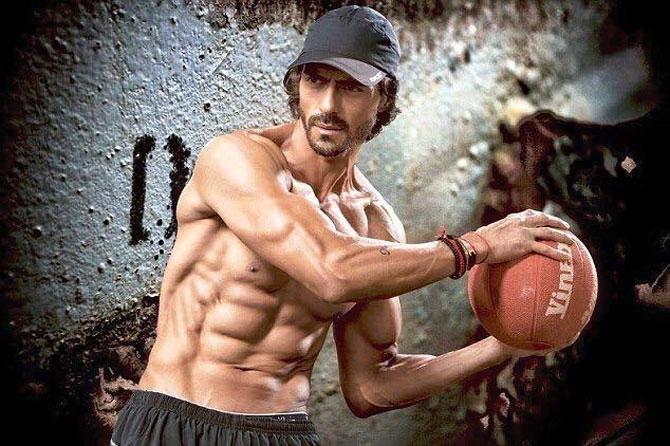 Photograph: Arjun Rampal/Facebook
How difficult was it for you to re-enter the skin of your character, Joe?
We knew there would definitely be a sequel but it took eight years because it was important to figure out the story.
The idea was to have the same characters, but discover where they are after eight years.
It is nice that they have shown my character, Joe, in a totally different light as you can see in the promos -- he looks very different; he has achieved quite a bit in life but his core remains the same.
It was nice to explore how music brings back nostalgic memories.
I thought it would be difficult to get into that zone again but, within three days of reconnecting with the team, Adi was Adi, KD was KD and Joe was Joe. It just came back.
How was it to have a new member, Shraddha, in the band?
Initially, I wondered how she was going to fit in because she is from a different generation but that is part of the film's story. She joins the band to find her way.
When they told me about Shraddha, I had no idea how she was going to play the role. I had not seen any of her movies or interacted with her.
But when I heard what she has done with her vocals, it was incredible.
It's amazing how this new generation is so focused. They understand everything.
She is huge fan of Rock On!!.
We all spent a lot of time together while shooting in Shillong and Mumbai.
I got to know Shraddha very well.
She is the perfect band member... has unbelievable screen and stage presence.
She is super confident without being overconfident.
She is hard working and well-mannered.
You said the new generation is focused. Whom do you like among the younger actors?
I like watching Ranveer Singh; he is fun and a good actor. I like Alia (Bhatt), Shraddha and Varun (Dhawan).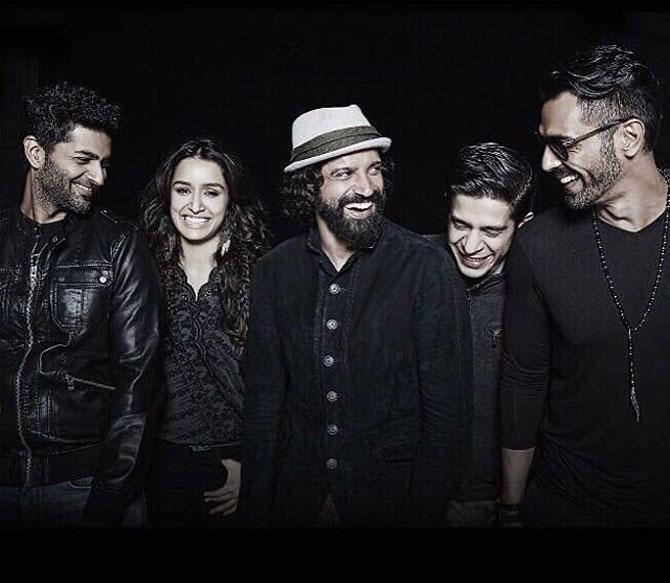 IMAGE: Purab Kohli, Shraddha Kapoor, Farhan Akhtar, Shashank Arora and Arjun Ramapl.
In the original Rock On!!, you were shown to have a love-hate relationship with your onscreen wife. How did your wife, Mehr, react to the role?
She loved the dynamic connection between Shahana Goswami and me... this big guy who gets completely bullied by this small girl. The guy tries to do everything to make her happy.
My wife was emotionally moved when she saw Rock On!!.
The music of Rock On II has not created a buzz like the original Rock On!!. Do you like the current one as much as the first one?
Every week, there are so many films and so much music coming out.
Ae Dil Hai Mushkhil has a phenomenal sound track and Shivaay is also there which have kind of hogged the limelight.
But I'll tell you one thing -- Rock On!! was not number one or two before the release of the film; it happened only after the film released. That's when the music of Rock On!! caught on. Before that, people were wondering what the songs were about and why.
We've got an identical reaction this time around. It's not something I am worried about because I know it's a phenomenal album by Shankar, Ehsaan and Loy.
We have one track called You know what I mean; that has got an old band reunion kind of vibe so that will definitely appeal to the Rock On!! fans.
Trust me, I have an ear for good music and, once people watch the film, they will have a different vibe for the music.
What happens with rock music is that there is no situation, it's always a concert and you will start relating to it only when you experience the movie.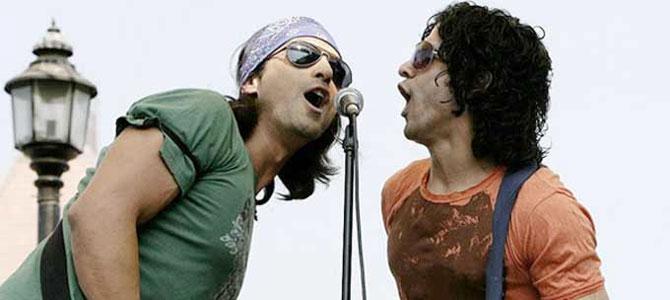 IMAGE: Arjun Rampal and Farhan Akhtar in Rock On!!
How do you look back on your journey after 15 years in this industry?
I am just happy and grateful that I have survived in this industry for 15 years (laughs).
I should thank my stars that I keep getting good work that lets me continue doing what I love.
There are ups and down, it's nice to keep feeling different emotions; it keeps you young, alive, healthy and on your toes.
It keeps your imagination going; I wouldn't change it for anything.
How do you tackle failures in films?
Imagine the man who made the light bulb -- Thomas Edison.
Imagine how many bulbs he must have blown before he created the first one that worked.
That's how it is; each failure teaches you how to go closer towards your goal.
The most important thing in life is to have a goal.
In my case, I want to be remembered for doing quality work/cinema and want to be known as a versatile actor.
I want to surprise my audience.
Yes, it's not an easy path I have chosen.
I will have many failures but the ones that will be successful will be truly remembered.
How do you choose your films?
It is the story that has to motivate.
I have not worked with Sujoy Ghosh before but I really liked the vibe of Kahaani 2, and what I could bring to my character. I knew that I would love to be part of this film.
The first Kahaani did really well; I hope this one also does well.
I am also doing a film called Daddy, which is a biopic, and then there is Aankhein 2, which is an ensemble film.
It really depends on what film you choose.
I didn't do any films for a year because I didn't like the scripts that came my way.
Do you regret not doing a particular film that went to become a hit?
Honestly, sometimes, we make the wrong decisions.
Somebody approaches you for a film and you don't know what you are thinking at that point of time and you make a decision and that film goes on to do really well.
But that film would not have done well if you were in it. That's the way I look at it.
That's the film's destiny; it's a strange thing how people get attached to it and what it does to people.
When I did Rock On!!, I never thought of winning a National Aaward.
I thought it was a fun, experimental, small film but it became something else.
Thank God, the character landed up in my lap.
Photograph: Arjun Rampal/Instagram
Today, actors feel most award functions are more like reality shows. As a National Award winner, what's your take?
It is really sad.
I agree when actors say award functions are like a reality show.
I remember when I came into this industry... there were such credible award shows and to win them was such a high.
The more commercial they make it, there more it loses its credibility. It becomes boring.
I would love to see a genuine award function being launched.
All of this makes my National Award even so much more special.
At least, I have that.
National Awards are not corrupted and hope they never get corrupted. It's a sacred moment when you enter that hall to receive an award. Everybody who attends the National Award ceremony has so much positive attitude. And they clap so loudly for you.