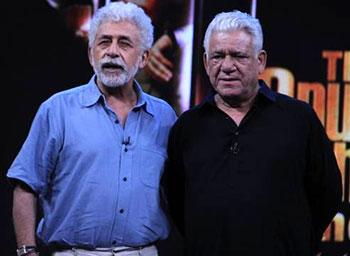 'Though his death was sudden, I can't say it was totally unexpected.'
'In a way death has relieved him of all the stress, and that includes the bad films he took on, I presume for financial reasons.'
Naseeruddin Shah speaks to Subhash K Jha.
I was numbed on hearing about my dear friend Om Puri's death.
Om and I had parallel careers in parallel cinema, so to speak. But I never felt any envy or resentment towards his achievements.
He got a lot of roles like East Is East, which I thought would come to me. But I felt nothing, but joy for him. His success in the West and when he spoke to me about working with Tom Hanks or Steven Spielberg filled me only with happiness.
Om was just... the salt of the earth.
There's no other way to describe him. He remained real and rooted all his life.
Success or failure didn't change him. But his personal problems -- in which I did not intervene at all -- had left his mental and physical health in shambles.
I know for a fact that Om was really suffering during the last few years. And there was no way out of it.
Though his death was sudden, I can't say it was totally unexpected. In a way death has relieved him of all the stress, and that includes the bad films he took on, I presume for financial reasons.
Om took all the criticism on his chin.
There was not a pretentious or pompous bone in his body. As I think back on my rapport with him I cannot recall one unlikeable incident.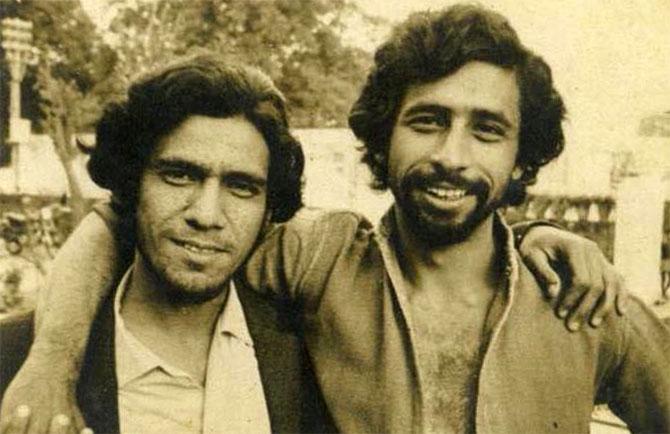 IMAGE: Om Puri and Naseeruddin Shah. Photograph: Kind courtesy Naseeruddin Shah/Twitter
We were very close and most relaxed with one another. And we happily played walk-on parts or supporting parts in one another's films.
Om would often do cameos for my films, like that one scene in Sai Paranjpye's Sparsh. I'd ask him if he didn't feel embarrassed to be cast in such small roles. He would give gaalis and say, 'Arrey yaar. I'm not doing it for you. I am doing it because I believe in the film.'
His faith in meaningful cinema was unshakeable. No role was too small or too big.
He did walk-on parts in some of my films and I happily reciprocated his gesture by doing supporting roles in Govind Nihalani's Aghaat, Ardh Satya and Droh Kaal where Om was the main character.
In one of my earliest film as a lead, Godhuli, Om had a small role and he was billed as Azdak Puri. There is a reason for that.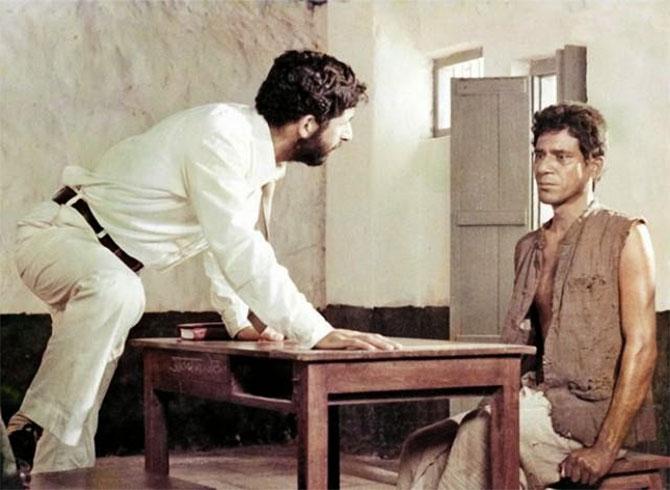 IMAGE: Naseeruddin Shah and Om Puri in Aakrosh.
When Om just entered the film industry his name was often confused with that of Om Shivpuri who was doing a lot of work at that time.
Om was dismayed. And he was seriously tempted to change his name to 'Vilom Puri' or 'Azdak Puri.' I told him to stick to his name. 'One day Om Shivpuri will be mistaken for you,' I told him. And that did happen.
Om was not only mistaken for Om Shivpuri, but also for Amrish Puri's brother, as they looked similar. One of Om's specialties was voice-imitations of Amrishji's baritone.
He would call me up, pretending to be Amrish Puri and speak in Amrish's voice. I'd be completely taken in. He would then say, 'Arrey bahwnc..d main hoon.' I think the way Om used his voice was exemplary.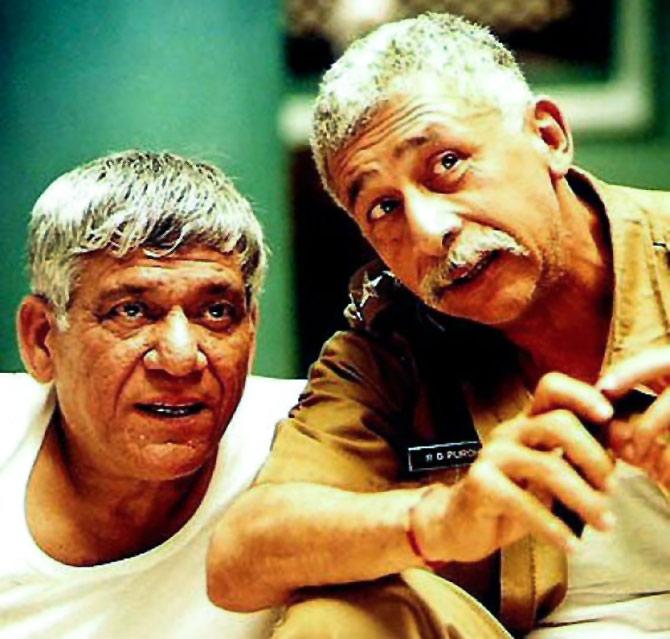 IMAGE Om Puri and Naseeruddin Shah in Maqbool.
In Ardh Satya, there is a scene where he speaks to Smita Patil on the phone supposedly in a drunken state. We don't see Om at all in the sequence. But we know exactly what his character is going through.
I later asked Om if he had downed some pegs before doing the scene. He hadn't.
More than me, Govind Nihalani must be shattered. It was Govind who spotted the talent in Om and harnessed it in film after film since Aakrosh.
I remember after Aakrosh when Om attempted comedy in Kundan Shah's Jaane Bhi Do Yaaro, everyone said he would be wrong for the role. I had seen how funny Om was on stage in an adaptation of Moliere.
I think Om in Jaane Bhi Do Yaaro was a laugh riot. Today I remember Om's hearty laughter and his generosity of spirit.
I am sorry I couldn't be there for his funeral. I was shooting out of town. My wife and sons were there.
Hell, I am going to miss Om!