'This attitude to laugh it off I think he will face a severe backlash.'
'I can see through everything he is trying to do.'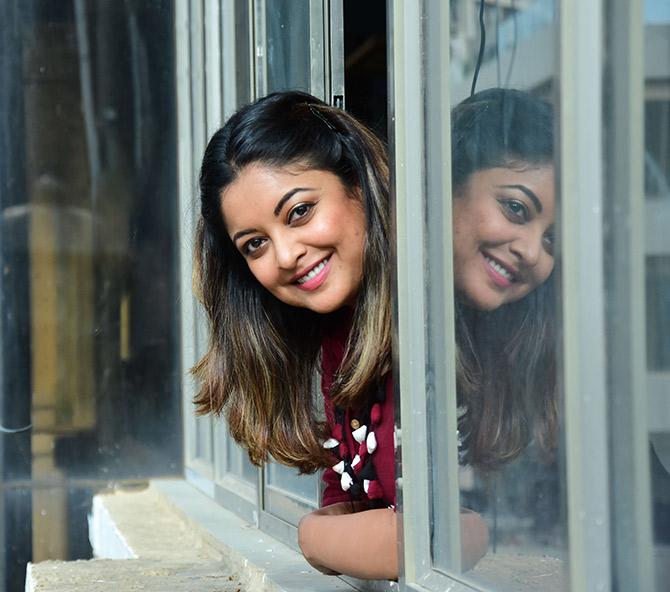 The debate over what is being seen as Bollywood's #MeToo moment snowballed on Thursday, September 27, as Tanushree Dutta reiterated her claim that Nana Patekar had harassed her on the sets of a film in 2008.
Patekar laughed off her allegation, asking what he could do about it.
A day after Dutta reopened the window on the 10-year-old incident and specifically named Patekar, there was a furious discussion on social media platforms and other media outlets, but the film industry itself was mostly silent.
Patekar dismissed Dutta's claim that he had misbehaved with her on the sets of Horn Ok Pleassss In 2008.
In a telephonic conversation with the Mirror Now channel, 67-year-old Patekar said he would see if he could take any legal step.
'What can I do about it? Tell me? How would I know?' he asked with a laugh.
'What does she mean by sexual harassment? There are 50, 100 people on the sets with me. Will see what I can do legally,' Patekar can be heard saying in Marathi in the audio available on the channel's Twitter account.
Such behaviour, he added, could not have gone unnoticed in a film set with '50-100' people.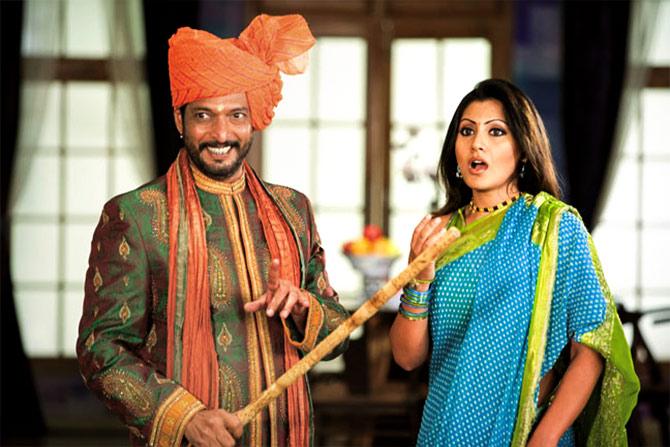 Rakesh Sarang, Horn Ok Pleassss's director, backed Patekar.
"She misunderstood the enthusiasm of Mr Patekar. There were so many people on the sets. If somebody wanted to do it, why do it in front of everyone?" Sarang asked PTI.
Dutta, who said she had spoken about her ordeal in 2008 as well, described Patekar's response as a "fear and intimidation tactic".
Patekar was "repeating the mistake" that got him into trouble, she said.
"I don't even consider him worth commenting on... Dismissing a woman's claim, dismissing her completely. It is fear and intimidation tactic," Dutta told PTI.
"This attitude to laugh it off, I think he will face a severe backlash. I can see through everything he is trying to do. That is sad," the actor, who is now based in the US, told PTI.
Asked about the issue that was trending on social media and was the subject of many discussions all over, actors like Amitabh Bachchan and Aamir Khan evaded a direct answer.
'My name is not Tanushree and my name is not Nana Patekar,' Bachchan said, when asked to react to Dutta's allegations.
Khan said it would not be right for him to comment but 'whenever something like this does happens it is really a sad thing'. The two stars were speaking at the trailer launch of their upcoming film Thugs of Hindostan.
'I don't think I can comment on it... But whenever something like this does happens it is really a sad thing. Now whether such a thing has happened, it is for people to investigate,' Khan added.
Asked about the evasive reaction, Dutta said she was going to give them time and was hopeful that "people would do the right thing".
"They are exposing themselves. This is the response of those who talk about women's empowerment and support the #MeToo movement happening in America... and when that is happening here, this is how they respond," she said.
She said she was coming from a compassionate space and was not going to jump to conclusions.
"Some humanity will rise and they will say or do something about it. I am still hopeful that people will do the right thing," she said.
When Dutta had raised the issue in 2008, Patekar had denied the claims.
Recounting the incident and its aftermath, she said she had tried to escape but the situation went from being a "harassment situation to a mob lynching situation".
"When I tried to escape they called the media, they called some people to mob lynch and attack my car. My parents were there inside and even I was inside, it was horrific..."
"They made sure that we did not escape from the studio, they locked the gates and then the cops came and they got us out... So when we filed the police report, they filed a counter complaint and because of the counter FIR, my dad, hair dresser and spot boy had to go through so much harassment over the next couple of years," she recounted.
Dutta's allegations have triggered a furious debate on sexual harassment in the Hindi film industry with many supporting her but others questioning her motives for raising the issue so many years later.
The actor, who has featured in films like Aashiq Banaya Aapne and Chocolate, said she spoke about the issue earlier and no one had the right to say anything to her.
"They called me a slut, unprofessional.. when I spoke about it eight to ten years back. Nobody has the right to say anything to me," Dutta said.
PTI reached out to Patekar for a comment, but there was no response.