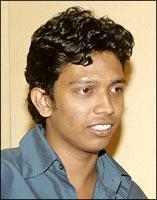 Nakash Aziz is the kind of guy who believes in never giving up. He has always wanted to sing, and knows he can. So, for a while now, he has set himself the task of convincing others of his ability. Aziz was among the top 32 finalists in the Sa Re Ga Ma Pa Challenge. During auditions for Indian Idol, he was knocked off. He then tried his luck with Fame Gurukul, but failed.
Now, it seems his luck is beginning to change. He has just made it to the list of 28 finalists at Indian Idol 2. What may happen next is anybody's guess but, for the moment, Nakash is raring to go. Patcy N caught up with the ambitious 20-year old, who has just completed his BA, and this is what he had to say about his quest for success.
Meet the Indian Idol 2 Mumbai finalists
My father always wanted me to be a singer. I gave my first stage performance at the age of 4. I was in kindergarten at the time, and sang the song Papa kehte hain from the film Qayamat Se Qayamat Tak. I think of my voice as a gift from God. I have had most of my music lessons from my father. I grew up watching him sing and compose music on his keyboard. He now works with a bank. He was a popular singer during his college days, but couldn't pursue it as a career on account of financial problems.
When I was 12, I began singing for an orchestra called Baccho Ki Duniya. I was paid a mere Rs 150 per show. I would wait for four hours, then sing one stanza. I would feel bad as my mother would accompany me and she had to wait as well. Later, I was given the role of lead singer and my pay increased to Rs 250. But they stopped calling me after a while, as I was too tall. They couldn't have someone my height for a show about children. So, I went on to do shows for other groups.
While in junior college, I did an audition for SAB TV. Annu Kapoor, who auditioned me, was very impressed and told my father I needed classical training. So, for the past six years, I have been training myself in semi-classical singing.
I then began composing music with Amit Sawant, the brother of Indian Idol Abhijeet. We were in the same college and had common interests. He knew I had a basic set-up at home where I composed music. We decided to compose 25 tracks, select the 10 best ones and approach music companies. Through Amit, we also got an offer for a children's film, which didn't happen. All this was even before the first Indian Idol had begun.
When I auditioned for Indian Idol, I went at around 2:30 am. By the time I got an opportunity to sing, it was noon the next day! I was tired, I hadn't slept and had dark circles under my eyes. I cleared the first round but failed the camera round. I think that, for Indian Idol, you should keep all these things in mind -- your appearance, personality, talent and the way you present yourself. I think I failed because I wasn't presentable enough that day.
I don't know what went wrong when I auditioned for Fame Gurukul. I had given it my best. I was also selected for Sa Re Ga Ma Pa Challenge, but didn't make it past the top 32 finalists.
I went for Indian Idol 2 because I wanted to prove to my parents and myself that I could do it. You will be surprised to know that I failed the first audition. But I tried again and was selected. While singing before Anu Malik, I was really nervous. He told me my facial expressions weren't good.
Why do I go to these contests? For the experience. There are participants from around the country as well as good judges, so one learns the dos and don'ts of the trade. Even if I get one tip, I think it's a plus point. While contesting for Sa Re Ga Ma Pa, I found a friend in Shaan. I can call him anytime for his advice. He was the one who told me I was underweight and that if I were to put on weight, my screen presence would improve. In the last year, I have put on 10 kilos. He even gave me tips on singing.
I intend to keep participating in reality shows because I have seen the kind of fame Abhijeet Sawant now enjoys. Also, my dad wants me to be what he could not. These shows enhance an artist's personality. You are groomed and given a makeover. You get to learn from gurus you normally cannot afford to learn from. There is a lot of competition, of course, but why not? I won't be able to participate in Indian Idol 3 though, as the top 30 participants are not allowed to participate again. Still, I want make it at least to the top 12.
I still practice with Amit Sawant, occasionally. For now, singing is my top priority. I want to do something related to music. I want to make a name for my father and myself...
Photograph: Jewella C Miranda