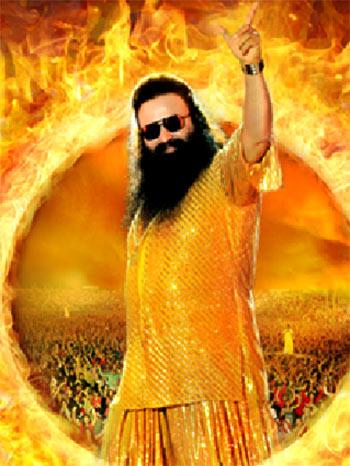 Love Charger (or Charzerr) exploded on the scene last year, and has become somewhat of a cult now – the chubby arms raised high in the air, the falsetto that nearly knocks you out, the dark mane which swings this way and that, the head-banging, the aunties and uncles doing an awkward jig in an open ground, and the blingy costumes.
Oh, and the absolutely charzed performance.

And then you listened to it all over again.

Everyone had the same question: Who *is* he?

But just when that video became a memory, you were greeted with huge movie posters announcing MSG: The Messenger.
You may not like him, you may not agree with him, but you cannot ignore him.

Shubir Rishi/Rediff.com speaks to rockstar saint and head of Dera Sacha Sauda, Gurmeet Ram Rahim Singh Insaan, days before the release of MSG 2.

Two hours after the promised time, we are setting up our camera. And we have minders. Some very serious looking men come in and check everything (even under the table) but ignore us.
The Baba has Z+ security, after all.

Some Insaans (the Baba's followers are called that) mill about anxiously.
Three young women, wearing identical clothes, enter the restaurant where the interview is scheduled to take place. They give out orders and are very concerned about the Baba's comfort. His chair is changed twice.

A follower leans in and asks, "Are you ready?"
And suddenly Gurmeet Ram Rahim Insaan is upon us.
Dressed in a sequined T-shirt and tight jeans, he is all smiles. In fact, the smile does not leave him through the interview with Shubir Rishi/Rediff.com.
Why make a movie in the first place? You already claim to have millions of followers all around the world.

I am a Sufi saint, and my job is to exterminate the evils of the society.
Earlier, I did that via satsangs (discourses). Then, I started singing.
When I sang classical, not many (people) turned up. But when I started singing what the youth listen to -- hip hop, rap etc -- they started pouring in.
Still, some were missing.

So in the next gathering, I asked those people where they were the last time. With much trepidation, the response was 'Guruji, we went to watch a film.'
So I asked them, 'Why are you scared to say that?'
They said their parents do not approve of movies.

I thought the youth will not stop going to the movies. So why not make films that the parents would approve of?
So I chose the medium of films to change the youth, to get rid of the drug problem in the society. No parent would disapprove of such a film; in fact, they will urge their children to watch it!

The critics laughed off your last movie as propaganda and it turned out to be a dud. Aren't you worried about the commercial success?

Absolutely not.
I got what I wanted (from the film).
I delivered a message. The response to my anti-drug campaign is tremendous. More and more people are flocking to the de-addiction centres that the Dera (Dera Sacha Sauda is a non-profit social welfare and spiritual organisation) runs. We don't take money; we don't ask them to change their religion.
I went to Europe, Nepal, and the turnout was tremendous! Everyone was curious about the guru mantra that helps a person get rid of their addiction.

About the film not doing good, it made Rs 60-69 crore at the box office. Our distributors (it was their first time, they had no idea how to go about it) claim that they could still better it. Now they have an idea how to market it better.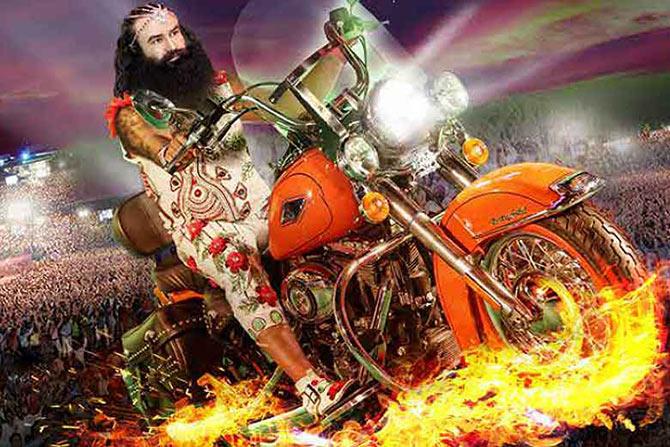 This was a planned sequel. Clearly you are not stopping at that? Will a series follow?

(Laughs) Of course, of course. They may not necessarily have the same name though.
For instance, in the movie Avatar, they sort of upgraded Hanuman and made that movie. Our Vedas, the Quran, they are oceans of knowledge -- how the earth was made, the sort of people living in those times... there is so much material there.

So that movie will be bigger than Avatar. And there would be other movies in-between.
Do you watch movies?

No, I do not have the time.
When my (adopted) children watch something on TV, they ask me to watch too.
So you have no favourite actors?

Not really. This must have been in 1984 or 1985, these guys I used to hang out with, insisted I watch a film with them. These guys were addicts, so I put up a condition: you let me help you put an end to your addiction and I will come with you. They agreed.

It was an Amitabh Bachchan film, I don't remember the name now. Other than that, never.

Unlike the last movie, the new movie's trailer shows you as a super-powered Baba. You categorically said for your last movie that those were mostly science-based stunts. Yet, here you are, fighting off a zillion 'tribals' and leaping over cars?

(Sheepish laughter) Really, it is all for show. It's a film after all. You have to put some drama in there!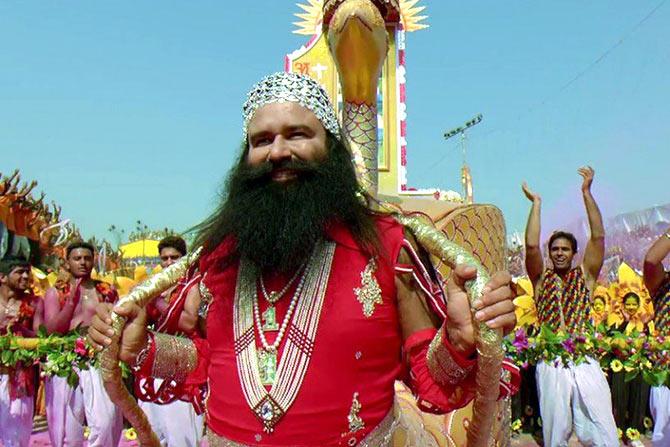 So you admit it is all drama?

Well, it is a film. I am just a fakir. If someone uses profanities with me, I just smile and pray for him. Besides, atma raksha (self-defense) is no crime. I am not using any guns. I use my hands.

In a particular fight scene, I fight villains using only my legs, rotating around a pole. Now, if one were to do that, one must be physically fit. So the youth would be inspired to quit their addictions and exercise (smiles). I just want the youth to change, that's all.

How have your followers reacted to the first movie?

Tremendous response. They say 'guruji, maaza aa gaya'. And there is this dialogue they absolutely loved. May I?

Yes please…

Na Hindu bura hai;
Na hi Sikh Isai Musalmaan bura Hai,
Buraai pe utar aaye woh,
Insaan bura hai

(Hindu, Sikh, Muslim, Christians don't preach to be bad. But the one who preaches the opposite, that person is not good).
You have been approached by Bigg Boss.

Yes. But then I have scores of druggies coming to me from all over the world. I meet them every day. How will I do that at the Bigg Boss house? I need to see them, but I cannot in that particular situation, obviously.

So I don't know...

Let's pretend you are in the house, and you hear Bigg Boss chahte hain ki...What'd you do? It's not God's voice, it is some guy.

(Laughs) I will pretend it is a film and act accordingly. All players in that show do that anyway. I have no ego.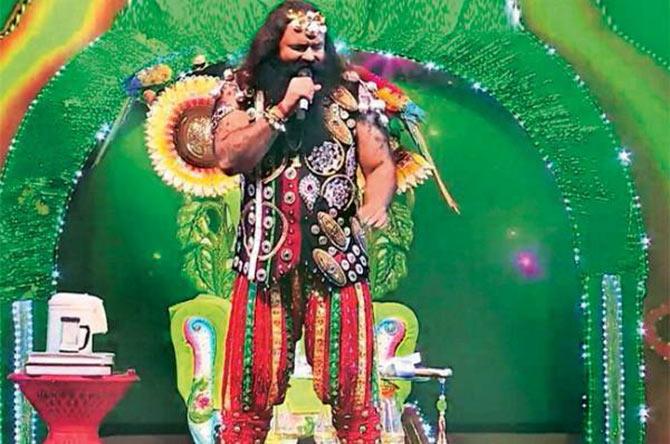 Okay, then. You have these Rubaru Nights and serve something called a ruhaani jaam. What is that all about?

Yes, they are called Mast Mast Rubaru Ruhani Nights. Around 2-3 lakh people turn up and I sing for eight hours. Then I hand over the mike to the crowd and urge the youth present to ask questions.

Ruhaani Jaam is a mix of water, milk, Rooh Afza (a popular rose-flavoured squash) and other stuff. We ask people of all religions to come forward and stir the mixture with their bare hands. Of course, they wash their hands before that.

Whoever drinks it is empowered with will power. I have seen that happen often. I have seen people change after drinking that. What I am saying is let your belief take over.
You have 34 talents listed on your website. How can one man manage all that?

(Smiles) Yes. I play 32 national games, I am a chef, a designer -- be it shoes, clothes, gold, cars, bikes.... I am also an interior designer, a bike modifier, an architect...

Did you design the T-shirt you are wearing?
Yes.
How do you manage to do all this?

Ordinary human beings are not capable of such things but it is the power of belief. If you believe in the power of the lord, you can do anything.

Do you sleep at all?

(Smiles) I am used to sleeping very little, sometimes not at all. I can manage with just four hours.

A video on your website claims some unbelievable things. For instance, a doctor who says his cancer was cured and a dead boy, who came to life. How are these things possible?

Yes, it is very surprising, isn't it?
Almost all holy books -- the Gita, Ramayana, Mahabharata, Vedas -- say that it is not impossible. The dead can be brought back to life. If one has faith, it is possible.

The said doctor came crying to me after he was diagnosed with thyroid cancer. He was told he would only live for three-four months.
I told him, "A human being has told you that you will die soon, not God. If He wants, He can remove the cancer from your body just as one would remove a strand of hair from butter."
I asked him to chant the guru mantra and treat poor patients for free. He agreed.
Then, his cancer just vanished.
Nobody could believe the cancer disappeared without any operation or medication. After this incident, around 1,500 medical professors came to me and took the guru mantra -- everyone was convinced it has a lot of power.
There is a lot of power in God's name, be it in any form.

About the other incident, I was conducting a daily gathering, when a man came crying to me. He had a baby in a paper bag. The minute I saw the baby, it started flailing its arms. I told the man to remove the bag.
Everyone was stunned. I had no idea that the baby was brought dead. Maybe it was God who made me say the words I said. That baby has grown up and is an architect today.
I named him Boota (plant), because just like one, he was reborn.
But don't get me wrong! If someone asks me to bring a dead person back to life, I can't do it. If I could, I wouldn't let anyone die in the first place!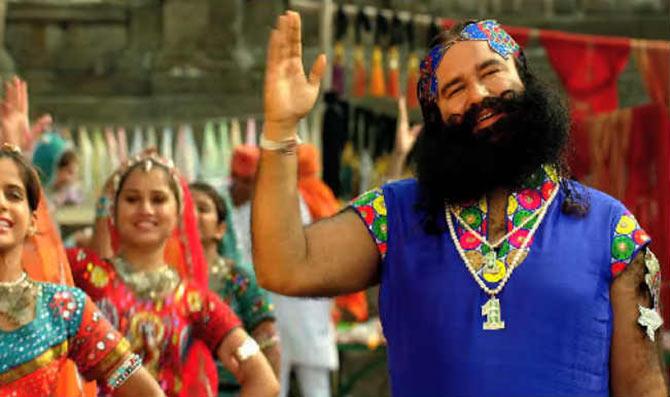 Recently, Radhe Maa was been charged with obscenity and dowry harassment among other things. You have been in an out of a few controversies yourself.
Let me tell you what the definition of a guru is: Gu means darkness, Ru means light. So a person who can light the lamp of knowledge and remove the darkness, which is a form of ignorance, is a Guru.

Allah, Ram, God, Khuda -- they did not demand anything from anyone, so why should a godman or woman do that? A saint's job is to guide people, show them the right way of life. Anyone who takes money in the name of God is a phony.
People themselves are to blame for this. In today's world, people want everything via shortcuts.
You supported the BJP in the Haryana assembly polls which led to its victory. You extended that support again in the Delhi assembly polls this year. And you say you have no political ambitions.
I did not. My followers (all 5.5 crore of them), who comprise all religions, asked me, 'Guruji, we know you have nothing to do with politics, but we live in a society. Who should we vote for?'
So I told them to vote for someone who works for the society.
We prepared several affidavits -- namely, someone who will support a cleaner India campaign, someone who can put an end to female foeticide. It so happened that only the BJP people signed those affidavits.
And the results are for all to see -- the Swachh Bharat campaign, the Beti Bachao campaign -- they have done a lot of things which they had promised. For that reason, I asked my followers to support them in Delhi.
Prime Minister Narendra Modi tweeted about your cleanliness campaign in Mumbai last year. Did you get a chance to meet him?
No, I haven't met or spoken with him.
Yes, he tweeted about us saying that we have done a very good job, it felt very good. What feels better is that a prime minister has taken up a cause we started back in 2011. Our own initiative was called Ho Prithvi Saaf, Mitey Rog Abhishaap (Cleanse the earth to remove disease and curse).

Watch Gurmeet Ram Rahim Singh Insaan here:
Tell us some thing about your gufa (den).
(Laughs) No, no, it is not a den! It is just the name. It is actually a single-storied building.
The legend comes from our very first guru, Shyam Mastanaji Maharaj. He used to stay underground in a gufa.
Our second guru, Shah Satnam Singhji, decided to build a house over the gufa. But the name stuck.
Now, we have changed the name to Tera Vaas. God is in 13 forms and I am but just a tenant. Tera hi hai sab kuch (everything is yours).
Does your family still visit you? Do you remember of the time when you were not a saint?
(Smiles) Yes, I remember everything. I am even writing a book on my childhood. I have been always interested in agricultural studies but I was the most interested in Om, Hari, Allah, Ram. This is because I grew up with the Holy Gita and the Holy Quran. I used to feel proud about this education. When I turned five, I met my guruji and got more interested in spirituality.
I was born 18 years after my parents' marriage. I was their only child and hence was everybody's favourite. My father was a landlord and the village head.
I was very active in sports and welfare activities. Our district had just two-three vehicles in those days, and one of them was mine.
If anyone was sick or in need, I would personally take them to the hospital, whatever time of day.
I meet my family, yes. It is like any other normal family. (He is married and has three children, but renounced his family ties in 1990).
So will the real Gurmeet Ram Rahim Singh please stand up?
Well, I have allotted six hours a day to meet people. We choose a topic, and discuss it.
Then druggies visit me from all over the world. I give them the guru mantra to stop taking drugs.
Then, there are the sick and the poor.
Earlier, I used to get a lot of letters. Now, I have Twitter. I go thorough it and read each and every tweet, and reply to them.
As I said before, I hardly sleep. I get up early in the morning, I do yoga, meditation and exercise. Nowadays, it's easier -- I have a gym.
What do you do for entertainment?
I don't do anything different for entertainment. I am also a coach -- be it yoga, softball, throw-ball, roller-skating hockey. These kids have won around 38 gold medals for the country. I am fondly called the 'Papa Coach'.
If I can make a sad person laugh, that is entertainment for me.
VIDEO: Don't miss Gurmeet Ram Rahim Singh Ji Insaan singing Drug na lena re