'People don't talk about any role that my father did -- it is always Gabbar Singh. He regretted this. He would tell me, 'I started at 25 floors and couldn't go any higher because I had started too high.'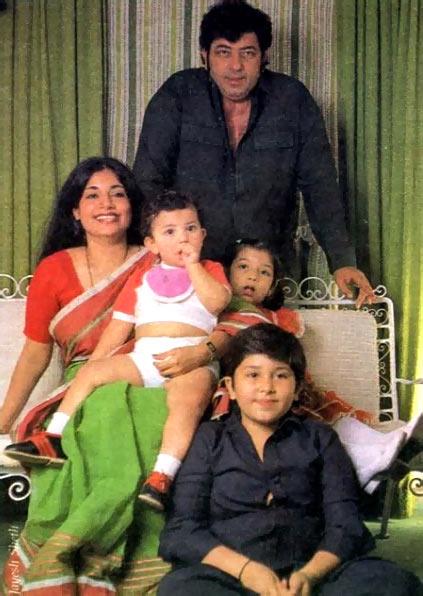 Sholay wouldn't have had the impact that it did had it not been for Gabbar Singh, played so well by Amjad Khan.
While the world adores Amjad Khan in that career defining role, his son Shadaab Khan prefers Shatranj Ki Khiladi, Satyajit Ray's classic where Amjad Khan played a character in total contrast to the Chambal dacoit -- the last Nawab of Oudh, Wajid Ali Shah.
Shadaab, who recently launched his first novel Murder In Bollywood, feels sad that audiences don't look beyond Gabbar Singh.
He shares glimpses of his father with Patcy N/Rediff.com
IMAGE: Amjad Khan with wife Shehla, sons Shadaab and Seemaab and daughter, Ahlam. Photograph: Kind courtesy Shadaab Khan
Growing up, I knew my father was very famous. But he never had any starry airs.
My father never took himself or his stardom seriously. The atmosphere at home was very light, so we were not affected by his success.
During school holidays, I would visit dad on movie sets. Many actors' kids avoid film sets, as they can get hot and uncomfortable. Those days, there were no vanity vans. The sets were not air-conditioned. But I would love to watch the shoots -- it was like education for me.
Dad was lenient with us, mom was strict. Neither raised a hand on us. Dad would laugh off our mistakes. We knew our limit and never crossed it.
Teachers did not give me special preference because I was Amjad Khan's son. My school Maneckji Cooper, in Juhu (north-west Mumbai) had many star kids. Twinkle and Rinki Khanna, Tejaswani Kolhapure, Farhan and Zoya Akhtar, Sajid and Farah Khan, Sharman Joshi, Rani Mukerji.
I watched Sholay when I was three years old. When I saw my father getting beaten up, I got very upset.
My mother tells me I started screaming and yelling bad words that I had picked up from somewhere. I wouldn't stop, and my mother and grandmother were very embarrassed. They quickly took me out of the theatre.
Sholay is a great film, made by a great director, Mr Ramesh Sippy. It is one of those rare films where everything falls in perfectly. My father, of course, was the highlight.
My father gave nuanced performances in Sholay and Shatranj Ke Khiladi -- those were the two films where he got a chance to prepare for his character. In those days, actors did not research their roles. Today, even a mediocre actor prepares for his role and is called a great actor. All you have to do is graduate from the National School of Drama, and you are called a great actor.
People don't talk about any role that my father did -- it is always Gabbar Singh.
My father regretted this. He would tell me, 'I started at 25 floors and couldn't go any higher because I had started too high.'
My father was happy about Sholay, but somewhere it pinched him that everybody spoke to him as an actor only from Sholay's point of view. If they had seen beyond Sholay, he was a far better actor what they took him to be.
My father never told us the hardships he went through while shooting for Sholay. At that time, my grandfather (the character actor Jayant) was suffering from cancer.
He gave more than 70 takes for his first shot, even after a lot of rehearsals. After that, they didn't let him shoot for the entire schedule.
But my father never spoke about those days.
It didn't matter to him how much money he had in his wallet; what was more important was that he should sleep peacefully at night.
He never spoke about actors who were jealous of him or directors who gave him a hard time or producers who made him run around.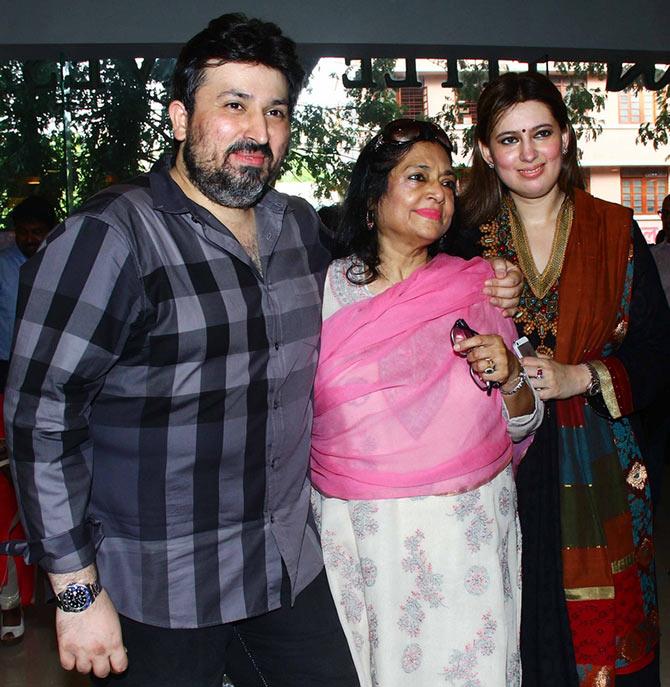 IMAGE: Shadaab Khan with his mother Shehla and wife Rumana. Photograph: Pradeep Bandekar
I know Salimsaab (Khan) and Javedsaab (Akhtar) were instrumental in getting my father this film. More than Javedsaab, it was Salimsaab who backed him completely.
When the film released, it did not do well. There was lot of pressure on Ramesh Sippy to make drastic changes, and one of the suggestions was that my father's voice should be dubbed as it was too weak.
The pressure was so much that even Salimsaab, who was backing my father, agreed to it.
It was Amitabh Bachchan who told Rameshji not to tinker with the film. Rameshji finally let everything remain the way it was.
Because of this incident, there was a misunderstanding between my father, Salimsaab and Javedsaab. As long as dad was alive, there was friction.
A few days after my father passed away, Salim saab called me home and said, 'What happened between your father and me happened a long time ago. Now your father is no more. Let's put it behind us.'
That was a very magnanimous gesture.
My tuning with his sons, Salman, Arbaaz and Sohail is good. I get along with them, but my true fondness is for Salimsaab because of that one gesture.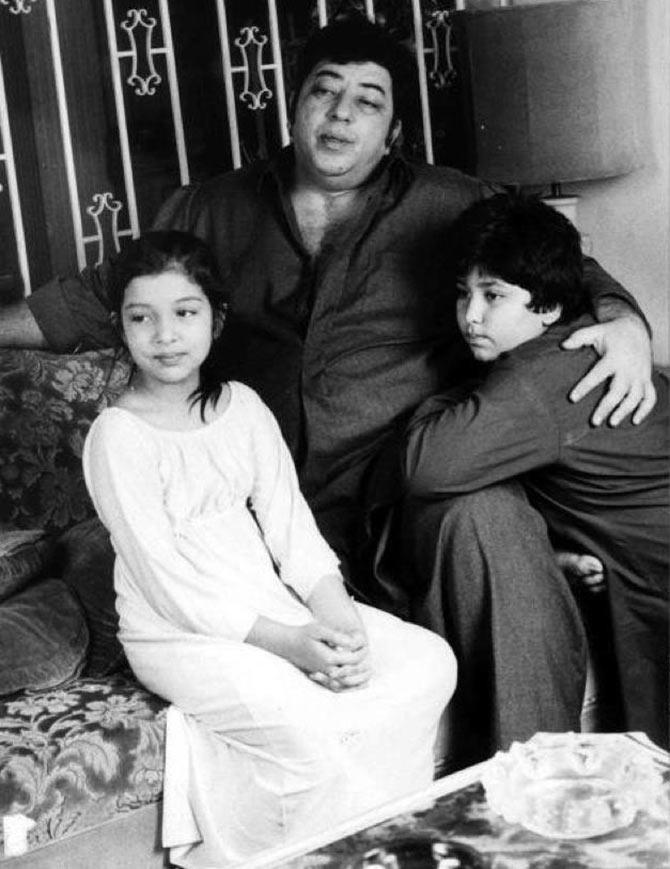 IMAGE: Amjad Khan with son Shadaab and daughter Ahlam. Photograph: Kind courtesy Shadaab Khan
My father became famous, but he never changed; the people around him changed -- not family, but those sycophant chamchas. They started gathering around him, and giving attitude.
My father was too simple a man; he couldn't see through them. He mistook the chamchas for friends. That was his error.
These people would come home at 8am, so they could tag along with him for his shoots. They would come on Sundays for lunch and dinner; they were just free loading. They would go wherever he would go.
Dad's friends from his college days would always be there for him; they never made a nuisance of themselves. They never visited film sets or sit in on script-reading sessions.
These chamchas affect your career because they tell you what projects you should take and gossip about what other actors and directors say about you. This is bound to affect your judgment and relationships with others.
These chamchas brought my father down.
Another thing that affected my father's career was his accident. My father was travelling to Goa for a shoot, when he met with a near-fatal accident. This was post Don.
He gained tremendous weight because of it, and couldn't do anything about it. He never recovered from that accident.
I was not home when my father passed away. I came home at 8 pm, and that's when I learnt about it. He was just 48.
I was 18 at the time. I took it very badly. It took me more than a year to come out of it. I miss my father all the time.
I had a very friendly relationship with my father. We had discussed my career plans, but we never thought he would go so soon.
IMAGE: Amjad Khan with wife Shehla, sons Shadaab and Seemaab and daughter Ahlam. Photograph: Kind courtesy: Shadaab Khan
My father was happy and content, but he did not get his due. That still rankles.
Mediocre actors are considered great and he is considered great only for one role in Sholay. He was a better actor than all of them.
I feel his best performance was in Shatranj Ke Khiladi. It was a very complicated role. Sholay is his second best.
My father's comic timing was very good, but I never liked the idea of him doing comedy. If he was alive today, I would have told him not to take up comedy roles. Or else, take up some like Qurbani, very sparingly.
People don't understand the difference between comedy and buffoonery.
Had my father lived, I would have told him to do more powerful villain roles like he did in Lawaaris.
I don't think any villain has replaced my father yet. Amrish Puri was a very talented actor with a wonderful voice. He was a nice gentleman and very professional. Prem Chopra is a great actor. But my father was always one step ahead -- not only because he did Sholay, but because he was a complete actor.
People say I look like my father, but I don't want that to be my calling card. I'm not bothered about people comparing me to my father because I am confident that given the right role, I can hold my own against any actor, including my father.
Comparisons don't frighten me.
What upsets me is being compared to him without being given a chance. I don't like living under someone's shadow.
I will always love my father, but my goal is not preserve a legacy but to carve my own niche as an actor or a writer.
Whatever I do now will carve a separate identity from my father and that is the way I want to move forward.
OUR SHOLAY SERIES