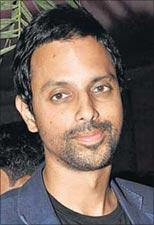 The Hindi film industry fuels the dreams of youngsters aspiring to embrace stardom, sweating it out in audition halls (along with the gym) for that one big acting shot. But how many times do you hear of a flamboyant young musician entering film production to make the kind of films that he would want to see?

Meet Mukul Deora whose production company Watchtower Pictures is ready with its maiden venture, Bheja Fry 2, the sequel to the 2007 super-hit Bheja Fry. A film fanatic himself, he has been involved at every stage of the production, from designing the first poster to cutting the promotional trailers.

In a free-flowing chat with Ankur Pathak, the debutant producer shares some interesting insights into, among other things, Bollywood's illogical economics and the unmentionable casting couch.

What prompted you to venture into film production?
I am an artist and for me creativity is everything. So the medium actually doesn't matter. I was looking to produce a feature film for a long time. I felt this was the most appropriate time to enter the film business as it's a great period for the industry. Since the past few years audiences' tastes have changed and they are keen to see relevant and realistic cinema.
So you decided to strike while the iron's hot?
Well, yes. But it wasn't an impromptu thing. There was a lot of thought and discussion that went into it. The idea was to not only produce one film but start a film production company that would finance, develop and distribute films. After a good amount of market research, I started Watchtower Pictures.
As producer of the film, what is your primary lookout?
The biggest decision is to round up a story. That is the ultimate and the most challenging call. It can be a one-line story, but the judgement as to whether it will resonate with a wider audience is crucial. Second is to develop the story into a script. The script should be powerful and convincing enough for it to be converted into a movie. Third is getting the perfect team. I think all the effort would go down the drain if you don't have a strong team for execution.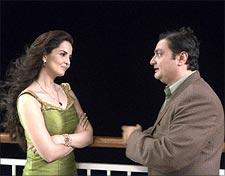 Are you content with the way Bheja Fry 2 has turned out?
Bheja Fry 2 has turned out unbelievably well. If the first one was mad, this one is ten times madder, bigger and better. The essential qualities of Bharat Bhushan remain untouched – the ones you liked about him - but it multiplies on a grand scale.
Reportedly there were some issues over the title between you and director Sagar Ballery.
It was just a discussion and not a big argument. Sagar wanted Bheja Fry Masala, but I felt the title was too long and masala is not such a good word after all. When I write it down or visually see it, I don't like it. Bheja Fry was not known to be a masala film. That is something you associate with a film like Ready. Bheja Fry 2 is not slapstick humour, it is witty. And Bheja Fry 2 sounds more international and solid than Bheja Fry Masala, which makes you add another word on another line (laughs).  
How was Minissha Lamba chosen to play the part?
Everyone was cast in such a way that they fit the character like a hand in a glove. Whether it was Amol Gupte, who is hilarious playing this reclusive wildlife photographer, or Suresh Menon who plays a South Indian, we made sure everybody's personality matched the role we had to offer. I think the casting is very inspired. For Minissha's role we wanted a good actress, and she is very good. We also wanted someone who could sing because Vinay Pathak's Bharat Bhushan sings in the film. He has sung the song Rahi... Rahi beautifully. She sings well, too, and not many actresses do.
What kinds of films do you like watching?
I watch movies that have a great story and brilliant performances. I am not concerned with who the star in the film is. Frankly, I have hardly seen movies that boast of big stars. Recent movies like Ishqiya and No One Killed Jessica are my hot favourites.
So you didn't enjoy Ready?
I don't know about Ready, I haven't seen it. But I don't enjoy slapstick comedy. That's really not my genre.
How did you monitor the progress of your film?
I was there for most of the shoot. For more than 80 per cent of the time, I was present on the sets. You have to be cautious, give support, and make sure everything is going fine. Actually, I was there from the beginning. It is always beautiful to see something shape up so well from scratch.
Did you ask the director to make any changes?
There were always healthy discussions over the script and how the scenes would be captured. I can't remember any one thing because it was over a period of time. We spoke about how we would go ahead with KK's (actor KK Menon) character, how does he face the income-tax raid etc. So there was sharing of ideas and the basic structuring of the film. We also had to make sure we keep it as realistic as possible. There was no interference; it was more of a healthy collaboration.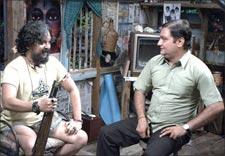 In terms of finance, how do you see the Hindi film industry evolving?
Honestly, if you know Hollywood, which is a global film industry located in one of the cheapest big cities in the world, Los Angeles, and compare it to the revenue we earn in Bollywood, the latter is a tiny figure. The revenue of the whole of Bollywood is less than that of one decent Hollywood hit, leave alone a blockbuster. Bollywood is located in one of the most expensive cities in the world, which creates a tremendous price pressure. Add to that the fact that the success rate here is dismal to say the least. It's like a massive loss-making business.
What is the way out then? Should we stop making films?
No. I agree that there is a good market for Bollywood films and we should continue to make them, but if everyone decides to cut down their asking rate by 50 per cent, that would be a realistic number to sustain Bollywood. But I am not saying that is going to happen.
Are the top stars to be blamed for inflating budgets?
We live in a very expensive city and the cost of living here is phenomenal. If I am a top star, I'd like to live in a nice big bungalow costing Rs 50 crore. In Los Angeles, I'd be happy with a Rs 10 crore house because I'd be happy with the property that I'd manage to get with that kind of money. But in Bombay, that amount is not great money. So the stars ask for this stupid amount and people are even paying them, so why would they settle for less? Let's just say that in Bollywood, there is more capital than talent.
Stars command a hefty pay cheque, but that doesn't explain why the writers are underpaid.
I don't know about them being underpaid. At least in my production, the writers I have employed are well paid. In our country, everything is so star-driven, the more visible a face you have, the more money you will make for whatever you are contributing. Visibility is everything. If I am on the billboards all around the city, I will have power. If I am sitting on the backseat writing something, I have less power. That is sad. It should be the other way round or at least balanced. At the same time, you can't write the public off. They pay for a big movie featuring a huge star written by nobody. The system doesn't exist in isolation; the public is equally to be blamed.
Now that you are a full-fledged producer, can you throw some light on the "casting couch" controversy?
The casting couch? (laughs loudly) I have no idea about it. For this film, I was involved in the casting in a way that Sagar and I discussed who we would be bringing on board for the roles. But I didn't meet any of them in that way. 
Is it true that you have bagged the film rights of the Booker Prize winning novel, The White Tiger?
Yes, absolutely. There are these two producers from New York - Josh Hart and Patrick - and together we have agreed to do the movie. It's a long time from now, but yes we have the rights. It will be an English film, no point making The White Tiger in Bollywood.