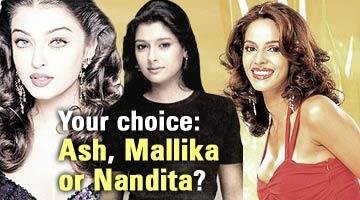 This year, the prestigious Cannes Film Festival will see two of Bollywood's hottest ladies  -- Aishwarya Rai and Mallika Sherawat -- making their appearances.
Also, the talented Nandita Das will be on the jury.
Ash seems to be a veteran at Cannes, having been a regular feature at the festival since 2002, and there is no doubt she is one of the sexiest Indian actresses today.
Mallika, looking hotter with each passing film, will debut at Cannes this year, with the premiere of her first international film called The Myth. The Murder bombshell plays an Indian princess in the Jackie Chan film.
Nandita may not be the typical 'hottie', but there's no doubt the lady has what it takes in the talent department.
Tell us which of these women will steal the show at Cannes this year.
Click on the images below for a bigger picture.