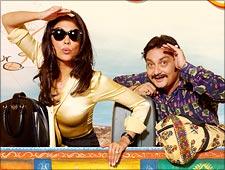 Preeti Arora reviews Chalo Dilli. Post YOUR reviews here!
Vinay Pathak (Manu Gupta) is an obnoxious country bumpkin and the owner of a cloth shop in Karol Bagh. With Chalo Dilli, Vinay revisits his Bheja Fry avatar of the simpleton who has his heart in the right place. Yet he suffers from constant heartburn and indigestion…So the audience is subjected to two hours of burps, hiccups and other audible rumblings hoping our disdain for him will turn into adulation. Quite enough to put you off your popcorn!

Lara Dutta plays Mihika Bannerjee an investment banker who lives in Mumbai, but commutes regularly to Delhi where her husband Vikram lives. Designer handbag, stilettos and a svelte figure make Lara a person nobody wants to mess with. Yet she behaves in a ludicrous fashion. When she finds herself in Jaipur she decides to take-off for Delhi on her own in the middle of the night. Something even the most adventurous women would hesitate to do.

Barely has she left the city limits of Jaipur, she finds herself stuck with Vinay Pathak- a kind of person she has never had to interact with in her entire life. And with each step forward these two seem to take two steps backward.

The story is an interesting premise. A road trip which will irrevocably change the lives of at least one of the participants. But the trip is just the beginning. These films work if every kilometer of the journey throws up quirky characters and humorous touching incidents. Something we last saw in Jab We Met. (Yes Chalo Dilli is reminiscent of Imitiaz Ali's famous blockbuster). But it doesn't happen.

Characters flit in and out without making an impression. The truck driver, the little kid serving tea at the Dhaba, the touts who steal scrap from railway lines endangering hundreds of lives. As if the director decided all these people were the appropriate props to showcase the smaller villages. And just having them there would make us sit up and say, "Vow, is this mofussil India?" Director Shashant Shah forgets his protagonist is unfamiliar with rural India. We in the audience aren't.

Cliches are rampant and in-your-face. As Lara Dutta keeps losing her luggage, her gadgets (basically everything she believed was essential to her life so far) she turns into a happier person. Who doesn't mind traipsing through the small towns in a torn satin blouse and muck on her face? This film could maybe work as a visual interpretation of The Road Less Travelled.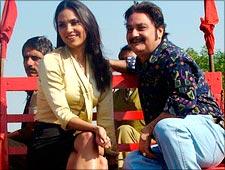 Vinay Pathak a hugely talented actor seems to be stuck in a glass cocoon where he believes he was born to play the dithering idiot. And he needs to get out of his self-imposed cage as soon as possible. 

If there is any saving grace to this film it is Lara's performance as Mihika. She's perfect for the part as a snotty banker who doesn't settle for anything less than business class and mineral water from Switzerland. But even in the second half of her performance remains restrained, imparting dignity to her character. Also, a couple of scenes are notable where Lara manages to give a glimpse of the caring human being hidden behind the loud flashy façade.

For all the Zeenat Aman fans, there is the re-mixed version of Laila Main Laila with Yana Gupta flaunting her curves. Not bad but a certain oomph factor is missing.

Crisp editing keeps the film's length under control. But good technicians can carry a film only up to a certain point.

This is director Shashant Shah's second venture after Dasvidaniya. Chalo Dilli has its heart in the right place. But everything else isn't.

See it if you adore either Lara Dutta or Vinay Pathak. Or else give it a miss.   


Rediff Rating: