Mouli Ganguly who was popular for her role as Shaina in Kaahin Kissi Roz is back after a long gap. She is all set to re-enter television through a new show Aathvaan Vachan on Sony TV.
Rajul Hegde finds out what the actress has been upto. Excerpts:
Talk about your character in this show?
I play Manali. It is a cameo which will last only for few months. The story begins with me and the bonding with my mentally challenged sister Urmi. Later the focus is on her.
Why a cameo?
I am using this show as a warm-up before I take up some other daily show. I like to work on my own terms and I am very ziddi (stubborn) also.
Are you uncomfortable doing saas-bahu soaps?
Kaahin Kissi Roz was my first show (a saas-bahu show) and was a big hit. I love doing different kinds of roles. I took up this show because it has an interesting concept, which deals with the relationship between the sisters.
Why did you suddenly disappear from television?  What did you do during the break?
I had taken a break from television because I was fed up with the same kind of work that I was doing. I started my kathak again and also joined jazz classes. I did theatre to overcome stage fright and went for vipassana. I also got back to reading books and was generally enjoying everything I did. I caught with everyone whom I had neglected due to heavy work schedules. I believe in living in life as it comes.
Did you get offers during your break?
Yes. I got them even during my break and it made me happy.
What kind of relation/rapport do you have with our onscreen sister Urmi (Vinny Arora)?
I am the only child of my parents so I do not know how it feels to have a sibling. I treat her like my younger sister and we really gelled. Sometimes even I boss over her (laughs).
Do you plan to settle down with boyfriend Mazhar Sayedd?
We are happy being together. Marriage is not an issue; there is still time for it. The day we decide to marry we will let the world know.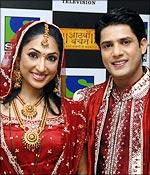 If you were to produce a TV show. What would it be?
Something like Sakshi, my previous show. I know the show didn't do well with viewers from small towns. They couldn't accept an undercover women cop.
What about reality shows?
I know reality shows are the current trend on television. But I can't take the stress of reality shows. I am a private person and don't like to discuss things with others. Reality shows are not meant for me. I am happy with what I am doing.
Can you talk about your film The Man's World?
It's based on male prostitution and I play a Kolkata girl whose life changes due to circumstances. I prefer doing multiplex films because they provide me with different roles.
Anything in the pipeline?
I have few offers but nothing is finalised. I would love to do comedy shows.
Aathvaan Vachan starts Monday to Thursday at 9pm on Sony Television.