Mothers not only make the world a better place but provide Hindi films its melodramatic core through excessive mollycoddling or inflexible ideas of virtue.
Stay all ears and she will reward you with a dramatic line for every mood and occasion.
Here's celebrating Mother's Day by remembering a variety of such movie maatajis and her impassioned assertions.
The take-a-chill-pill Ma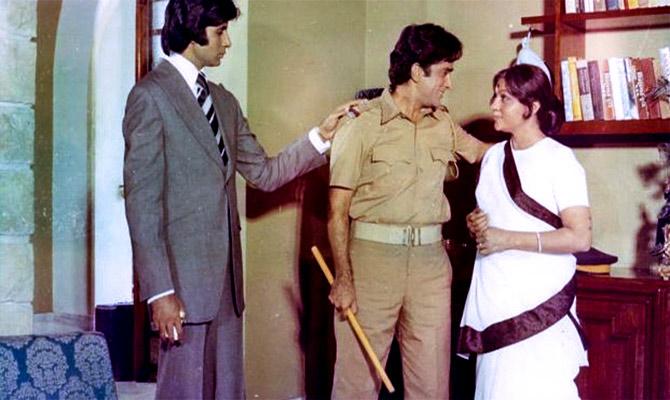 IMAGE: Nirupa Roy played Amitabh Bachchan-Shashi Kapoor's mother in Deewar.
'Tu abhi itna ameer nahi hua beta ke apni maa ko khareed sake,' Nirupa Roy, Deewar.
Bribing the morally strong mommy with illicitly earned wealth is a terrible idea. Not only will she wound with sarcasm but dump him immediately for the more decent sibling.
The Name & Shame Ma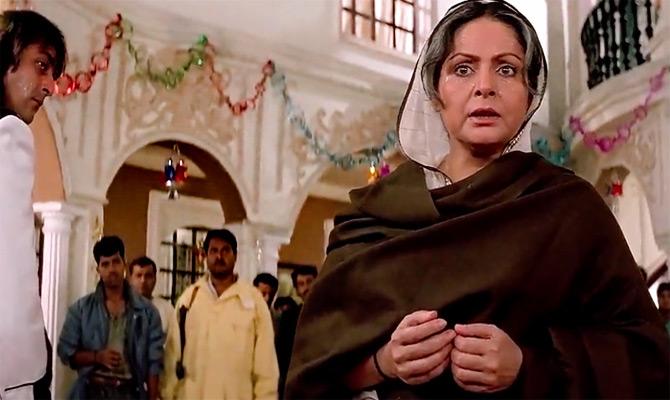 IMAGE: Rakhee played Sanjay Dutt's mother in Khal Nayak.
'Duniya ki har maa se jaakar kahoongi mein ke dekho, jo maaien apne bachchon ki kaali kartootein apni mamta ke aanchal mein chhupa ke rakhti hain unke bachhe bade hokar aise hote hain,' Raakhee, Khal Nayak.
Beware of the 'once bitten twice shy' mother. Disappoint her again and she'll make you regret it as publically as possible.
The khushi-ke-aansoon Ma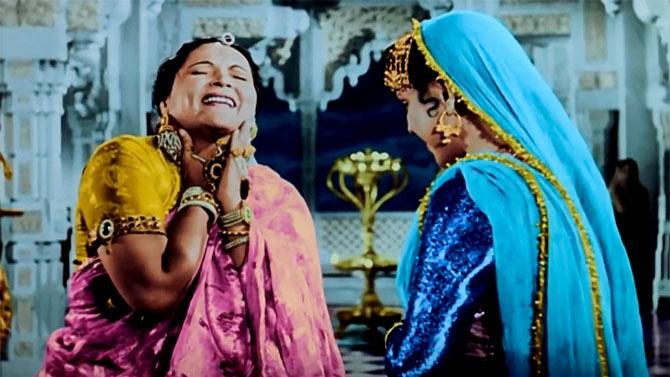 IMAGE: Durga Khote played Dilip Kumar's mother in Mughal-E-Azam.
'Hey Ishwar woh ghadi jaldi dikha jab mera laal mere samne ho aur kuch der ke liye main tujhe bhi bhool jaon,' Durga Khote, Mughal-E-Azam.
This one oozes motherly love to the point of smothering her offspring with affection.
The will-not-rest-in-peace-till-you-fulfill-your-vow Ma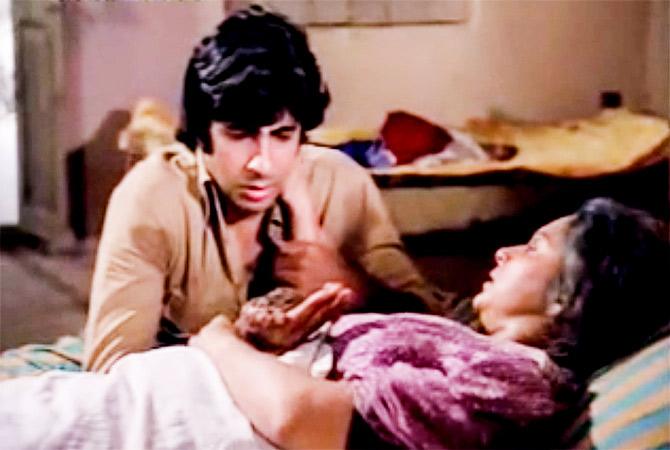 IMAGE: Waheeda Rehman played Amitabh Bachchan's mother in Trishul.
'Beta, yeh mala nahi, meri zindagi ki kahani hai. Isse hamesha apne paas rakhna taaki apni ma se kiya vaada tumhe hamesha yaad rahe,' Waheeda Rehman, Trishul.
Bollywood mothers, her exacting promises and snooze alarm like souvenirs to remind her beloved beta of her last wish, is the mainstay of many successful movie scripts.
The Oops-I-did-it-again Ma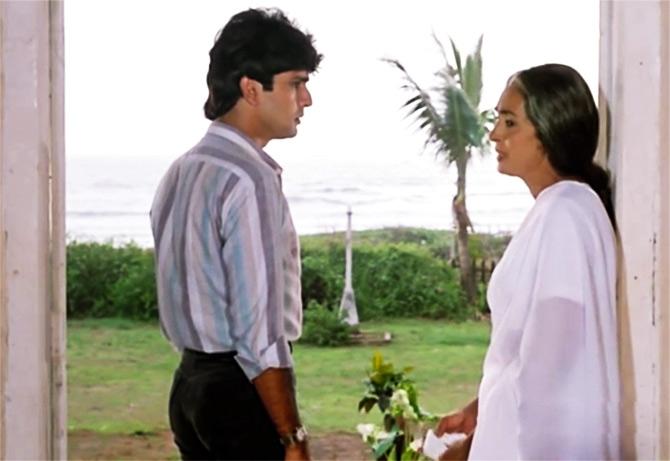 IMAGE: Nutan played Kumar Gaurav and Sanjay Dutt's mother in Naam.
'Ma apne bachche se gusse mein kabhi kabhi pata nahi kya kya keh deti hai bina yeh jaane ke kaunsi baat uske dil ko chubh jayegi,' Nutan, Naam.
Problem children can bring out the worst in moms. Sometimes compelling her to say unkind things even if she means no harm and create irreconcilable rifts.
The High Strung Ma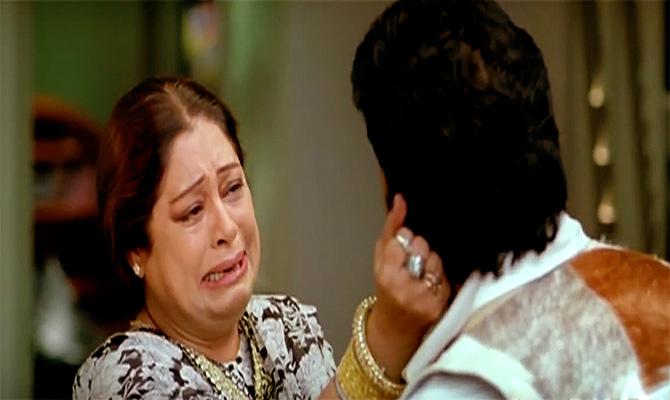 IMAGE: Kirron Kher played Abhishek Bachchan's mother in Dostana.
'Kalmoohe, maa ki aankhon pe parda daalta hai? Main sab jaanti hoon,' Kirron Kher Dostana.
Try to make a fool of the embarrassingly loud and loving mummy and she'll whack you without restraint, regardless of whether you're alone or in the company of friends.
The guilt-tripping Ma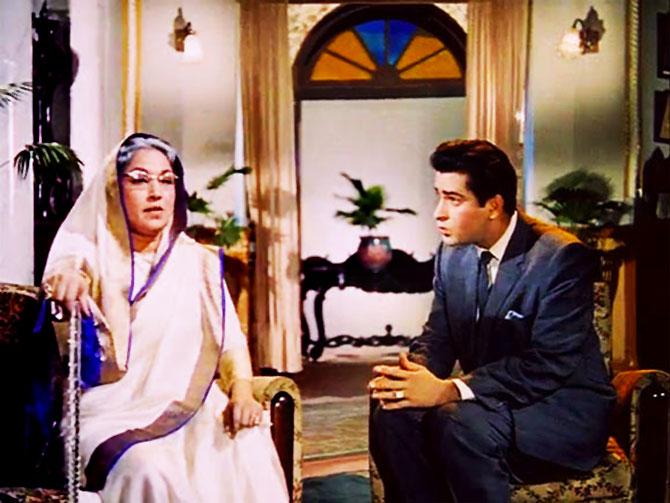 IMAGE: Lalita Pawar played Shammi Kapoor's mother in Junglee.
'Us maa ko neend kaise aa sakti hai jisne apne bete ko paal pos kar itna bada kiya aur aaj wohi beta yeh kehkar chala gaya ke woh uske liye mar chuka hai,' Lalita Pawar, Junglee.
Ever ready with her stockpile of 'after everything I've done for you' to make her kid feel rotten about going against her wishes, the passive-aggressive mum is the most dangerous among her kind.
The no-nonsense Ma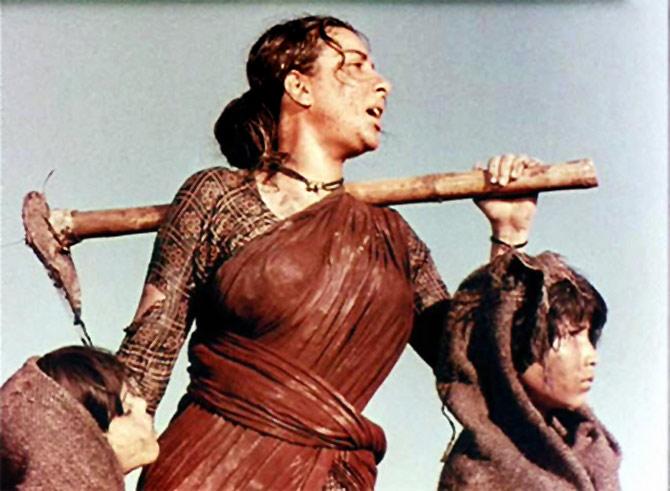 IMAGE: Nargis played Sunil Dutt and Rajendra Kumar's mother in Mother India.
'Ma bankar dekho tumhare paon bhi dagmaga jayenge,' Nargis, Mother India.
Who dare argue that? It's a universally acknowledged truth -- motherhood is no picnic.
The sentimental Ma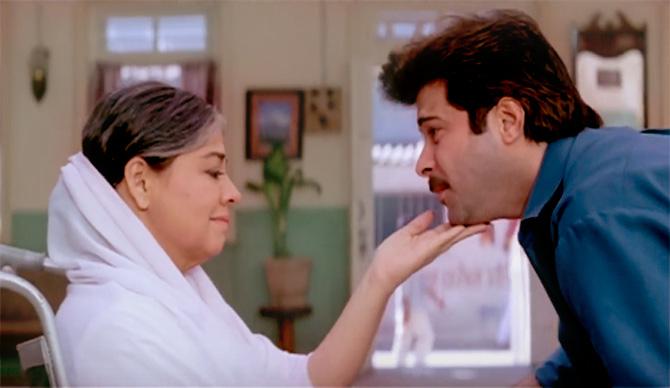 IMAGE: Farida Jalal played Anil Kapoor's mother in Laadla.
'Ma se milkar khush hone ke bajaye tu ro raha hai, mujhe bhi rulayega kya?' Farida Jalal, Laadla.
Some mother-son jodis and their soppy reunions are bound by two things -- heart and hankies.
The shaadi-obsessed Ma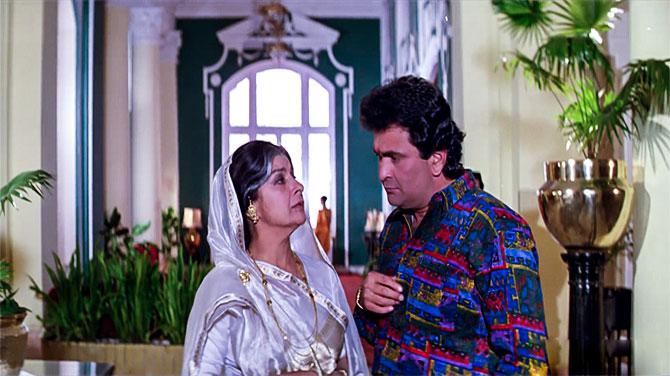 IMAGE: Sushma Seth played Rishi Kapoor's mother in Deewana.
'Ma ka itna hi khayal hai toh phir ek bahu laa de,' Sushma Seth, Deewana.
Bahu: the ultimate desire and demand of every Hindi film mother since time immemorial.