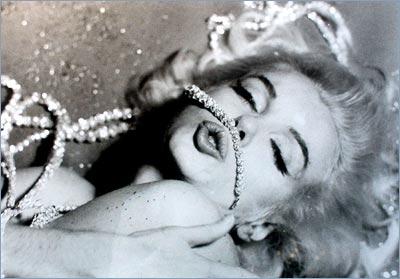 This day in 1926, Norma Jean Mortensen was born to Gladys Baker in Los Angeles, California. Since her father's identity was undetermined, she was baptised Norma Jean Baker.
August 5, 1962, she was found dead in bed in her Los Angeles home. Doctors who broke open her door in the wee hours said she was naked, with an empty bottle of Nembutal sleeping pills beside her. It could have been suicide; it may have been an accident. Nobody is sure.
She was 36. The world that mourned her knew her as Marilyn Monroe.
She was the star of over 30 Hollywood movies, including Niagara (1953), Gentlemen Prefer Blondes (1953), How To Marry A Millionaire (1953), There's No Business Like Show Business (1954), The Prince And The Show Girl (1957) and Some Like It Hot (1959).
For 20 years after she died, the man she had once married and was last known to be seeing, baseball legend Joe DiMaggio, left flowers on her grave. Playwright Arthur Miller, to whom she was married for less than five years, wrote for her the part of Roslyn Taber in his 1961 play The Misfits.
For a woman who had married her neighbour at 16 when her foster family moved away, her ethereal beauty ensured she was never short of men. She was even linked with President John F Kennedy.
A photographer's muse, she was almost singularly responsible for the fame of lensmen like David Conover, Eve Arnold, Bert Stern, and Douglas Kirkland. Kirkland, who has captured some of her most intimate portraits and who once gushed that she 'made love to the camera', was sensitive to observe that he had never met a woman who so wanted to be loved.
Marilyn Monroe epitomised stardom. While other sensational actresses became celebrities, she became an icon, incomparable even in death. Elton John, the British musician who composed Candle in the wind in her memory, sang:
Goodbye Norma Jean
Though I never knew you at all
You had the grace to hold yourself
While those around you crawled
Text: Bijoy Venugopal | Photograph: Frederick M Brown/Getty Images