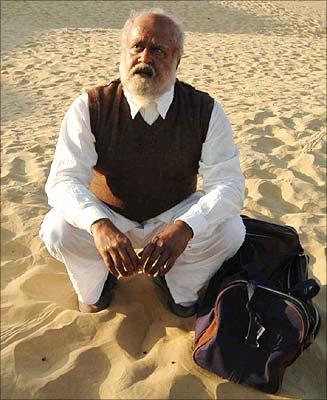 This 80 year old man is a Paradesi, a man who does not have an address though he lives in a small village in Malappuram in Kerala. He does not belong anywhere in the world.
He is neither Indian nor Pakistani, but gets shuttled between them. The Indian police takes him to the border and sends him across, and after some time, he is sent back from Pakistan. A sad victim of the Partition, till his death, this man will probably continue to be a paradesi in both the countries.
PT Kunjimuhamed, an award-winning filmmaker turned politician (a former MLA) is the creator of the unusual Malayalam film, Paradesi. "I'm showing how the Partition of India, an imperialist decision, affected the lives of some Keralites. There are many, many people like Moosa, this paradesi in several villages in Kerala."
While the protagonist named Moosa is 80, Kunjimuhamed chose a 46-year-old actor. Yes, the old man in the picture is none other than Mohanlal. The director said, "I chose Mohanlal because he is Mohanlal. In this film, he is 35 years old, 40 years old, 50 years old and in most of the film, he is 80! Who else can portray such range?"
Who, indeed?
Text: Shobha Warrier