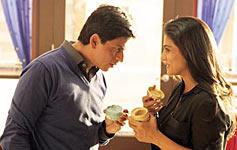 Theatre occupancy for  My Name is Khan dipped to 30 to 35 per cent in weekdays after 90 to 100 per cent occupancy over its release weekend.
The movie had attracted considerable pre-release publicity owing to a decision by the Shiv Sena not to allow its screening in Mumbai and Maharashtra as a fallout of comments Shah Rukh made about hiring Pakistani players for his Kolkata Knightriders cricket team.
"The movie did very well on the weekend due to the curiosity factor, with virtually packed houses, but weekday collections fell to around 35 per cent," said a senior executive of BIG Cinemas which has exhibition halls across the country.
"It is still holding on in the metros but is falling in the non-metros and smaller cities because of the serious nature of the movie and the subject. We hope it will pick up again this weekend," he added.
The movie deals with the struggles of a Muslim boy, who suffers from autism, in the US post 9/11. Confirming the drop in hall occupancy, Vishal Kapur COO of Fun Cinemas, said, "The movie is suited for a multiplex audience rather than single screens and that is where it has lost out."
Weekday occupancies for My Name is Khan are much lower than it was for 3 Idiots,  he added.
Fox Star Studios, which holds the worldwide distribution rights, said the movie has grossed Rs 90 crore globally in the first three days, the same as Aamir Khan's blockbuster
3 Idiots which also grossed Rs 90 crore in the first three days (excluding Rs 9 crore earned from paid previews).
A closer look at the earnings break-up, however, shows that My Name is Khan grossed Rs 47 crore from Indian box-office in its opening weekend, almost half 3 Idiots' first weekend earning of Rs 70 crore.
The Shah Rukh Khan-starrer has done better overseas, grossing  Rs 43 crore compared to Rs 20 crore for 3 Idiots in opening weekend earnings.
"The movie has performed well overseas but is certainly not the highest Bollywood grosser so far," said film trade analyst Komal Nahata, adding that weekday occupancies have fallen almost 60 per cent.
Read the reviews here: Raja Sen | Savera R Someshwar | Sukanya Verma
Did you watch MNIK? What did you think of it?