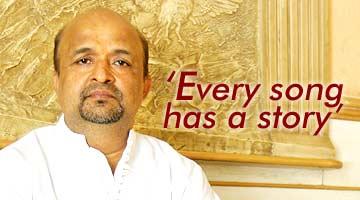 Over the years, Hindi film lyrics have become synonymous with Sameer, the man who has penned 4,000 songs for 500 films!
Not many know that the inspiration behind his beautiful words is, in fact, his lost love.
An unassuming man, it took some persuasion for India's most prolific songwriter to open up for this candid chat with Contributing Special Correspondent A Ganesh Nadar about his childhood, his favourite songs and his upcoming autobiography.
Tell us something about your parents.

My father was the successful lyricist Anjaan. I owe everything to him. Whatever I am today is because of him. He is known all over India.

My mother was a housewife. She has devoted her entire life to looking after us, and she lives with us.

What was your childhood like?
I was born in a small village near Benaras in Uttar Pradesh. I did my schooling in Benaras. In 1980, I left my birthplace to come to my workplace: the city of Mumbai.


I heard you worked in a bank.


Yes, my father made me study commerce, as he wanted me to be a chartered accountant, or work in a bank. My grandfather worked in a bank. I applied and got the job. I did not like it there. I knew the bank was not my world. So I left it and came to Mumbai.


It is rumoured that you were in love at the time. Is this true?


There is no one in the world who doesn't fall in love at some stage. And I too fell in love.
She made the most significant contribution to my life. After I became a success, I went back to look for her. She was no more. She had died while I was in Mumbai. My dad used to say ' I don't write songs. The songs are the love for someone. When their thoughts come to me, they come out as new songs.'

Can you tell us anything more about her? What was her name?

There are some relationships that are precious. I will not sully her image by telling you her name. She is always with me in my songs.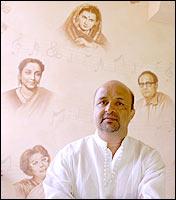 How many songs have you written?
I have written 4,000 songs, for 500 movies. I am telling you only those songs that have been used in films. There are plenty of songs that haven't been used.

Which is your favourite song?
Out of 4,000 songs, how can I choose a favourite?
Still, as you have asked, I'll tell you a few:
Mujhe neend na aaye mujhe chain na aaye from Dil.
Saanson ki zaroorat hai jaise, zindagi ke liye from Aashiqui.
Aapke yaad mein hum savarne lage from Raaz.
Aake teri bahon mein ab shaam lage sindoori from Vansh.
Have you ever listened to someone else's lyrics and wished you had written it?


Not just once but so many times! Whenever I listen to a song by Shailendra or Sahir Ludhianvi, it happens.
But the song that I really want to write is the one by Anand Bakshi: Chitthi aayee hai. Even now, I pray that I would get a situation where I can write such a moving song.

Who is your favourite music director?
I have worked with all the composers. But my maximum songs have been recorded with two music directors, so my name is most often linked with them. Nadeem-Shravan are my favourites. No doubt, they have been sensitive enough to understand the mood of my lyrics and do them justice.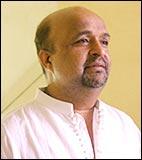 How do you write? Is it planned, or does it just come to you? Can you write to order, when there is a deadline?
It's a God given gift. It just comes from somewhere at all times. When we have to write for a film, we know the situation. It is there in my mind. Suddenly, it (inspiration) comes. And I write. I write in my diary or tape it in a recorder, whichever is convenient at that time.


Do you change the lyrics when the music is being composed?


I have done that many times, when the music director or the film director wants to change something. It is the most trying part of our work. We have to change it on the spot, and it is very difficult.


Do you have a bank of songs, or do you write afresh for every movie?


All lyricists have a stock of songs -- 90 percent of those are never used! We write most songs after the director tells us the story and the situation where he wants a song.


Do you ask for the situation before you start writing?


First, we listen to the entire story of the film. Then they tell us where they require the songs. Then we start writing.


Tell us about your book.


I am writing my autobiography. My friend is writing it in my words.


What is your advice to an aspiring lyricist?


I have often said that this is an exam. So you must first study the media thoroughly.
Working and knowing the job is two different things. They must know the job well. Then they must attempt working. Then they will definitely be successful.

Could you tell us any memorable incident from your life as a lyricist?
There was this romantic song Oh priya priya. Even the music was composed. Then the director said that he did not want to use it as a romantic song, but as a sad song, with the same tune. It was very difficult. To write a new song with the same tune. So I wrote five versions of the same song. I was so confused.
How does one convert a romantic song to a sad one without changing the music? But it turned out very well.
Many people ask me if I know beforehand when a song will be a hit or not. Nobody can predict the success of failure of a song. Like my father's memorable song Khaike paan Banaras waala (from Don) -- nobody wanted to record that song. My father had to force them to record it. And it became a big hit.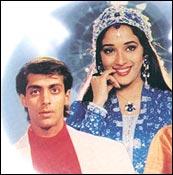 In the film Saajan, they wanted a song. But the movie was made and we didn't find any situation for a song. The movie was completed. Nadeem, Shravan and I were going somewhere. We were discussing that the film needs a title song. And I recited a verse, Dekha hai pehli baar, saajan ki aankhon mein pyaar. They liked it and composed the music to it.
Then we phoned the producer, Sudhakar Bokadia. He said it was impossible to shoot the song as Salman Khan and Madhuri Dixit would not give dates. We insisted that we wanted to record it, and we did! Then he came to listen to it. Salman was also there. When he heard it, he was very happy.
He phoned Madhuri, and she too agreed to shoot it. The next day they shot non-stop for seven hours, and the song was completed and added to the movie. Every song has a story behind it.

While listening to you, it seems like you have a musical voice. Did you ever pursue singing?
As a child, I had a good voice. I would sing for my friends. I have sang at mushairas (private concerts) too. I remember (lyricist) Sahir Ludhianvi used to do that as well. (sings a Sahir Ludhianvi verse) There are some lyricists who just write their songs; others write as well as hum the song. I always write as I sing the song. I have sung among friends. I don't want to do that professionally, as I am very busy as a lyricist.


Anything else you would like to tell our readers?


All I would like to say is that the song that you listen to for five minutes involves the work of a thousand people. And the movie you watch for two hours involves millions of people. Give them the same love and respect you have given me over the years!
Photographs: Jewella C Miranda