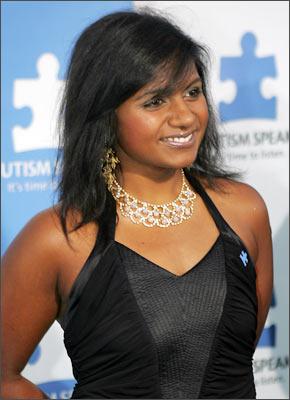 On NBC's hit show The Office, she's known as Kelly Kapoor, an uber-bubbly, super ditzy customer service representative, whose primary concerns are celebrity hook-ups, the color pink and snow cones.
But in real life, Indian-American Mindy Kaling is one smart cookie. Her effortless comedic timing and superior writing skills (she's a writer and producer for The Office) have raised eyebrows at NBC.
So much so, in fact, that's Kaling's recently landed a reportedly two-year, seven-figure deal with NBC's Peacock and Universal Media Studios. Not only will Kaling continue to write for and appear on The Office next season, she'll also simultaneously develop her own comedy, in which she will also star.
The female comedian she's most often compared to is 30 Rock lead actress-cum-executive producer Tina Fey, who recently shot to fame through her work on the Emmy-winning show and for her dead ringer portrayal of US politician Sarah Palin.
Like Fey, Kaling is known for prodigious skills both as an actor and writer. As Kapoor, she's known for effectively distilling all the banality of modern-day America into a single character. As a writer, she's given us several notable The Office episodes, including "The Dundies," "Diwali" and this season's "Golden Ticket."
In 'Diwali', Kapoor introduces her co-workers to the Indian Festival of Lights, though she herself is a little unclear on its origins and significance -- beyond shimmering saris and tasty food.
In a recent interview with Variety magazine, Kaling's humour was on display, as she discussed the monumental deal.
'This is my first step in a Transformers-style way to take over the whole world,' Kaling reportedly joked.
Photograph: Max Morse/Reuters