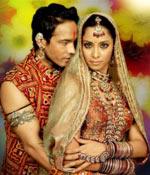 Five years after the musical extravaganza Merchants of Bollywood travelled successfully to Australia, the United Kingdom, Germany, the Netherlands and several other countries, it kicks off its multi-city American and Canadian tour on October 1.

"With each edition, the show has been growing stronger and stronger," says the award-winning Bollywood choreographer Vaibhavi Merchant, who has choreographed the show. 

According to the show's producer Mark Brady, over 2 million people have seen it.

The show is inspired by her own life in the Hindi film industry and that of her grandfather, Hiralal, whose dance movements enriched scores of movies in Mumbai and Chennai. "It is a show that is full of music and dance but it also has a heart-warming story," said Vaibhavi.
Merchants of Bollywood will premiere in Chicago, and will travel to over a dozen cities in America including Newark and Atlantic City, and then to Toronto.
While the audiences for the show in venues like Berlin was purely non-South Asian, in the United Kingdom it drew, according to Brady, 'a good mix of Asian and non-Asian audiences.'
He hopes for a similar mix in America and Canada. "It is an authentic Bollywood production," he says of the show directed by Toby Gough. "At the same time, it also tells a story of generational conflict that can resonate with audiences of any age across the world."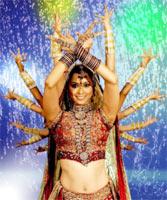 The show has received warm reviews, especially in Australia and the United Kingdom.
'Their energy is electrifying, their movements suffused with a rush of joy and yet ruthlessly precise, and the frenetic flow of onstage activity is almost non-stop,' The Times in  London declared. 'It's a high octane pleasure to warm up the coldest winter night.'
Extensive stories have appeared about the show in The Guardian in London and The New York Times.
'Bollywood films are often called "masala movies" -- spicy mixtures of action, comedy, melodrama, playback songs and dance sequences,' said a review in The Guardian, which gave the show three stars (out of five). 'The Merchants of Bollywood is certainly a masala musical, but its proportions are all over the place. Still, like a kick of chilli, its dance numbers overpower with their energy, hot rhythms and kaleidoscope of eye-scorching costumes.'
Brady said as the show went from one country to another it became 'bigger and slicker.' But Brady, who along with director Toby Gough, has produced several shows highlighting world cultures, asserted the show never lost its soul as it kept on evolving.
Yusuf Gandhi, who is presenting the show in Chicago, Detroit, Newark and Atlantic City, says he fell in love with it when he watched a DVD at the request of its producer.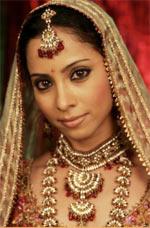 Gandhi has an excellent reputation for producing quality shows including Miles of India. One of the highlights of the show held in New York was the recreation of the acclaimed percussionist Badal Roy's collaboration with the legendary trumpeter Miles Davis in 1972.
"I saw the CD of Merchants of Bollywood  six months ago and felt it was dramatic and yet entertaining," Gandhi says. "It tells the story of two artists who are passionate about their work but there is a clash in their attitudes. There is generational conflict. The grandfather is a traditionalist, and the granddaughter has a different outlook."
What appealed him most about the show, he says, was that it gives a wholesome picture of popular Indian culture shown in Hindi films.
"I have seen Indian popular culture misrepresented so often in plays and movies," he muses "Not only Americans but our own Indian audiences, especially the second generation, get a wrong impression of the country."
Merchants of Bollywood has not only the music from old and new Hindi films but also an original score by Salim-Sulaiman, one of the most in-demand composers in Bollywood.
"We have chosen some of the best performing venues in the country for this show," Gandhi says. "The director of the show spent days in Mumbai in choosing the best dancers and musicians. We believe it is presented like any good Broadway show."
Merchants of Bollywood is appearing in over a dozen cities across America including Detroit (October 7-9); Newark, New Jersey (October 14), Atlantic City (October 23-24) and Toronto (November 4-14).