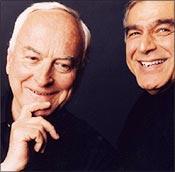 On May 25, 2005, filmmaker Ismail Merchant died suddenly in a hospital in London. A year later, his friends and colleagues gathered in New York City's Florence Gould Hall to honour his memory. It was a celebration Merchant would have approved of and enjoyed, remarked Madhur Jaffrey, who acted in six Merchant Ivory films.
"It was a year ago today that Ismail so unexpectedly disappeared," said James Ivory, filmmaker and Merchant's partner for over 40 years. "It has been a rough year to get through but, somehow, we have. He was a big unsinkable vessel, one that takes many smaller boats with it when it goes down. Yet, it hasn't happened and we are still afloat. And if we are, it certainly is because of our many friends."
Ivory was referring to the large gathering of actors, musicians and other celebrities in the audience – names like Vanessa Redgrave, Natasha Richardson, Uma Thurman, Greta Scacchi, Ralph Fiennes, Ruth and Cyrus Jhabvala, Zakir Hussain, Ayesha Dharkar, Asha Puthli, Sonny Mehta, Wallace Shawn and many more. The memorial concert included musical interludes, compositions from Merchant Ivory films performed by Hussain, Ustad Sultan Khan, Sanford Allen, Frederick Zlotkin and Heawon Kim.
"Many of you may not know that he loved music," Ivory said about Merchant. "When I first knew him, we were young, making our films in India. When he was in a happy mood, he would sing the lyrics of the Mumbai films he grew up on. Not loudly, but under his breath. Later, when life got more serious, he lost that habit – which I missed."
For the most part, the evening was a celebration of Merchant's life, with a lot of laughter and jokes at his expense. And although several actresses were dressed in black, only Thurman got close to breaking down in tears.
Most speakers referred to Merchant's tight fisted way of running operations, adding that whenever he couldn't pay his crew and actors, he would make it up by feeding them an Indian feast.
"I knew Ismail only for a short time, but I admired his strength, his enjoyment of life, his social benevolence, his ability to appear calm and jovial even when crises went bouncing around him," said Fiennes, star of the last Merchant Ivory production, The White Countess. "We are left with the memory of his charm, his mischief, his outrageous thrift, his beautiful belief in the art of filmmaking."
"I think Ismail possessed the spirit of a young boy who is delighted that the world of imagination is limitless," Fiennes added. "I don't think there could be a cynical bone in his body. How lucky we are to have known that spirit."
Thurman read a letter from Kris Kristofferson (he acted in Merchant Ivory's A Soldier's Daughter Never Cries), who was unable to attend the memorial. Later, in a brief talk about Merchant, she referred to his thrifty behavior. "But he had the deepest pockets of heart amongst anyone I have ever met," she added.
Jaffrey, who introduced Merchant to Ivory in the early 1960s, said that the legendary producer always "came bursting in, demanding and cajoling, as the demands got more and more outrageous." One time in London, Merchant suggested to Jaffrey that she should carry for him a 7ft. x 7 ft. painting back to New York. When she hemmed and hawed, Merchant used his charm and persuasive powers. "He said 'No, no, come, come, we have tea at the Savoy," Jaffrey said, imitating Merchant's voice. "So I had tea at the Savoy. I don't eat cakes and pastries. And I carried the painting on the plane with me."
The funniest and warmest speech of the afternoon was delivered by Scacchi, whose film career was launched in Merchant Ivory's Heat and Dust. She first read a letter from Paul Newman and Joanne Woodward (the two acted in Merchant Ivory's Mr. & Mrs. Bridge), who were tied up with another engagement, then talked about her memories of Heat and Dust – her first film. She said it fulfilled Merchant's prophecy that it would make her a star.
"For many years, it was a running gag, where he would say 'I made you a star, you belong to me and now you must do everything I say,'" Scacchi said, imitating Merchant's voice and accent, as the audience burst out laughing. And then, eight years ago, when Scacchi was expecting her second child, she suddenly received a call from Merchant. 'I am making a film called Cotton Mary,' he said to her, 'and you are going to be in it. Isn't that wonderful?' When she told him she was expecting a baby, he quickly asked her how old the baby would be that November. She said two months and he responded 'Good, we also need a young baby in the film.'
"Although I am afraid I will never get used to his going, it made me acknowledge the impact he had on my life," Scacchi said. "His passion and determination, faith, optimism, his encouragement of others, his defying of conventions and prejudice, his ability to make a celebration of any occasion -- even breakfast, his warmth and his smile, his loyalty and his love – I will seek inspiration from and always cherish that."