Sanjaya Malakar's critics, who thought he had absolutely no talent and would fade soon after being out of American Idol, are in a for a surprise. Though he is no longer the kind of phenomenon that had thousands of adolescent girls rooting for him in the reality television show, he is quite a bit in the news with the publication of his book, Dancing to the Music in My Head: Memories of the People's Idol.
Sanjaya, 19, wrote the book with an experienced author, Alan Goldsher, for one of the major divisions of Simon & Schuster. One of the biggest publishers in America, S&S, has given the book a big boost, offering major chains to place it right at the front of the stores.
Sanjaya didn't need to win American Idol to take the United States by storm. 'He was just 17 when his unique style, soft-spoken demeanor, and memorable song selections on the record-breaking show's sixth season captured hearts across the country,' says the book.
Those who expect a tell-tale, behind the scenes expose will be disappointed. Yet, the book offers colourful stories involving Sanjaya, the son of a Hare Krishna pujari, Vasudeva Malakar, and a fellow devotee Jillian Recchi (she is more of a freewheeling New Age adherent now), who grew up mostly with his mother's relative after his parents' divorce. He admires his mother for helping father Vasudeva's new bride, an Indian.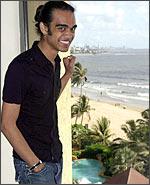 Sanjaya, who made it to the top seven in the spring 2007 season of the enormously popular American Idol -- each episode drawing over 25 million viewers -- recently said that he tried to make the book 'as diplomatic as possible and still be as true as possible.'
'I tried not to step on anyone's toes,' Sanjaya who now lives in New York City, said. 'But it's possible I could get some backlash.'
He started in the show with his older sister, Shyamali, who lived in Orissa years ago learning classical dancing for over a year. Both siblings were in the competition for a few weeks; when she was eliminated, it was a heartbreaking moment for him.
In the book, he describes the scene when he found out his sister had been eliminated.
'When I made it downstairs, she was leaning against the wall, bawling her eyes out, and a cameraman got the shot they'd undoubtedly been dreaming of since they saw us at KeyArena [in Seattle]: Me clutching my sister, both of us crying in each other's arms because one of us had gotten cut. They knew they'd never get a sibling rivalry shot, because they quickly realised that there wasn't any sibling rivalry, so to them, this was probably the next best thing.'
He admits that though his sister is his best friend, he disagrees with her often and there is tension -- but it doesn't last long. 'We're loud, obnoxious Italians, we fight,' he writes. His maternal side is Italian American.
Sanjaya, who was interviewed on top channels after being eliminated in the contest, lists his appearance on Jay Leno's show as being his most memorable. For one, he was 'star struck', being sandwiched between Leno and movie star Jack Black (King Kong). Black spoke about how Sanjaya was an obscure person just a few months ago, Sanjaya recalls, and added: 'Now you are as famous as you can be.'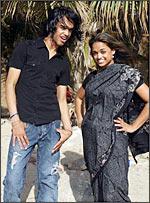 Leno said: 'and you have fan-jayas.'
Sanjaya responded, 'Fan-jayas who have been Sanjaya'ed.'
'What does that mean?'
'I don't know,' Sanjaya responded. 'I thought Sanjaya was a verb. I didn't know nouns could become verbs.' And he thought, 'not bad. I am being kind of funny on The Tonight Show.'  
At the end of the show, he told Leno he was half Italian. Leno's response: 'Ah, he's Italian. I knew there was a reason why I liked this kid.'
The show ended with Leno asking Sanjaya if he had ever voted for himself. When Sanjaya told him that he had voted for the other contestants, Leno said, 'So you're an honourable person. And you want to be in showbiz. Those two things don't mix.'
Sanjaya knew Leno was joking; yet he hoped that Leno was wrong.
What would be some of the most important reasons to make it to the American Idol Final 24, muses Sanjaya, who in fact went beyond the 24. Each week, you are given $300 to buy cool clothes for that week's performance, he writes. 'When you Google yourself, there will be 450,000 results instead of 450.'
The contestant got a personal hairstylist, clothing stylist, personal vocal coach; and he also got to meet and sing for the likes of Tony Bennett, Gwen Stefani, and Diana Ross.
'You get to see Simon [Cowell], one of the judges, at his most sarcastic,' he adds.
Sanjaya writes candidly about what it felt like going from obscurity as a high school student near Seattle to worldwide fame as a top 10 finalist on one of the most popular television shows in American TV history.
'During the entire Idol process, I was very caught up in the moment,' he writes, 'and didn't think about much other than what was happening right that second. I was aware that if I made it past the third or fourth cut, my life would change dramatically.'
But he did not dwell on that; 'it was way back in my head.'
'My plan was to keep real and grounded, to go with the flow, to take each day and each audition one at a time and to have as much fun as possible.'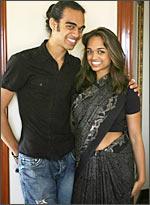 The book has not been widely reviewed and it is not yet on a national bestseller list. But the hometown Seattle Post Intelligencer, which folded up last week, wrote: 'While a professional writer wrote the book, Sanjaya's voice comes through, words revealing a thoughtful, self-aware and humble individual who is more than a few outrageous hairstyles.' The writer added: 'It's not the stuff of a young James Baldwin, but it does feel like the authentic voice of a teen who had to grow up fast, with a few surprising laugh-out-loud moments, including the ups and downs of living with his mom during the show because he was underage. He told his story to Alan Goldsher, who sent drafts to Sanjaya to edit and approve.'
Sanjaya's mother Jillian Recchi remarried following her divorce -- Sanjaya was just about 3 then -- and lived on the West Coast. Sanjaya attended over half a dozen schools in 10 years in places like Berkeley, California and Hawaii.
He admits he was not good at studies and was more into improving his singing; being part of a gospel choir was part of the process. 'Sometimes a crack in the ceiling was more interesting than my social studies homework,' he notes.
Nobody could accuse Sanjaya of taking himself seriously, and he confesses a commercial that he shot in India last year for Nationwide Insurance tells a lot about himself.
In the commercial, he is seen standing before a monastery pleading with the guru: 'Oh, great guruji, please help me. I've tasted fame and fortune. Girls adore me. But I still feel that there's something missing. Tell me: What is the most important thing in life?'
The guru stares down Sanjaya and says: 'A good retirement plan. And a haircut.'