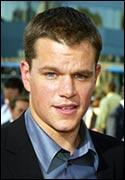 Matt Damon can't have enough of playing one role.
The 33 year-old actor will star in two sequels. For starters he reprises his role of Jason Bourne in The Bourne Supremacy, which opens on July 23 in the US.
Even though it may seem that Damon has a soft corner for sequels, the truth is something else. The Austin American Statesman quotes the actor as saying, "I was sceptical about a sequel."
Damon had even shrugged off the possibility of a sequel while promoting the 2002 hit The Bourne Identity. It may be recalled that before The Bourne Identity happened, the actor's career was slipping badly, thanks to flops like The Legend of Bagger Vance and All The Pretty Horses.
The actor has also begun work on another sequel — Steven Soderbergh's Ocean's Twelve co-starring George Clooney, Brad Pitt and Julia Roberts, among others.
Eventually a film's 'performance at the box office' is the 'controlling factor' of whether an actor will click or not, he said.
Photograph: Kevin Winter/Getty Images