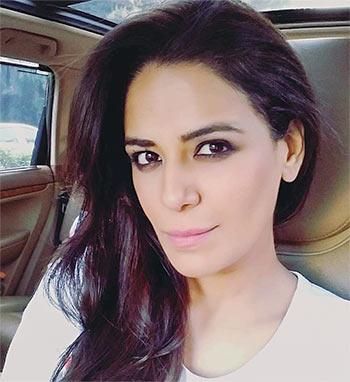 'I feel lucky that I am in a position where I have the right to choose. I am not working because I have to pay an EMI.'
'In small towns, people still call me Jassi. I don't mind because I am not here to break that image.'
Frank talk with Mona Singh.
Mona Singh, who is best remembered for playing Jassi in the hit soap Jassi Jaissi Koi Nahin, is back with a new show.
This time, the 34-year-old actress will be seen in a completely different avatar in the supernatural show Kavach…Kaali Shaktiyon Se.
Mona plays Paridhi Rathore, a character with grey shades. The horror series also stars Vivek Dahiya and Mahek Chahal.
Mona talks to Rediff.com contributor Rajul Hegde about playing someone who gets possessed.
You'll be playing a character with grey shades for the first time.
Yes. I have never played a negative role so it's going to be a good ride. I am pushing the envelope and getting out of my comfort zone.
I am doing something that people have never expected me to do. I will be possessed. Evil spirits will take over my body and I will go wild, taking revenge and fighting for that spirit to be the Kavach (shield) of the family.
Have you experienced anything spooky in real life?
I watch horror movies with only one eye open! I have never experienced anything spooky but my friends tell me about their personal experiences.
Did you get petrified when you watched yourself in the promos of Kavach?
Yes, I did get scared after watching the promo. I got very scared looking at Manjulika (Mehak Chahal, who plays an evil character) because of the way she was dressed.
I remember we were shooting at 2:30 am at a farmhouse in Panvel, which was apparently haunted.
We were dressed up as brides for the promo. Everybody kept telling us that you attract these negative energies more when you are in a bridal avatar. We were also advised not to go to the loo alone or keep our hair open. I was petrified. Shooting the promo was a spooky experience.
There are hardly any iconic characters seen on television anymore, like Jassi from Jassi Jaissi Koi Nahi, Tulsi of Kyunki... Saas Bhi Bahu Thi or Parvathi of Kahaani Ghar Ghar Kii. Do you hope to create one with Kavach?
In small towns, people still call me Jassi. I don't mind because I am not here to break that image. That was my first show and I will always be happy about people remembering that.
Yes, I agree that there are not too many iconic characters created now. I hope the trend will change with Kavach.
Saas bahu sagas are not being made anymore. The phase that we are in is about the supernatural, and exorcism. We can't have werewolves and vampires in India because the concept is not there and people will not be able to relate to it.
I like the fact that Colors (channel) has introduced the infinite concept. This way everyone gets a break, be it writers or actors. We can come back with a bang with new concepts post the break. Of course, it's risky but people should get into the concept of waiting for seasons to happen.
How is it working with your onscreen husband, Vivek Dahiya? He's playing lead for the first time.
We had to shoot a romantic scene on the second day, and he was nervous. He told me he was playing the lead for the first time, and had never done romantic scenes before. I told him to relax and rehearse. We broke the ice that way. He is a good co-star to work with. He's very sweet.
Why aren't you anchoring shows any more?
Given a choice between acting and anchoring, I prefer acting because it's my first love. There is so much stress while anchoring.
Are you in a secure space professionally?
I have always chosen quality over quantity. I feel lucky that I am in a position where I have the right to choose. I am not working because I have to pay an EMI (Equated Monthly Installment). I am in a happy and peaceful state, in a secure state in my career.
I am reading a lot of spooky stuff like Sidney Sheldon's If Tomorrow Comes. I loved it. Ekta Kapoor is a dear friend of mine and we keep discussing stories and have narrations.
What is that one thing you like about Ekta Kapoor?
She's confident and has taken risks in her career. She has made films like Ragini MMS and Udta Punjab, which are completely different. That is one thing everyone should learn from her.
Any marriage plans?
I am so happy, look at me! My personal life is absolutely rocking. Marriage is one of the things on my to-do-list but not the only thing left to do.