'If people make films like Baahubali, which has Indian content, it will always be a hit. But nobody makes it nowadays.'
"Ever since Gadar: Ek Prem Katha was released in June 2001 it has been in the news," says director Anil Sharma who was accused this week of dismissing Baahubali 2's box office collections.
The filmmaker explains what he said about S S Rajamouli's blockbuster in a conversation with Rediff.com's Patcy N.
I don't know why this controversy started.
I am all praise for Baahubali. I want films like this to release every week.
Baahubali has a lot of Indian-ness to it and that is the reason why it is such a big hit. I am happy for its success.
If people make films like Baahubali, which has Indian content, it will always be a hit. But nobody makes it nowadays.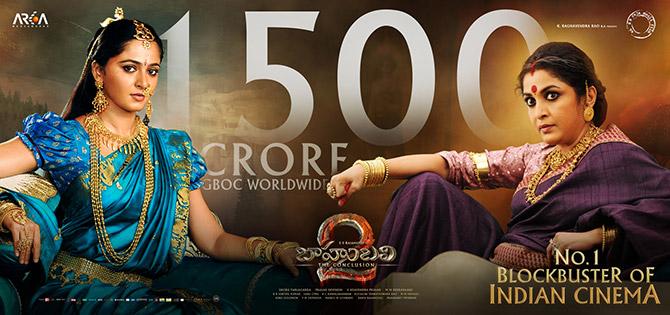 IMAGE: Anushka Shetty and Ramya Krishnan on the poster of Baahubali after S S Rajamouli's epic earned Rs 1,500 crores (Rs 15 billion) at the domestic and worldwide box office.
When I said Gadar's collections were more than Baahubali, I was not wrong.
Gadar made Rs 265 crores (Rs 2.65 billion), it was made on a budget of Rs 15 crores to Rs 16 crores (Rs 150 million to Rs 160 million).
If you calculate Rs 265 crores in today's times I am sure it will be more than Rs 4,000 crores to Rs 5,000 crores (Rs 40 billion to Rs 50 billion.
Gadar's tickets were sold at just 25 rupees.
I am not giving you random figures here, I talking about inflation.
You calculate how much gold cost then and how much it costs now and you will know about inflation.
In those days tickets cost 25 rupees, today it costs 250 to 500 rupees, you can calculate according to that too.
Earlier, films made big business. In the last 10 to 15 years no film has such type of collections, that's why it is shocking for people.
Baahubali proved if the film's subject is Indian, it will do well.
Dangal is another film which proved that if the story is totally Indian it works well.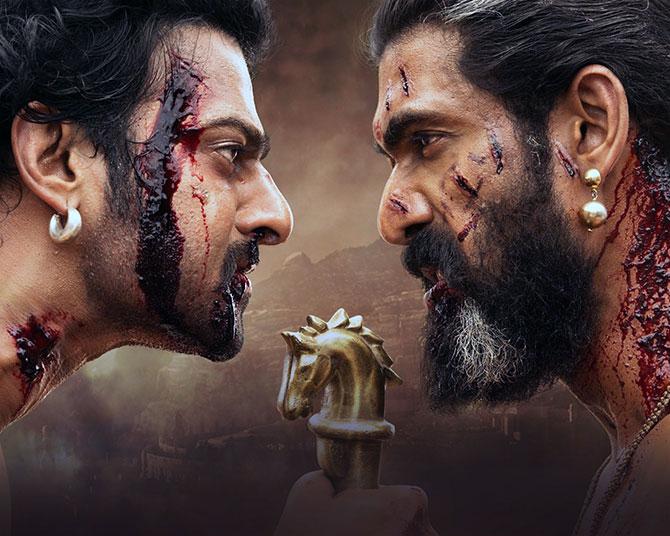 IMAGE: Prabhas and Rana Daggubati in Baahubali: The Conclusion.
I have seen Baahubali: The Beginning and Baahubali: The Conclusion. I loved both films.
I watched both films three times. They are my type of movies, they are among my favourite films because of its Indian content. I am biased towards films with Indian content.
I don't know why people are comparing Gadar Ek Prem Katha and Baahubali and spreading controversial things.
Someone asked me about Baahubali's collections and I said such box office collections happened earlier, and that they are not new.
I have seen films doing business like Baahubali.
When films like Deewar, Sholay released, I would say those days the box office collections were much more.
Gadar, Sholay, Amar Akbar Anthony, Hum Aapke Koun! Dilwale Dulhaniya had big collections. In the last 10 to 15 years no film has done business like them.
I just said 'Baahubali ke collection mujhe achambit nahi karte (Baahubali's collections do not astonish me).'
I have seen box office collections like this before, -- even Gadar's collections were huge -- but this sentence was made controversial.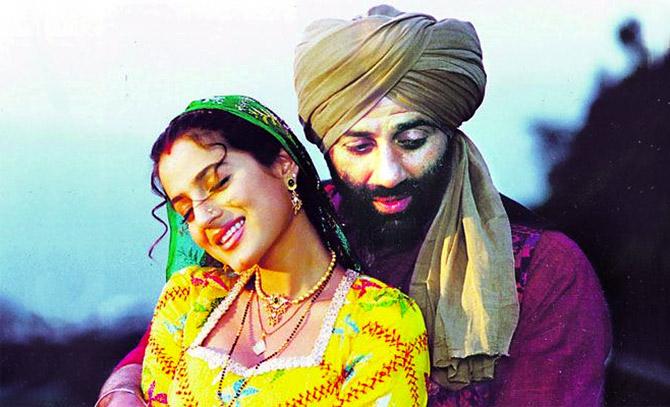 IMAGE: Sunny Deol and Ameesha Patel in Anil Sharma's Gadar: Ek Prem Katha.
Baahubali was screened in 7,000 theatres and dubbed in multiple languages.
Gadar was just screened in Hindi. Those days we did not get these numbers of screens. We got around 500 to 600 screens.
There was no concept of releasing films on 'x' number of screens because there were not that many screens
Having said that, Gadar was screened in theatres beginning at 6 am, the last show was at midnight. There were 8 shows a day. Some theatres even screened the movie at 3 am! Have you heard anything like that?
Gadar was in the theatres for 25 weeks. I don't want to prove anything about Gadar.
Today, films make Rs 100 crores (Rs 1 billion) in three days. But just look at the inflation and you will know what I am talking about.
Those days a 4bhk (4 bedrooms house and kitchen) flat you could buy for Rs 25 lakhs (Rs 2.5 million), the same flat you buy today for Rs 25 crores (Rs 250 million).
Why are you not checking what the value of the rupee was in 2001? The dollar was worth 8 rupees in 2001, today it is 70 rupees.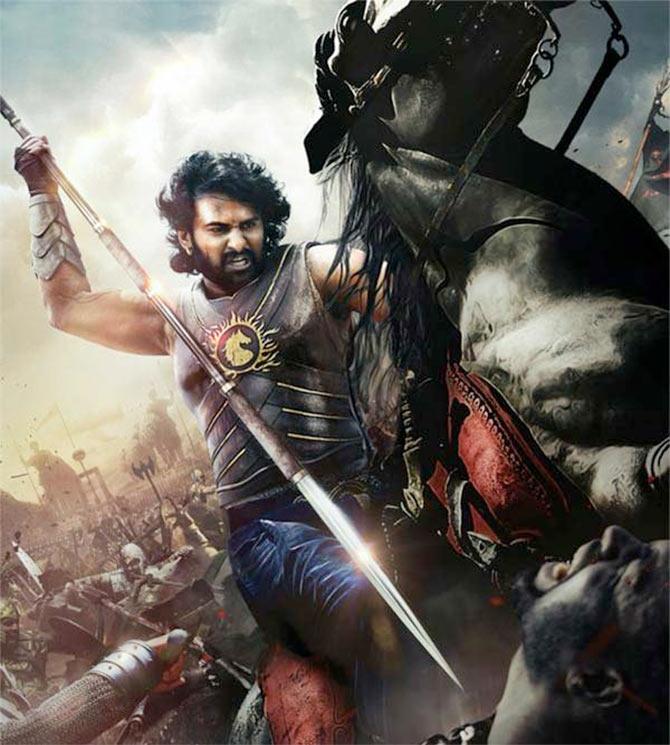 IMAGE: Prabhas in Baahubali: The Begining.
Mark my words, in the next 5 years, some movie will make Rs 10,000 crores (Rs 100 billion).
Sholay, Amar Akbar Anthony, Zanjeer -- all set box office records, but today's generation doesn't know anything about these films. They don't even know when Hum Aapke Hain Koun! released.
When Jai Santoshi Mata released, all the theatres had become like temples.
There were aartis inside the theatres. The amount of money people spent on tickets that much they would give as offering after the aarti.
These are the records that were set in this country and they will continue to happen.
I am very happy that S S Rajamouli made a film like Baahubali. I am a huge fan of his and I am happy for him.
Baahubali has set an example for other filmmakers -- not to make films only for audiences who live between Bandra and Versova (both northwest Mumbai suburbs) and start making pan Indian films, make it for the world to see.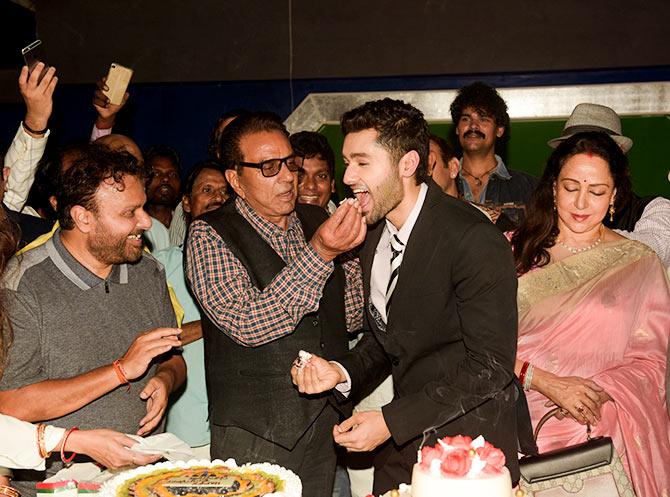 IMAGE: Anil Sharma, Dharmendra, Utkarsh and Hema Malini at the mahurat of Genius, May 22, 2017.
The shooting of my son Utkarsh's (Utkarsh played Sunny Deol's son in Gadar) film Genius has started.
Dharmji and Hemaji had come for the mahurat along with other people from the industry.
We will shoot the film in Mumbai, Delhi, Mathura and Vrindavan, after that we will shoot abroad. Genius will have an Indian story. I have always made films with Indian topics.
Genuis is not competition to Baahubali. Baahubali is a big budget film, it was made for Rs 500 crores (Rs 5 billion).
My films are made for Rs 15 crores to Rs 20 crores, so how can they be of the same level?