The 1970s and 1980s saw a surge in films dealing with marriage. The late Basu Bhattacharya actually made a career of exploring crumbling marriages. His famous autobiographical Amar-Mansi trilogy -- Anubhav (Sanjeev Kumar, Tanuja), Aavishkar (Rajesh Khanna, Sharmila Tagore) and Grihapravesh (Sanjeev, Sharmila) -- explored the domestic diaspora with conviction.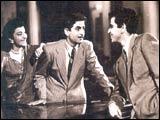 His next film Panchavti -- about a lonely, neglected wife (Deepti Naval) who has a relationship with her husband's elder brother (Suresh Oberoi) -- bombed. But Bhattacharya's last film Astha (Rekha, Om Puri), featuring his marital protagonists Amar and Mansi, was a hit. Rekha played a housewife who moonlights as a prostitute because of the couple's poor financial condition. Though the director did not live long to enjoy its success, Astha was the most successful film he ever made.
In the 1980s, marital dramas came to be identified as Shabana Azmi's oeuvre. Her films -- like Mahesh Bhatt's Arth (costarring Smita Patil, Kulbhushan Kharbanda), Vinod Pandey's Yeh Nazdeekiyan (costarring Marc Zuber, Parveen Babi), Shekhar Kapur's Masoom (costarring Naseeruddin Shah), Dasari Narayan Rao's Yeh Kaisa Insaaf (costarring Vinod Mehra) and Ishmayeel Shroff's Thodisi Bewafai (costarring Rajesh Khanna) -- explored themes such as infidelity, adultery and divorce.
There have been movies with marital themes earlier, like Mehboob Khan's Andaz in 1949 (Dilip Kumar plays an obsessive suitor who destroys the Raj Kapoor-Nargis marriage), Narendra Suri's Lajwanti in 1958 (Balraj Sahni plays a suspicious husband who throws wife Nargis out of their home), Hrishikesh Mukherjee's Anuradha in 1960 (Leela Naidu plays a frustrated housewife who gets lonely due to husband Balraj Sahni's obsession with work) and Abhimaan in 1973 (Amitabh Bachchan plays a jealous husband who cannot bear the fact that his wife Jaya Bhaduri's career is more successful than his) and Om Prakash's Aap Ki Kasam in 1974 (Rajesh Khanna plays a jealous husband who destroys his marriage with Mumtaz). In fact, the last mentioned was remade by K S Adhiyaman's Hum Tumhare Hain Sanam (Shah Rukh Khan, Madhuri Dixit, Salman Khan) in 2002.
The marital theme then went into cold storage, except for strays like Ananth Mahadevan's Dil Vil Pyar Vyar, where Madhavan plays a musician who cannot bear to see his wife -- played by Namrata Shirodkar -- outrace him professionally.
Until Shaad Ali's Saathiya, delineating the ups and downs in a runaway marriage between Vivek Oberoi and Rani Mukherji, became the surprise hit of 2002.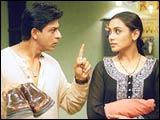 In the newly released Khwahish, Himanshu Mallik and newcomer Mallika Sherawat play newlyweds discovering the pleasures and pains of marriage. Though critics panned the film, filmmaker Govind Menon claims the box office collections are encouraging. "Though the reviews are uniformly negative, the audience seems to love the film. I'm confused. Have I made a bad film?"
Bad or good, marriage once again seems to be a saleable formula as far as Bollywood is concerned. This Friday sees the release of Aziz Mirza's Chalte Chalte. The film, based on the adjustment problems faced by newlyweds, stars Shah Rukh Khan and Rani. Khan claims this is his first role that is not larger than life.
Dharmesh Darshan's forthcoming film, Bewafaa, sees Kareena Kapoor and Anil Kapoor play an ill-matched couple in a marriage of convenience. "I had played a wife in Abbas-Mustan's Ajnabee [Akshay Kumar, Bobby Deol, Bipasha Basu]. But Bewafaa is a different ball game. I feel I am getting to know myself better," says Kareena.
All of which makes one wonder: are marital movies here to stay?