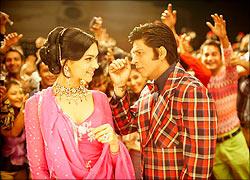 Veteran actor Manoj Kumar is determined to see his lawsuit against the makers of Om Shanti Om reachits logical closure.

"I have filed civil and criminal cases against them," Kumar says. "There's also a contempt of court case since they did not remove the objectionable scenes even after the earlier court directive. It's a tough fight ahead but I'll see it to its completion. I've faith in God."

So what is this all about?

Manoj Kumar was reportedly very upset with Farah Khan and Shah Rukh Khan, the director and star of the 2007 film Om Shanti Om, which, according to Kumar, pokes fun at him. The Khans then sorted out the issues with Kumar, and the latter calmed down. However, the film was recently released in Japan, with the scenes poking fun at Kumar still present. This set the veteran actor off, and made him take extreme steps.

Kumar adds no one from the Om Shanti Om team tried to get in touch with him after the case went into court.
"No one has approached me or the people close to me," he says. "And even if they did, I will not budge from my decision. I am claiming damages to the tune of Rs 100 crores."
He is quick to point out that the legal step against the makers of OSO is not money-driven. "I am not suing for damages to get monetary compensation. The damage that they've done to me is irreversible and irreparable."
Manoj Kumar says he will give the money away, if he wins the case. "I will give away the entire money to charity. I am fighting on principle, not for the money. And I will see this to the end."
The veteran filmmaker asserts that an out-of-court settlement is not an option. "They had enough opportunities to make amends. No, it's a fight to finish. They are welcome to visit me, and I will courteous to them. But as far as this matter is concerned, I'll see them only in court."